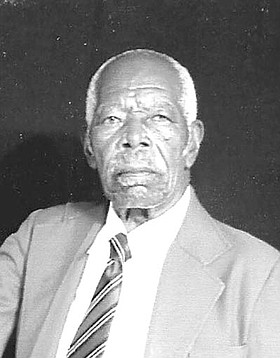 Comrade Elsworth Munnings
unknown - unknown
Funeral Service for
Comrade Elsworth Munnings, 95
of Leeward Isles, Golden Gates #2 and formerley of Orange Creek, Cat Island who died on February 7, 2018 will be held on Friday, February 23, 2018 at 11:00 am at Grant's Town Wesley Methodist Church, Blue Hill Road. Officiating will be Rev. L. Carla R. Culmer assisted by Other Ministers. Interment will follow in Bahamas War Veteran Cemetery, Infant View Road.
Left to mourn, cherish and celebrate his life are his Sons: Elder Allen Munnings, Ellison Munnings; Daughter-in-law: Elder Elevise Munnings; Grandsons: Sherman, Kevin Munnings, Freddy, Antoine, Larry, Edison of Orlando, Florida, Lawrence, Allen, Simeon Munnings and Eain Munnings; Granddaughters: Patrice Woodside, Portia Rolle, Kayla Munnings, Sherry Munnings, Petronique Munnings-Shamp of Flathead Valley, Montana, Decker Munnings-Daniels, Dernear Munnings; Great Grandsons: Edison I, Edison II, Edison III of Orlando, Florida, Cameron, Lawrence Jr., Kaiden; Great Granddaughters: Asharan, Tashae, Asia, Da'Mia, Davine, Adrianna, Feliesha, Keithera, Ara, Angel; Great great grandsons: Caleb, Legend; Great great granddaughter: Maria; Nephews: Maxwell Newbold, Winson Munnings, Wendell Munnings, Stephen Munnings, Sidney Munnings; Nieces: Grace Hepburn, Princess Newbold, Dotlean Newbold, Rosemarie Jones of Freeport, Althea Robins, Veralyn Fox, Joyann Griffin and Nurse Patricia Smith both of Freeport; Grandson-in-law: Rev. Keith Rolle, Lee Shamp of Flathead Valley, Montana, Matthew Daniels, Kenrick Wells, Don Rahming; Grand daughter-in-law: Sharetta Munnings, Shavonnia Rolle; and a host of family and friends including: Rev. Lester Ferguson and the Grants Town Wesley Methodist Family, Rev. L. Carla Culmer, President, Bahamas Conference of the Methodist Church, Curry Memorial Methodist Family, Final Hour Global Ministries Family, Fellowship Missionary Baptist Church Family, Orange Creek and Port Howe Families, The Royal British Legion, Royal Air Force, Commonwealth Mason, King David Lodge, St. John's Lodge, The Elks The Order of The Eastern Star, Bro. Gibson, Bro .Delancy , Bro Glinton , The Golden Gates Community, Department of Agriculture, and Dr. Channa Jagadeesh. Special friends Mr. and Mrs. Hartman Rolle and Family, Dr. Randy Adderley, Hanford Rolle, Ms. Joanne Major, Mr. and Mrs. Ruth Adderley, Mrs. Olive Clarke, Mr. Samuel Campbell, Mrs. Mavis Johnson and family, Poitier Family, Alma Richardson and Family, Leona Johnson and family, Rev. Basil Johnson and Family, Marquest Bullard and Family, Ms. Desney Kemp of Ft. Lauderdale Fl., Ms. Adina Munroe, Ian Stubbs, Anastacia Stubbs, Shavonne Brennen, Lenamae Wright, Linda Newbold, Doretha Sturrup, Lisa Hepburn, Sonia Johnson, Portia Willis, Latera and Pedro Newbold, Patricia and Shawn Dawkins, Haldane, Sean, Keith, Neul Stubbs, Nicole Scott, Tiny, Yvette and Deloris Stubbs, Shakena and Kendal Babbs, Mr. Prince Phillips, Shantavia, Ariana and Jelise, Ronald Tarnisha, Jojo, Delvon, Jasmine, Jay, Barry, Jeff, Mark, Alfred, Jackie, Netty, Yvette, Yvonne, Hope, Debbie and Marsha Stubbs, Mrs.Beulah Bain, Amanda Kelly, Solomon Rolle, Albertha Carey, Manesha Turner, Yviola Smith and family. The sincerely apologies for any names misspelled or inadvertedly omitted.
Viewing will be held in the Legacy Suite of Vaughn O. Jones Memorial Center, Mt. Royal Avenue and Talbot Street on Thursday from 11:00 am to 5:00 pm and on Friday at the Church from 10:00 am to service time.