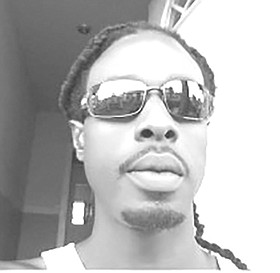 Chamico Theron Mackey
unknown - unknown
Funeral service for
Chamico Theron Mackey, 35
a resident of Plantol Street, will be held at Zion Baptist Church, East & Shirley Streets, on Saturday, February 24, 2018 at 9:30 a.m.  Officiating will be Rev. T. G. Morrison, assisted by Bro. Eric Norville Smith, Bro. Steven Strachan, Rev. Leon Wilson & other Ministers of the Gospel.  Interment follows in Woodlawn Gardens, Soldier Road.
 
Left to cherish his memories are his Mother: Caroyln Mackey; Father: Frederick Mackey; Daughter: Shameka Mackey; Sister: Faniesa Mackey; Adopted Sisters: Karrell Lewis, Lashanta McKenzie, Antonya Jenoure; Brothers: Lefred & Marchea Mackey; Grandfather: Neville Mackey (Edith) of Florida; Nephew: King-Niya Goddard; Niece: Shiann Martin; Grand Aunts and Uncles: Lories Cox, Ivy Murray, Ina Turner, Charles Hall (Louise), Ernest Hall and Cyril Mackey; Aunts: Doris Rolle, Pearl Ntamo (Sam) of Baltimore, Mavis Cooper (Cornell Cooper), Lois Hall, Cecilia Thompson; Uncles: Elroy of Washington D.C & Vincent Mackey (Antoniette Mackey) of Baltimore, Philip Smith of Atlanta, Gregg Dames, Don Symonette of Washington, and Perry Dames of Mississippi; Cousins: Leejay and Tesmeka Bevans, Vincent and Jason Mackey, Alexis Greene, Ernishka Rolle, Coranell and Edwin Cooper, Trent and Taja Smith, Menzie, Eva and Pilisa Mackey, Kirkland, Shervin, and Marvin James, Dorothea Miller, Caren and Marsha James, Marilyn Murray, Emily Montpetti, Irene Mclennon, Doreen Murray, Charlene Davis, Diane Flowers, James Murray Jr. Raquel Kelly and Michelle Wilson, Theron and Jay Butler, Shaniqua and Anniesa James, Chataz and Shanardo Miller, Ena and Sherlin Hall, Troy Hall, Terelle Smith, Chyrsan and Kirk Pintard, Bernadette Gray, Chequita Hall-Stokes, Chico Hall, Sam Simmons, Bishop V.G Clarke and Family, Clinton Clarke and Family, Curlene, Hansel, Barry, Lorene, and Lawrence Bascom, Francita and Michaella Sands, Minerva and Owenta Pennerman, The Turks Island Family; Other Relatives and Friends: Jane, Rochelle and Racquel, Dinario Jr. Latina, Romel, Tito Russell. Lacquel, Omarion, Jalell, Aston, Joseph Johnson,Tamal Hanna, Anthony (Outlaw) and Joecaster Lightfoot, Sherman Bostwick, Jermaine Francis, Ryan Sands, Davannon and Sharon Turnquest and Richardia Rudon, Antone Strachan, The Williams Family, Alma Adams and Family, Rochelle Smith, Jessica Forestal and Faith Bain. Rev. T.G. Morrison, Rev. Anthony Sampson and the entire Zion Baptist Church, Bishop James Newry and the entire Calvary Deliverance Family, The Tribune Ltd. Family, Plantol St. Community, Sunlight Village Community, East St. Community and I Believe Construction Family.
 
Friends may pay their last respects at Demeritte's Funeral Home, Market Street, from 12-6:00 p.m. on Friday & on Saturday at the church from 8:30 a.m. until service time.