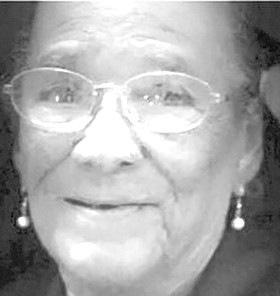 Bloneva "Blonnie" Louise Jones-Butler
unknown - unknown
Funeral service for
Bloneva "Blonnie" Louise Jones-Butler, 85
a resident of United Estates, San Salvador, will be held at Kemp Road Ministries, Kemp Road, on Saturday, February 24, 2018 at 11:00 a.m. Officiating will be Rev. Dr. Ivan F. Butler, Jr., assisted by Rev. Ivan Butler Sr. Interment follows in Woodlawn Gardens, Soldier Road.
Left to cherish her memories are her husband and family Patriarch: Edwin Livingston Butler; 5 sons: Naaman (Deceased); Edroy (Diane), Basil (Celia), Renal (Rochelle) and Eden (Janet) Butler; 3 daughters: Advilda (Godfrey) Deveaux, Vernanchia and Renay Butler; 2 adopted sons: Chief Counselor Rennard Storr and Alton Poitier; 6 adopted daughters: Beatrice Smith, Betsy Morris, Janet Storr, Albertha Nairn, Georgina Storr and Shirley Johnson; 22 grandchildren: Veronica Walkes, Minister Judy Johnson, Pastor Lelia Hanna, Ministers Nikita (Delano Lightbourne), Karen (Calvin) Wallace, Janelle (Francesco) Gallippi, Beanca (Wayne), Monique, Sharan, Shakera and Hannah Butler, Jasmin Wright, Warren (Debbie) Stuart, Jermain (Niky) Williams, Peter (Monica) Butler, Pastor Godfrey (Tashianna) Deveaux Jr., Shavad, Naaman Jr. (Novelette), Isaac, Basil Jr., Renald Jr. and Zachary Butler; 38 great grandchildren: Kendie,Kendun, Tabatha, Tajana, Asia, Lashan, Symphony, Petra, Celeste, Caeli, Destiny, Na'arah, Jade, Kenden, Sherwin, Herman (Vantajnaye), Shervano, Akeem, Walterio, Warren Jr., Dominic, JJ, Janero, Taquon, Bruce, Jonathon, Asjon, Ethen, Jamari, Jayden, Jordan B, Naaman III, Gemier, Zaden, Grayson, Braylan, Jamelo and Jordan W.; 2 great grands: Shaniyah Johnson and Bruce Davis Jr.; 1 brother: Hubert Jones (Deceased); 2 adopted sisters: Rosalie Storr and Violet Pratt; 2 sisters-in-law: Matilda Williams and Lueneva Butler; 6 nieces: Baithsaida, Elva Jones, Winfred Hunt, Shirley Storr and Carla Jones; 3 nephews: Kenneth Walkes, Auston and Mike Jones; 3 godchildren: Georgette, Clay and Nahara; numerous other families and friends including: the Butler, Major, Campbell, Nairn, Edgewombe, Jones, Hunt, Rodgers, Storr, Forbes, Joseph, Pratt, Benson, Ferguson, Lyfort, Henderson, Hendfield, McKenzie (Barritarri community), Denyse Albury and Fernander families, Pedro Neely, Ali Rolle , Angela Larimore, Winston Bonaby, Walker family, Knowles family, Benjamin Thomas, Charlie Jones, Poitier family, St. James Native Baptist Church, San Salvador, St. John's Native Baptist Church, San Salvador, Pastor Dave and Angie Burrows and the Bahamas Faith Ministries, Kemp Road Ministries, Bishop Leroy and Miriam Emmanuel and the Good Samaritan Kingdom Ministries, Pastor Rochelle Moss-Wilson and the Global Harvest Ministries, the Dean family of Companies, San Salvador Administrator Miller, Superintendent Darling and the Police of San Salvador, the San Salvador community, staff of BOB, NIB, Island Distributors, Dorsette's Grocery Store, Social Services, Doctors and Nurses of San Salvador Clinic, Opposition Leader & Member of Parliament for Rum Cay, Cat Island and San Salvador, Philip  "Brave" Davis & many other relatives & friends too numerous to mention.
Friends may pay their last respects at Demeritte's Funeral Home, Market Street, from 12-6:00 p.m. on Friday & on Saturday at the church from 10:00 a.m. until service time.