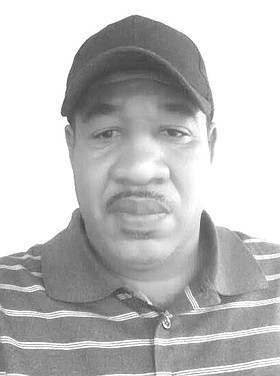 Stephen Kent Moseley
unknown - unknown
Funeral service for the late Stephen Kent Moseley age 46 years of #30 Jasmine Drive, Winton Meadows will be held on Saturday, February 17th, 2018 at 2:00 pm at Christ Temple Apostolic Church, Faith Avenue North. Officiating will be Dr. David Braynen. Interment will follow in Lakeview Memorial Gardens, John F. Kennedy Drive and Gladstone Road.
Precious memories will forever be in the hearts of his loving Mother: Rosetta Bodie; Sons: Stephen, Kent and Antonio Moseley, Stepson: Kenyon Holloway; Daughter: Kristen Munroe, Stepdaughter: Kyana Holloway; Life Partner and Best Friend: Natishka Nairn; Grandchildren: Anthony Major, Faytasia Rolle; Sisters: Sharon Antoinette Williams, Evangelist Charlene Duncombe, Veronique Moseley-Cardoza, Blossom Moseley-Gray, Melissa Simone Moseley, Maria Moseley-Henry, Jean Moseley-Culmer, Lorna Moseley-Grant, Marika Seymour, Kamara Charika Whymns; Brothers: Anaiah Raguel, Rudolph (Carl) Moseley Sr., Garin Dyjon Seymour; Sisters-in-law: Faith Raguel, Patricia (Delly) Moseley, Kim Seymour; Brother-In-Law: Deacon Clyde Duncombe, Delroy Cardoza, Rory Culmer, Ralph Henry, Livingston Grant, Raymond Gray; Aunts: Mercianna Bodie, Maybell Bodie, Nathalie Bodie, Cynthia Rolle, Brendalee Musgrove, Maxine Bowleg, Cynthia Moseley, Adeline Moseley; Niece: Talnisha Pierre, Grace Raguel, Angel Turnquest, Adaria Stubbs, Rosetta (Rosie) Pierre, Krista Williams, Jazmenn Williams, Aksana Cardoza, Garanique Seymour, Shurelle Young-McKulsky, Marvette Young, Lovern Moseley-Belizare, Vivia Graham, Jodi Moseley-Knowles, Qynata Henry-Nairn, Christina Moseley-Rolle, Tina Moseley-Eyma; Nephew: Lavardo Williams Sr., Bertram Jaimenn Williams, Donovan Jamaal Williams, Tyriq Bain, Roahan, Meleek and Rico Pierre, Timothy Boey, Donovan Jaimenn Williams, Lavardo Williams Jr., Jaydon Williams, Jaimenn Wesley Williams, Jaidenn Williams, Garin Seymour Jr., Faheem Etterson, Stephan Young, Michael Henry, Troy, Henry, Rudolph Moseley Jr., Canute Graham, Luis Harry, Ryan Moseley, Lorenzo Moseley, Andre Grant, Gavin Culmer, Kurt Grant, Tafari Henry, N-Kruma Henry, Pierce Culmer, Taje Culmer; Cousins: Yulinda Delaney, Rosemae Stubbs, Kaymala and Kaiwania Wright, Louise Sweeting, Ornel, Michael and Eusias Cornish, Esther Laing, Earnestine Parker, Gwendolyn Baillou, Marilyn Cornish-Edmond, Lloyd, Dexter and Prince Bodie, Minister Beverley Bodie-Strachan, Pastor Patricia Williamson, Dianne McIntosh, Judyann Bodie, Coradell Dean, Bessie Rolle, Derek, George, Clarence, Craig, Amos, Eusias, Ghandi and Isreal Bodie, Cecilie Bodie, Karen Thompson, Carolyn Stubbs, Juanita Bodie, Beatrice (Bee) Butler, Ken Lewis, Lawrence, Jimmy, Barry and Craig Rolle, Olga Butler, Janet Lewis, Dorothy Hanna, Andrea Rolle, Charlene Starnes, Renee Armbrister, Margot Barnett, Dr. Sheryl Terrell, James and William Bodie, Michelle, Jennifer, Renee, Kaylesa Bodie, George, Prince Jr., Alton, Lawrence, Tommy, and Robert Bodie, Ethalene Bodie, Gwendolyn Green, Nathalee Rosario, Nicole Stradford; A host of other Relatives and Friends including Dr. Flo Carter-Gittens and Family, Mr. Samuel Arthur Jr., Mrs. Margaret Pennerman, Latoya Munroe, Rashawn, Kayvon, and Mia Rigby, Maegreta (Gleka) Moxey, Marilyn Bullard, Dixie Jones-Connolly and Family, Verna McIntosh, Sheena Moseley Jason Gomez, Jeftin, Devon, Patrice, and Amanda Arthur, Lana Fernander, Sherry and the Johnson Family, The Turnquest Family, Devon Rahming and Family, Cleveland Marshall, Trevor Roker, Sticks Knowles, Andrew (Mama) Riley, Milton Munroe, Tadashi (Dashi) Curry, Marcus (Scabby) Francis, Donovan (Botta) Nottage, James Grant, Scottie Damianos, Darrion Curry, Rosemary Norville and Family;
Viewing will be held in the Perpetual Suite at Restview Memorial Mortuary and Crematorium Ltd., Robinson and Soldier Roads on Friday from 10:00 a.m. to 6:00 p.m. and at the church on Saturday from 12:30 p.m. until service time.