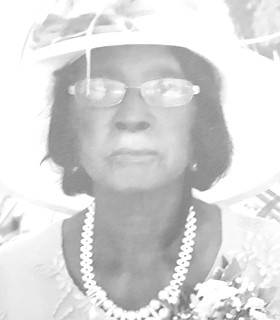 Mother Gwendolyn Carnetta Johnson
unknown - unknown
Funeral Service for Mother Gwendolyn Carnetta Johnson age 87 of Sequoia Street, Pinewood Gardens and formerly of Pinefield, Acklins who died on February 3, 2018 will be held on Saturday February 17, 2018 at 11:00 a.m. at Mt. Calvary Baptist Cathedral, Blue Hill Road and Laird Street. Officiating will be Rev. Dr. Philip B. McPhee assisted by Other Ministers. Interment will follow in Woodlawn Gardens, Soldier Road.
Left to mourn the legacy of a gem are: Daughters: Juetta Patton, Maria Williams; Son: Martin Nixon; Adopted Daughter: Enamae Brown; Adopted Sons: Tyrone Bootle, Alvardo Thompson, Derek Dawkins; Daughter In Law: Marlene Nixon; Grand Children: Michelle, Uneka Lorene, Philip, Dwayne (predeceased), W/PC3279Felicia Patton, Lavado, Danyell, AAliyah, Akeem, Martinique; Grand In Law: Anthony Riley, Sherelle Rolle; Great Grand Children: Lovelda, LaToya, Lysandra, Sabrina, Philip (I), Shavado, Philip (II), Peron, Kiara, Philano, Dejah, Tasmin, Dwania, Kail, Kaelin, Lakeicia, Justin, Jason, Daniella and Davonte; Great Grand In Laws: Simone Vinzenciand Ajay Patel; Great Great Grand Children: Owenique, Shavado (jr.) and Malaysia; Brother: Ronald Greenslade and Leroy Williams; Sisters: Winifred Sands, Olena Meadows and Gretal Sweeting; Nieces: Judy Strachan, Denora Clarke, Shantell Clarke, Patricia, Maryann, Marylou, Lillian, Mary, Zerlene, Janet (Clarence), Russell, Margaret, Louise Greenslade, Veronica, Suzette, Marian, Bridgette, Juliemae, Rhonda, Renee, Barbara, Claudine,Belinda, Patrice, Kim, Sandra, Debra Moss, Sheila Rolle, Shena Smith, Sharlene Ryan, Priscilla Johnson, Zellamae Johnson, Wendy Ferguson; Nephews: Walter Rolle, Giant, Paul, Delonn, Kenneth Greenslade, Omen Greenslade, Charles Greenslade, Ural Johnson, Daniel Gardiner, Kennedy Johnson, Nelson Johnson, Anthony Sweeting, Marvin Johnson Anthony Moss
Grand Nephews: Abel Seaman Roosevelt Thompson Jr. and Rashadd Thompson; Cousin: Apostle Dorenda Dean (Calabash Bay, Andros), Althea Clarke, Ann Bethel, Marietta Moss, Rosalie Farrington, Victoria Thomson and others, too numerous to mention; Sister-in-Law: Laveta Johnson, Yvonne Taylor; Brother-in –Law: Alvin Gardiner; Numerous Relatives and Friends Including: Rev. Philip Mcphee and Rev. Charlene Mcphee, officers, choir, and members of Mount Calvary Baptist Cathedral, Reginald Bridgewater, Helen Thompson and Family, Bobby-Jane, Steven Greenslade, Gary Greenslade, Sis. Mackey and Family, and Pearline Meadows
Please accept our apology if we inadvertedly omitted anyone.
Viewing will be held in the Legacy Suite of Vaughn O. Jones Memorial Center, Mt. Royal Ave. and Talbot Street on Friday from 12:00 noon to 5:00 p.m. and on Saturday at the Church from 10:00 a.m. to service time.
Funeral Service for Latrell Sprewell Charite age 18 of Hampster Road who died on January 30, 2018 will be held on Saturday February 17, 2018 at 1:00 p.m. at Christ Community Church, Bellot Road. Officiating will be Bishop Deanza Cunningham assisted by Pastor Kino McCartney. Interment will follow in Southern Cemetery, Cowpen and Spikenard Roads.
He is survived by his: Mother: Losita Pompilus; Father: Wilbert Charite; Sister: Lavelle Charite;
Brothers: Ramell and Ramero Charite, Travonta Dawkins and Daunte Charite;
Stepmother: Maria-Garcia Charite; Uncles: Jimmy Lafrances, Basil Smith,
Anthony Pierre, Joe Pierre, Justin Pierre, Michael Pierre, Jean-Marie Pompilus,
Herod Pompilus, Luder Pompilus, Hamson Baptiste; Aunts: Santilla, Julie and
Kethelie Pompilus, Yolan Lafrance, Genva Smith, Sidonna Collie, Pierre, Latoya
Bowe-Pierre and Clamance Lafrance; Grand Parents: Jean Baptiste Pompilus and
Francoise Ferrier Pompilus; Niece: E'mani Hepburn; Nephew: Ramell Charite Jr;
Special Friend: Syndera McIntosh; Cousins: Ferlandira Gustave, Nekira Pierre,
Veronica Pierre, Tekia Gustave, Bamsca Pomilus, Nus-Nica Pompilus, Joshua
Gustave, Shevans Pomilus, Sley Pompilus, Isabelle Pompilus, Meta Pompilus,
Stevette Scavella, Justin Pierre, Keswick Pierre, Jojo Pierre, Rosie Daniels, Andre
Pierre, Aaron Pierre, Aaliyah Pierre, Alijan Pierre, Anthonique Bowe, Anthony
Pierre, Antonio Pierre, Cindy Smith-Johnson, Chandalle Smith, Seville Smith,
Donuthera Smith, Clement Lafrance, Rodrick Lafrance, Jonas Lafrance, Valentino
Lafrance, Jamell Lafrance, Herna Lafrance, Lowonsa Lafrance, Carolime Rolle,
Kevin Rolle, Dejorn Lafrance, Danaz Lafrance; numerous cousins to numerous
to mention. Close Friends: Sheldon Newon, Calvin Lexidor, Miquel Anderson,
Rajah Jean, Chantavia Wilson, Kenson Fertile, Lavardo Strachan, Jayvonne Heild,
Shaquille Sturrup Rodline Dieuville; Special Thanks to: Melia Hotel, Lyford Cay
International School, The Wood Family, Daminanos Family, Faith Avenue Family,
Damianois Family,Faith Avenue Family, Sunset Family, Sturrup Family, Cornei-
lus Skinner, Marienise Augustin, Eddy Lopez and Deanna Wilson.
Viewing will be held in the Legacy Suite of Vaughn O. Jones Memorial Center, Mt. Royal Ave. and Talbot Street on Friday from 12:00 noon to 5:00 p.m. and on Saturday at the Church from 10:00 a.m. to service time.