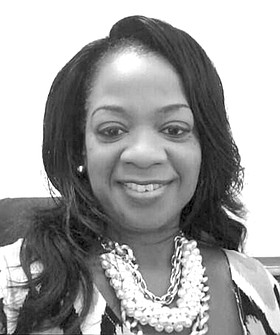 MICHELLE MARIE L DEAN ADDERELEY
unknown - unknown
FUNERAL SERVICE FOR DEPARTMENT OF PUBLIC SERVICE REGISTRY SUPERVISOR MRS. MICHELLE MARIE L. DEAN ADDERELEY AGE 49 YEARS OF BELLOT ROAD OFF MCKINNEY DRIVE WILL BE HELD ON THURSDAY FEBRUARY 15TH 2018 AT 10:00AM AT GOLDEN GATES WORLD OUTREACH MINISTRIES, CARMICHAEL ROAD
Officiating:  Bishop Ros L. Davis assisted by Pastor Allan Strachan and Pastor Trent Davis. Interment will follow in the Western Cemetery, Nassau Street.
She is predeceased by her father, Drexel Dean, and brother, Kenneth Rolle.
She is survived by her husband: Dudley Adderley; her mother: Edith Wilson; her sons: Lashon, Akeel and Dumeko Adderley; mother in law: Sylvia Munnings; her siblings: Charlotte Rolle (Huel Nairn), Karen (John) Rigby, Edward (Barbara) Colebrooke, Drexel, Elvinton, Shandalique, Anwar, Reo, and Raji Dean; her aunts and uncles: Muriel Strachan and Family, Debra Wilson, Orville Wilson, Bishop Ros L. Davis and Althea Davis, Maria Munroe, Alvin Munroe, Henry, Edward, Amos, Willamae, Pecola, Mearl, Cecil, Godfrey "Gully", Rudolph, Theophilus, Mavis, Lester, Clement, Hesketh, Bethsheba "Beverly", Holly, Rudy, Mavis, Vernlie, Pam and Geraldine Dean, Gaynell Dean-Johnson, Tamiko Dean-Brown, Delores Delancy, Sheila Culmer; Brothers and Sisters In Law: Phillip Munnings, Evamae (Herbert) Archer, Alan (Cyprianna) Munnings, Anthony (Zoraine) Munnings, Reserve Corporal #574 Charles Munnings,  Eldora Munnings, Theresa Adderley Martinborough, Katie (Ann) Butler, Loretta Knowles, Ken Adderley; Her neices and nephews: Shamika Evans, LaShanna Evans, Antonia (Simson) McKinney, Jonnell (Terrel) Knowles, M'Kyle Rigby, Jonneice Rigby, Gabriel Dean, Teja Dean, Gabrielle Neilly, Edward Ivor, Edward Roosevelt, Edward Clarence, Keshia, Ryesha, Jessica, Lavandra, Edrico, Tara, and Leslie "Gizmo" Colebrooke, Romero Fax, Kazia, Krissy, and Michael Jr. Butler, George Richardson, Brittany, Charles Jr., Joshua and Troy, Latoya Johnson, Sandy Coleby, Sheena, Antonecia, Anthony Jr., and Tracy Munnings, Dr. Tracey Martinborough (Dr. Lenroy Bryant), Teran, Tianado, Tiania and Matthew Martinborough; Her grand-neices and grand-nephews: Shanice Clarke, Shavante Rahming, Anyle Evans, Terrel Knowles Jr., Colissa McKinney, Vaughn-yae Evans; Her great grand nephew: Jhaveon Sands; Cousins: Stan (Gigi) Davis, Trent Davis, Terez (Quinton) Nixon, Kara Davis, Earlene Davis, T'shura McKinney, Carlos, Latera, Shannon, Monique, Rochelle, Tavares, and T'Shiloh Munroe, Toni Lawrence, Glenford Munroe Sr., Lakisha Joffre, Buscheme Armbrister, Sandra Gray-Moss and Family, Terrel Moss and Family, Elton Moxey and Family, Franceka Harris and Family, Hazel Chipman; Dr. Rhonda Chipman-Johnson; Hubert Chipman and Family, Monique Delancy and Family, Dorothy Curry and Family; Godparents: Samuel Glinton and Eloise Armbrister; God-child: Garrith Moss.
Special Friends: Gary and Cindy Moss, Andrew and Marion Astwood, Julian and Philippa Robinson ("Robbie"), Gail Sheryl Forbes, Latovia McKinney, Charlene Edgecombe, and Anastacia Ferguson.
Other Family and Friends including (but not limited to): Yvonne Holloway; Sybil and Nelson Bowe Jr., Gary and Janet Hanna and Family; Bunny and Glenard Humes and Family; Dolly Foster; Tezel Butler, Oralene Maycock, Vernita Munroe, Merlene and Denver Dames, Junior and Claudine Joffer, Lee Armbrister, Erica Glinton and Family, Barbara Scott and Family, Allan Strachan and Family, Stephanie Taylor, Elizabeth Parks, Magnol Walker, Dion Harvey, Charlene Roberts, De'Angelo Francis, The Maycock Family, The Wallace Family, The Wilson Family.
Special Thanks to The Staff of The Department of Public Service, The Doctors, Nurses and Staff at the Oncology Unit of the Princess Margaret Hospital especially the staff of Chemo Bay, Nurse Sonia Miller, Dr. Khristle Johnson, and the Golden Gates World Outreach Ministries Family.
The family apologizes for any names they may have missed.
Relatives and Friends may pay their last Respects at SERENITY FUNERAL HOME AND CREMATORIUM. #153 BAILLOU HILL ROAD(DIRECTLY OPPOSITE B.E.C) ON WEDNESDAY FROM 12:00NOON TO 5:00PM AND AT THE CHURCH ON THURSDAY FEBRUARY 15TH 2018 FROM 8:30AM TO SERVICE TIME.
FUNERAL SERVICE ARE ENTRUSTED TO SERENITY FUNERAL HOME AND CREMATORIUM. #153 BAILLOU HILL ROAD N.P.