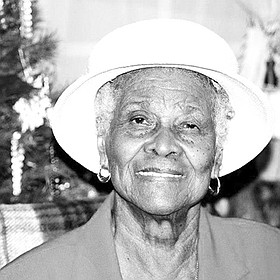 Matriarch Mazzie Ethlyn Last Rites for Matriarch Mazzie Ethlyn Bethel, ag
unknown - unknown
Last Rites for Matriarch Mazzie Ethlyn Bethel, age 96, of Williams Town, Little Exuma will be held on Saturday 17th February, 2018, 11:00 a.m. at The Church of St. Mary Magdalene, Williams Town. Officiating will be The Rev'd Ethan P. J. Ferguson, Assisted by The Venerable Keith Cartwright. Interment will follow at St. Mary Magdalene Cemetery, Williams Town, Little Exuma.
She is survived by One Sister: Doris Rahming, One Brother: Louis Sears, Two Adopted daughters: Cassandra Rolle and Marsha Bastian, 12 Nephews: Alston, Freddy & Caleb Rolle, Samael, Alfred, Andrew, Raymond Jr., Alphonza, Fred, Anthony, Leo Sears, Beuran Bethel, 14 Nieces: Keturah Fox, Mazzie & Ernesitne Rolle, Denise & Edgar Styles, Ellen Ewing, Mazzie Gray, Venus Miller, Bernette Davis, Bridgette Bethel, Kizzy Sears, Tanica Sears, Jenny Store, Betty Rolle, Carmetta Romer, Paula Gray, Genevie Turnquest, Mary & Iashonda Sears, Natasha Sears McKenzie, Ingrid Fern, Judy Bonimy, Joyce Knowles, Shirley, Mary, Wendy Cartwright & Jackie Smith, Betty Rolle, Bernice & Carloyan, 2 Sister in Law: Laurna & Doris Sears, 1 Brother in Law: Antone Bastian, 69 Grand Nieces & Nephews: Shanthea Rolle, Kim & Keith Thompson, Krystel Cartwright, Santanna McCullough, Mandy Duncanson, Nicola Green, Tina & Samantha Ewing, Alex, Tanya, Carlisa, Caleb Jr., Christopher, Gina, Valincia, Aliesha, Justin, Courtney, Demetria, Condegrea, Oquendo, Ryan, Rolle, Shavonne McKenzie, Wendria, Latina, Lathansis, Kaylisa, Quinton, Theophilus, Lavetta, Linwood, Kamal Gray, Lynlee Gray Stewart, Khriston, Khristhad & Shamara Turnquest, Gaynor, Darcil, Donavon, Travis Sears, Julian, Clinton, Livingston, Jasmin & Janice Romer, Shanthea Sears, Janet, Sherry, Bruce, Luke, Howard, William, Marvin, Trevor Bethel, Carmel Turnquest, Sheila Bethel Moss, Markisha Bastian Oliver, Lelia Farqugarson, Stg. Kirk Bowe, Frederick Davis Jr., John Taylor, Theodore & Anthony Bastian, Nathalie Eden, Trenyce & Rihanna Williams 14 Cousins: Earnest Bowe Jr., David (sugar kid) Bowe, Leslie Bowe, Karen Dames, Steven, Stanley, Annabel, Fred, Wendal, Lillymae, Jerald, Beverley, Wilbert & Lester, 6 God children: Kirk Bowe, Karen Dames, Nigel Gray, Cynthia Wilson, Edna Pratt, Margaret Styles Family & Friends: Robert, Ann, Anthony, Sandra, William, Warren, Glen, Stephen, Tamanica, Tia including Shannon ,The entire Williams Town Family, the Gray family, the Sears family, the Bowe family, the Dorsette family, Catechist Gaberiel Styles & Styles family, the Jolly family, the Pratt family, the Bullard family, the Kemp family, the Turnquest family, the Adderley family, the Thompson family, the Ranger family, the Staff of the George Town Hospital, Mrs. Marshall & family, Marie Bowe & Family, Freddy Major & family, Edison Brice & family, the Anglican Church family, Denise & Renardo (Columbia), Cynthia Maynard, Tyrone Saunders and a host of other relatives & friends that are too numerous to mention.
The body will repose at Curtis Memorial Mortuary, Ramsey, Exuma on Friday, from 10:00 AM until 5:00PM, and at the church on Saturday from 9:00AM until service time.