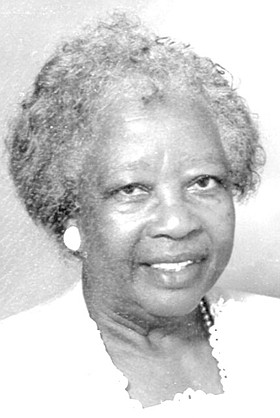 Lois Jane Richardson nee Poitier
unknown - unknown
Funeral Service for the late Lois Jane Richardson nee Poitier age 92 years of #7 Dawson Street, Danottage Estates will be held on Saturday February 17th, 2018 at 10:00 a.m. at Wesley Grants Town Methodist Church, Baillou Hill Road. Officiating will be Rev'd. L. Carla R. Culmer assisted by Rev'd. Lester Ferguson. Interment will follow in Western Cemetery, Nassau Street.
Left to cherish loving memories of Lois are her children: Alfred & Daphne, Anthony & Hazel, Iris, Kathryn, Kenneth & Avis,Ralph & Sherlair, Selwyn & Dellareese, Osmond & Kimberley, Stephen & Jennifer Richardson and Rocelia Jones; grandchildren: Kamala, Krista and Kerri; Alexandra; Genie, Jason and Jan; Ava; Ternesha, Jamie and Mia; Christian and Daria; Matthew, Jonathan and Makhaila; Nadia, Alissa and Daniel; great grandchildren: Amen; Taniya & Izreal; Shiloh; siblings: Joyce Burgzorg, Jane Adderley, Maureen Rahming, Astrid Brookes, Valerie Clarke; nieces and nephews: Maxwell & Eve Poitier, Paula & Tom Darcy; Brandford & Vera Chase, Hugh & Primrose Chase, Haldane & Darlene Chase, Eliese, Arthur, Gail, Renee and Colyn Chase; Rev. Manette & Nicholas Cripps, Ida & Kenneth Turnquest, Spencer Poitier, Wendyi & Brian Albury; Florestine & Dwight Sawyer, Eric Poitier, Marie & Terrence Smith; Marcian & Valarie Mortimer, Lorna and Gerard Mortimer; Carver Burgzorg, Lena & Selvin Dottin, Carol Morley, Joan & Otto Fountain, Fredrick and Ian Burgzorg, Trevor & Llewelyn Burgzorg; Michael, Sharon Poitier, Charisse & Alexander Brown, Claudia & Vaughn Glinton, Carlos Knowles; Vernelle & Rev. Charles Carey, Patricia & Terrance Fountain, Sonjia & Bruno Roberts, Brian & Cassandra Adderley, Bradley Smith; Roosevelt, Dianne and Monique Rahming, Earl & Clare Rahming; Joyanne & Daniel Ferguson, Cheryl & Homer Bloomfield, Daphne & Graeme Fraser-Bell, Bill & June Poitier and a host of grand and great grand nieces and nephews; The descendants of Nathaniel Hezekiah Richardson and Louisa Hall Richardson including Lillian & Oliver Hutchinson and family, Newell Neilly and family, Barbara Best and family, Thelma Hudson and family, Lisa Butler, Lynette Rolle, Leslie Ellis-Tynes, Camille Hutchinson, Claudine Clarke, Leslie Hutchinson, Cecile Campbell and family; other relatives and friends including Cordelia Fernander and family, the family of the late Claudius and Lilian Walker, Eloise Saunders, the Nichols family, Alfreda Cooper, Lady Joan Foulkes and family, Adina Munroe, the family of the late Matias Munroe, Retired Justice Joseph Strachan and family, the family of the late Hezron and Elva Moxey, the family of the late Leroy and Sybil Miller, Elaine Major and family, the family of the late Minerva Cooper, the family of the late Oraline Butler, Merlande Culmer, Shirley Taylor, Maudice Newton, Sylvia Adams and family, Laura Ritchie, Pat Jervis, Watson, Clarke, Thurston, Conliffe and Adderley families. Officers and members of Excelsior Temple No. 37, Officers and members of The District Grand Lodge of The Bahamas, Brethren of Lodge St. Michael No. 1634 and the other Scottish Constitution Lodges of The Bahamas; special thanks to Dr. Cherilyn Hanna-Mahase, Nurse Julie Thompson, Maxine Bethel, Annissa Smith, the Nurses and Staff of Doctors Hospital IMCU.
Friends may pay their last respects at Bethel Brothers Morticians #44 Nassau Street on Friday from 10:00 a.m. to 6:00 p.m. and at the church on Saturday from 9:00 a.m. until service time.