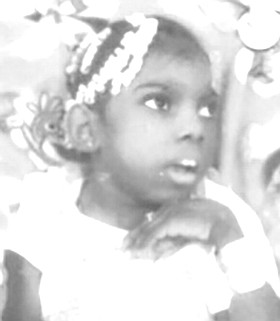 Lashae Mackey
unknown - unknown
Funeral Service for the late Lashae Mackey age 15 years of Joe Farrington Road will be held on Saturday at Aarow of Deliverance Chruch, Cox Way off East Street South. Officiating will be Rev. John Innis assisted by other ministers of the gospel. Cremation will follow.
She is survived by: Memories will forever linger in the hearts of: Her Parents: Kerrah Mackey and Keith Taylor; Brothers: Keranno Mackey and Steven Collie Jr.; Sisters: Yasmine and Lakeithra; Grandparents: Genen and Deborah Mackey; Adopted Grandmother: Angela Laing; Great Grandmother: Marion Ramsey; Aunts: Keidra (Ariman), Keisha, Lastandra, Jayde, Julie, Tamara, Karen, Laurette, Monique, Crystal; Uncles: Keishano (Kayshala), Geno (Eldrice), Jeremy, Jermaine, Sean Bethel, Floyd McKenzie, Deon Sr.; Grandaunts: Dr. Ruby Brown (Benjamin), Hazel, Mavis, Patrice, Blossom Brown of Green Castle Eleuthera, Sherry Sands, Doreen and Sylvia Kemp; Granduncles: Wenzell, Gary (Mary) of Fort Lauderdale, Rupert Miller, Garnet and Kenneth Kemp; Cousins: Deon, Deontae, Tavare, Tavaranae, Zhyon, Khobe, Jhordyn, Dane, Omar, Edresha, Edward, Lashawn, Cassidy, Andrea, Wenzell Jr., Tiana, Akeem, Ashton, Indira, D'Ametto, Anishka, Kellyopea, Jamilee, Kennard, Bennique, Kayetta, Joan Cooper, McKhail, Alexander, Dwaynell, Brian, Terell, Jennifer, Tonisha, Ricardo, Vanessa, Fred, Tyrone, Garicka, Cadesha, Kevandra, Theodore, Alissa, Sherryann, Jackie, Kevisha, Kaylisha, Trevonya, Lamarko, Lamar; A host of other relatives and friends: Pastor John H. Innis and Family, Diamond International Family, Donna Huyler and Family, Prophetess Julia Johnson, Kervin Morley and Family, Rosalie Cox and Family, Darren Woodside and Renee Joseph and Family, Public Service Drivers Family, Aranese Rolle and Family, Manerva Strachan and Family, Paula Romer and Family, Miller, Morley and Whylly Descendants, Blossom Brown and Family, Arrow of Deliverance Church, Princess Margaret Hosptial Children's Ward North, SRC Day Care Center, Orville Russell, Amit and Family, Agnes Mackey and Family, James and Boston Morley and the Green Castle Development Association.
Relatives and friends may pay their last respect at Evergreen Mortuary located on Collins Ave & 5th Terrace on Friday from 10:00a.m. – 6:00p.m. and again at the church on Saturday from 10:00a.m. until service time.