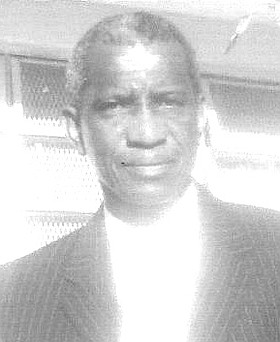 Jeffery Deveaux
unknown - unknown
Funeral Service for Jeffery Deveaux age 70, of Boatswain Hill, Carmichael Road and formerly of Smith's Bay, Cat Island will be held on Saturday, February 17th, 2018 at 11:00am at Mount Nebo Union Baptist Church, Marshall Road, South Beach. Officiating will be Rev. Dr. Charles E. Rolle, assisted by Associate Ministers.
CREMATION WILL FOLLOW
Left to cherish his precious memories are his Wife: Essiemae Deveaux; Sons: Dario, Reno and Latario Deveaux; Daughter: Frances Deveaux; Mother: Francis Deveaux; Mother-in-law: Mary Armbrister, Grandchildren: Franargio, Karl Jr. Mcphee, Renairo, Rein, Kani, Kianu and Kion Deveaux; Sisters: Rosetta Wells, Hortence Ferguson, Judy Moncur, Besty Deveaux, Laverne Cooper; Brothers: John, Floyd, Philip, Patrick and Harold Deveaux, Jeremy Knowles; Adopted Sisters: Margaret Middleton Rolle, Ingrid and Coral Dean; Adopted Brother: Ivan Bowe; Aunts: Idell Dorsett and Vernita Smith (Godmother), Remona Mcclain, Julia Pratt, Arabella Johnson and Jerelene Wilson. Uncles: Bishop Asa G and Captain Lee Armbrister; Sisters-in-law: Rev Bertha Deveaux, Lily and Michelle Deveaux, Ernestine Pinder, Jennifer Moss, Patricia and Erin Pinder, Evailina Nesbitt, Eugie Bowe; Brothers-in-law: Inspector Cephas Moncur, Kenneth Wells, Elvis Cooper, Rosavelth Mackey, Sylvanius Nesbitt, Rev Kingsley Pinder, Timothy Pinder, Edward Johnson, Benjamin Moss, Nieces Cindy, Belinda, Janique, Jewel, Chrystl, Patricka, Latoya, Nichelle, Ashley, Harrinique, Opal, Rachel, Anishka, Alneka, Anneka, Shanette, Deann, Cutelle, Antonia, Keva, Kathera, Kadeisha, Calvonya, Amy, Kristian, Shakera, Nina, Bendisha, Brenay, Shavonne, Keisha, Coralis; Nephews: Ramases, Dr. Feron, Dr. Gerrad, Rev. Anwah, Patrick Jr., Prescott, Hendy, Harvey, Dencil, Dewitt, Adrian, Glenroy, Damian, Renaldo, Sergeant Durward, Jaleel, Inspector Jamal, Alfred, Denver, Devard, Danson, Craig, Simmons, Shaquelle, Kingsley Jr., Omar, Akeem, Alfred, Rasheed, Benjamin, Jermaine, Kyle, Edward Jr., Oniel, Matthew, Eryan, Elwyn, Alexander; Godchildren: Omar Pinder, Tina and Richard Munroe, A'sha Ferguson, Cousins: Arametha Newbold, The Deveaux Family, Bannister Family, Dorsett Family, Mckinney Family, Seymour Family, Smiths Family, Moss Family, The Turner Family, The Pratt Family, The Josey Family, The Saunders Family, The Williams Family, Adopted Family Vincent and Etoy Bethel, a host other Relatives and Friends including: Monica, Anicka, Iva Armbrister, Mary Cunningham, Bertie and Rowena Munroe, Anne, Eunice Wallace, Nita Lockhart, Rosie Sawyer, Camrie Dean, Arlene Johnson and Family, Shelia Johnson and Family, Nellie Rolle, Rev Llyod Smith and Family, Granville Adderley, Burntell Andrews, Neil Andrews and Family, Karl Mcphee and Family, Rev Patrick and Shelia Brown, Richard Williams, Rev Ormand Thurston and Family, Carson Culmer, The Family of Mount Nebo Union Baptist Church, The Family of Southland Cathedral, Boatswain community, Ragged Island community, Cat Island Community, The Apex Family and many others too numerous to mention.
The body will repose in the Blessed Redeemer Chapel at Ferguson's Funeral Directors, 7th Terrace Collins Avenue, on Friday from 10:00 am - 5: 00 p.m. and at the church on Saturday from 10:00 a.m. until service time.