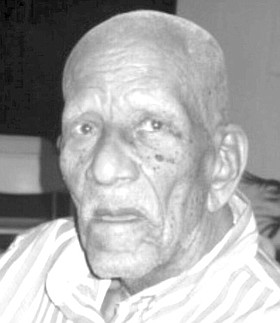 Hartman Caleb Moncur
unknown - unknown
Funeral Service for the late Hartman Caleb Moncur age 103 years of #18 Lobster Avenue, Golden Gates#1 will be held on Sunday February 18th, 2018 at 2:00 p.m. at St. Agnes Anglican Church, Baillou Hill Road. Officiating will be The Right Rev'd Laish Boyd; Concelebrants; Archdeacon Kingsley Knowles, Archdeacon Mark Fox, Canon Sebastian Campbell, Fr. Hugh Bartlett and Fr. Ernest Pratt, assisted by Archbishop Drexel Gomez and Father I. Ranfurly Brown. Interment will follow in St. Matthew's Cemetery, Dowdeswell Street.
Left to cherish is memories are his sons: Sidney, Wendall, Caleb (Florence), Edward, Phillip (Hattie), Cephas (Judy), and Myron (Marcia) Moncur; daughters: Rose Strachan, Deanna Moncur, Lennor (Baldwin) Johnson, and Icelyn (Roman) Nicolls; adopted daughters: Rosemary Archer, Dr. Jenny Lloyd, Lucia (Wilmore) Rolle, Eva (Harry) Burrows, Ronda Gibson, Olive Rolle, Esthermae Stubbs and Willamae Bowleg; grandchildren: Romaine, Dr. Romona, & Tanage Nicolls, Romania (Dion) Miller, Ceandra (Ian) Stubbs, Kendra Sands, Halson Ramsey, Prisca Bannister, Shenita, Shane (Ernestine), John (Annischka), Priscilla, Rayall, Phillip Jr. (Tammy), Navada, Kaverra, Miguel, Esther, Saddam, Kennedy ,Verlisa, Duran, Myra, Myron Jr., Monet, Miracle, Myles, Wendall Jr. (Cliffaine), Jeffrey, Allen (Renee), Jason, Lorraine, Eddison (Kihan), Wayne (Ivana) & Dr. Marissa Moncur, Hester (Alton) McDonald, Clifford (Rhonda) Wilson, Darryl (Eugene) Poitier, Tamara Collie, Anya (Benjamin) Miller, Sophia McKinney, Franklyn, Mustapha (Yvette), Edward (Johnette), Raquel Strachan, Jewel (Denver) Moss, Chrystal (Craig) Simmons, Jensel (Aisha) Watkins, Baldwin Johnson Jr, Latoya (Brian) Moncur-Knowles, Shameka (Livingstone Jr.) Bevans, Ashton, Ashley & Ajanay Rolle, David McPhee, Talal Brown and Julian Russell; great-grandchildren: Johnathan & Aaron Watkins, Deandra, Ianta, Ian Jr., Ianna, C'ann & Stubbs, Joshua, David, Kaitlyn, Elizabeth Hanchell, Kevin Jr. & Kelvin, Khayrlee, Khaylee & Khorey III, Lakeasha, Inderia, Shane Jr, Ayrton, Ayriel, Candice, Cody, Rakeem, Rayall, Ryan, Rayvon, London, Tomiro, Basha, Lotus, Tyler, Taylor, Jason Jr., Naveah, Kaverra Jr., Alex & Nicholas Moncur, Rishaad Collie, Rishaun Gomez, Liam, Callista, Mathew & Noah Miller, Demetra, Courtney & Danae Poitier, Folasade Smith, Shakera (Kent) Lightbourn, Akeem, Reno, Zaria, Shaquille, Nathan, Eugeno, Justin, Jana, Eddison Jr, Jaleesa, Eddion, Liam, Owen Jr, Akeem & Kaiden Moncur, Jasheed, Christopher, Diamond, Xavier, Destiny, Mustapha Jr, Malia, Azaria, Eden-Jade & Megan-Grace Strachan, Casey Russell, Willow & Rashae (Micheal) Adderley, Dayvon, Jayden, Jadaya & Jewel-Allaina Moss, Johnathan Rahming, Shannon Simmons, Kjar, Livinya and Tianna; great-great-grandchildren: Dashon, Isaiah, Alexander, Ashton, Kent, Azara, Demari, Akeem Jr, Mi'kayla, Keziah and Hailey; great-great-great-grandchildren: Dashon Jr.; caretaker: Roseanne Rolle; sisters-in-law: Gracie and Leanna King; nieces: Kaye, Denise & Crystal Hepburn, Eulie LaFleur, Syvil Pratt, Sylvia Pratt, Janet Brown, Louise Beecham, Sheila Gordon, Thelma Moore, Cyprianna, Pasty Strachan, Louise Sutherland, Eloise Moncur, Leslieann Ferguson, Kim Itegiorta, Debra (Dr. Nelson) Clarke, Nora Newbold, Cynthia Stubbs, Pearl Adderley, Ethlee Gibson, Alberta Hall, Willamae, Jacqueline Mycklewhyte, Emily Osadebay, Eleanor Conliffe, Ingrid King, Deloris Saunders, Edris Edwards, Lillian Newbold, Margaret Dawkins, Eurika Watson, Perry Saunders, Donna Moxey, Antoinette Murphy, Millicent Pratt, Linda Bethel, Donna Hepburn, Joy Butler, Brenda Harris Smith, Charlene Sturrup, Arlette Morley, Andrea Joycelyn Dorsette, Catherine Carey, Beverly Carroll, Pearl Bullard, Jennifer, Myrtis, Elaine, Valencia, Pandora & Joycelyn King, Maedore Poitier, Althea Edwards, Susan (Eric) Hepburn, Lisa Major, Lavern LaFleur, and Renee (Kevin) Davies; nephews: Everett (Patricia), Henry, Patrick, Eric, Roy, Julian & Jeffery Moncur, Joe William, Montgomery, Willise & Herbert Brown, Tyrone, Trevor & Everette Strachan, Nat Dorsette, Bernard Hepburn, Hansel, Paul, Tony, Michael, Godfrey, Arnold, George, James, Joe, Ivan, Rhodriques, Andrew, Adrian, Ricardo, Irvin Jr., Clement, Vincent, Pastor Gary, Kenyatha, Ted & Ross King, Dwayne, Theron ( Rev'd. Marie Roach) Hepburn, Delphonse Newbold, Abie & Larry Major, Garth (Reeta) King, and Ansel Watson; grand Nephews: Arnold (Ann) Hampton; godchildren: Rev'd Father Edward (Rex), Melvin & Andrew Seymour, Idamae Johnson, Philip Deveaux, Keith McDonald, Stewart Curtis, Terry Harris and Norman McKenzie; relatives & friends: Pat & Shelia Seymour, Mr.& Mrs. Eris Moncur & family; Doramae, Eloise, Lilly, Lemond, Mavis, Elmore, Elaine, Warren, Melvin, Clifford, Mary, Franceta, Vanessa, Robert, Colean, Orrie & Norman Seymour & family; Virginia Butler & family; Paul & Prescola King, the family of the late Osbourne King, the family of the late Rev. Garnet King, the family of the late Felix Seymour, Milcha Sullivan & family; Octavia Johnson & family; Curlene Dorsette, Shirley Strachan, Vernis Storr, Jennie & Grace Dorsette, Neka Knowles, Benjamin Pratt & family; Ralph Watson, Hazel Brown, Jonathan & Pandora Johnson, Firstina Hepburn, Mrs. France Deveaux, Rev'd Father Warren Rolle & family; Athma Bowe & family; Anthony Bowe & family; High Commissioner of the Commonwealth of the Bahamas to the United Kingdom Mr. Ellison Greenslade & family; Dr. Rudy King, Emily Rolle, Dr. Kevin King, Nurse Icelyn Pratt, the family of the late Hubert Wong, Lillian & Julia Armbrister, Ruth Outten & family; Olive & Rev. Christopher King, Sam & Paula Romer, Rudy Stubbs & family; Hyacinth Nicholls, Vernice Paul & family; Hon. Brave Davis & Mrs. Davis, Hon. Godfrey Kelly & Mrs. Kelly, Administrator Charles King & family; Leen Knowles & family, Hannah Brice & family, Florabell Penn, Alice Moncur, Lester & Marguerite Small, Patricia Johnson, Gaynell Bethel, Desmond, Cheryl, & James Seymour, Melanie Thurston, Patricia Hanna, James Strachan, Joseph Strachan, Norma Allen, Naomi Smith, Sandra Collie, Deanna Fritzgerald, Ellie & Lennie Cumberbatch, Missie Wells, Joann Zonicle, Diane Rolle, Glendora Hart, Eldica Bulter, Senator Jasmine Turner- Dareus & family, Freddie Nabbie, Kenneth & Rosetta Wells, Maeoni Webb, Lydia Adderly, Anthony & Boss Knowles, Olga Brown & family, Rosabell Bethel, William & Virginia King, Roland Brown & family; Sean, Valdez, Richard, Tiffany, & Christopher Brown, Michelle Deveaux, Joann Wilson, Marilyn McKenzie, Charlene Smith, Rev. Dorothy Bain, Hannah Brice, Cyprianna Strachan, Rt. Rev'd. Bishop Laish Z. Boyd, Most Rev'd Archbishop Drexel Gomez, Venerable Archdeacon Kingsley Knowles, Rev'd. Father I. Ranfurly Brown, Rev'd. Father Atma Budhu, Rev'd. Canon Sebastian Campbell, Rev'd. Father Chester Burton , Rev'd. Father Berkley Smith, Rev'd. Father Ernest Pratt, Rev'd. Father Hugh Bartlett & Dr. Jillian Bartlett, Rev'd. Father Dwight Rolle, Rev'd. Father Harry Ward, Rev'd. Father Ormand & Theresa Wright, Beryl Elliot, Louise Sutherland, Mavis Butler, Orick Pratt, Ellamaere Rolle, Henry, Ellis, Etric & Linda Bannister, Enid Dean, George Johnson & Family; Preston King, Derek Smith & family, Mr & Mrs John Wright, Michelle Bodie, Maralee Smith, Mr. & Mrs. Richard Clark, Mr. and Mrs. Nelson Gaitor, Mable Stubbs, C. B. James, Christopher Stubbs, Carol Joseph, Arlene Mackey, Naomi Hopkins, Dr. Williamson, Dr. Guerro, Dr. Morgan, Dr. Kerr, Dr. Simmons, Dr. Davis, Nurse Rose Saunders, Nurse Elsa Behrens, Nurse Marsha Bain, Tanya McKenzie, Sister Sands & the Staff of Main Operating Theatre, Nurse Ophelia Munnings & family; Tootsie Hanna, Eleanor Dorsett, Margaret Russell, Zeke Taylor, Christine Nottage, Margaret Pinder, Yvonne Williams & family, Lydia Adderley & family, Derek Bowleg, Gaynell Bullard, Stephanie Bowleg, Diane Rolle, Williamae Bowleg, Mavis Butler, Michael, Luke & Clinton Harris, Althea McMillian, Desmond, Nelson & Peter Moncur, Carolyn Joseph, Margaret Kemp-Russell, Florida Young, Earl, Eric, Leslie & Earlean Seymour, Pressiemae Rolle, Mr. & Mrs. Kenneth Knowles & family, Natasha Clarke & family, Annette Pratt & family, St. Gregory's Church, Mr. Dion Miller Sr. & family, Mrs. Ophelia Belle & family, Francis Deveaux & family, Sharon Green, Desha Brennen, Bellamae Saunders, Cleo Johnson & family, Sheena Johnson, Kenrie Nicolls & family, Shelia Clarke & family, Matthew Johnson, Mrs. Renee Munroe & family, Rodger Johnson (Freeport),Harito Bannister, Hon. Desmond Bannister (Minister of Works & Utilities), Theresa Burrows, Naomi Minus Williams, Marjorie Johnson, Richard Clarke & family, Mable Stubbs & family, Alburn Rolle & family, the descendants of Allen Bannister (Standiard Creek Andros), the descendants of James Seymour (Central Andros), Charles, Philip, George Turner & family, Veta Brown & family, William Hepburn & family, William & Sally Newbold, Barbara Davis & family, Clara Gray, Asenanette Russell, Shakita Bethel & family, Florence Moncur & family (Miami, Fl). The Moncur, King, Seymour, Strachan, Brown, Nicolls, Johnson, Russell, Deveaux, Hepburn, Gilbert, Brooks, Knowles, Heastie, Bannister, Sands, Bowleg, Wilson, Edwards, Harris, Lightbourne, Saunders, Josey, Turner & Penn families. The communities of Knowles, Smith's Bay, Tea Bay, Stevenson, Arthur's Town & the Cove Cat Island, & other relatives & friends too numerous to mention.
Friends may pay their last respects at Bethel Brothers Morticians #44 Nassau Street on Saturday from 10:00 a.m. to 6:00 p.m. and at the church on Sunday from 12:30 p.m. until service time.