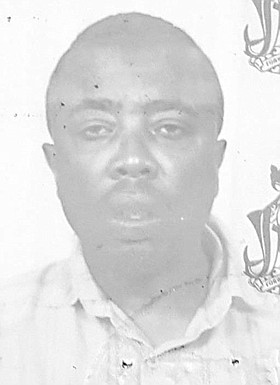 Harcourt "Barry or Tuff" Alexander Hepburn
unknown - unknown
Funeral service for the late Mr. Harcourt Alexander Hepburn affectionately called "Barry" or "Tuff" age 66 years of Wilson Tract and formerly of Hatchet Bay, Eleuthera will be held on Friday, February 16th, 2018 at 2:00 pm at St. Agnes Anglican Church, Baillou Hill Road & Cockburn Street. Officiating will be Father I. Ranfurly Brown. Interment will follow in St. Agnes Church Cemetery.
Left to cherish his memories are his four siblings: Glenn Hepburn, Julian Hepburn, Melanie Hepburn and Crystal Hepburn; sisters-in-law: Janet Hepburn, Roeshell Hepburn and Theola Hepburn; nieces and nephews: Quentin and Dijon Hepburn, Julian Jr., Richa, Glennell, Cartia, Garth Jr., Winston, Christopher and Roscoe Strachan; grand nieces and nephews: Joshua, Nathan, Ryan and Ronique; cousins: Bishop Gilbert Thompson, Dr. Philip Thompson, Matthew and Maria Ferguson, Candida, Dr. Sherelle Ferguson, Shenique Ferguson, Alma, Adams, Dr. Portia Jordan, Andrea Pinder, Kenneth and Nellie Strachan, Germaine, Janice, Lindbergh, Teresa, Leonard, Jerry, Victor and Janet Hutcheson, Retired A.S. P. Kirkland Hutcheson, Sgt. James Hutcheson, Fr. Whitfield Hutcheson, Harcourt, Billy, Christopher and Victor Brown; other relatives and friends: Descendants of Hatchet Bay: Kemp's, Johnson's, Hutcheson's, Brown's, Farrington's, Dean's and the Coakley's of Lewis Street, the Williams of Lewis Street, Marina Hepburn, Joyce Hepburn, Philip and Frances Hepburn, Deborah Woodside, Sharon Lloyd, Rosie Samuda, Elizabeth Butler, Senator the Hon. Dion Foulkes, Ministry of Labour, Staff of Ministry of Labour, The Hon. Glenys Hanna Martin, M.P., for Englerston, friends and neighbours of Wilson Tract, Cherry Elliot, St. Agnes Parish Family, Ruth DaCosta, staff at the Post Office, East Street, staff at Columbus Primary School, Fort Fincastle Family, Audley Minus and Family, the family of Rum Cay, Elaine, Patsy, Advilda, Rudolph Minus and Family, Michael and Henry Hepburn, Patricia Minus, Darren Williams and Family, the Clarke and Marriot Family, the Elite class of 1980 Bahamas Academy and many others too numerous to mention.
Viewing will be held in the Halcyon Suite at Restview Memorial Mortuary and Crematorium Ltd., Robinson and Soldier Roads on Thursday (TODAY) from 10:00 a.m. to 6:00 p.m. and at the church on Friday from12:30 p.m. until service time.