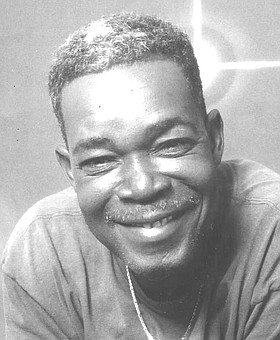 GARNET NEVILLE DEVEAUX
unknown - unknown
Funeral Service for the late GARNET NEVILLE DEVEAUX age 61 years of The Anglican Deanery, Market Street will be held on Saturday, February 17th, 2018 at 11:00 a.m. at Kemp Road Ministries, Kemp Road. Officiating will be Rev. Dr. Ivan Butler Jr. assisted by other Ministers of the Gospel. Interment will follow in Old Trail Cemetery, Old Trail Road.
Cherished memories will forever linger in the hearts of his Sons:  Garnet Jr. & Anthony Deveaux; Daughter-in-law: Tamika Deveaux; Grandsons: Garnet III & Zane Deveaux; Brothers: Senior Davis, Ivan, Lloyd & Neville Deveaux; Sisters:  Rosena Malone of Temple, Texas, Ina Stuart of Freeport, Bahamas, Princess Smith Adderley, Charlene & Michelle Rolle; Brother-in-law: Cornell Stuart; Sisters-in-law: Helen Davis, Francita Deveaux, Mary Deveaux; Aunts:  Laura Rolle & Thelma Deveaux; Adopted Children:  Antonio & Patrice Moultrie & Kendra Simmons Cooper; Adopted Grandchildren: Christopher, Antonica, Tayshawn Jeremiah, Patreko & Miracle Moultrie, Jeremico & Jayden Cooper; Nephews:  Drexel & Cpl. 3070 Quarry Adderley & Larry (Candy) Adderley, Shaquille Lewis, Kerry Malone of Temple, Texas, Nazeem (T'yah) Stuart of Knoxville, Tennessee, Cpl. Ivan (Ingrid), Eldridge (Patrice), Leevan (Keisha), Irvin, Juan, Joel (Joel), Kevin & Chaz Deveaux, Mueru & Ebon Deveaux of Seattle, Washington, RBDF Warren (Renee), Reginald, Lavardo, Reginald (Daniqua), Christopher, Rico & Raymond Davis, Akino & Akeem; Nieces:  Anastacia Adderley, Nazzma (Jermaine) Glinton, Naddia Stuart & Naamah (George) Butler, Sharica Lewis, Rakia McPhee, Iesha & Ivana Deveaux, Phyllis, Shaniqua, Taniqua  & Rayniesha Davis, Yvette Rolle, Senita Deveaux of Las Vegas, Nevada, Emily Deveaux & Ashanti Bullard; Numerous grand-nephews & grand-nieces: Numerous cousins including: Ruthmae & Terecita Davis, Donald Adderley, Lizzian Rolle, Min. Mavis Gaitor of Mastic Point, Andros, Neville Fowler, Marina Fowler, Mildred, Ashton, & Anton Carey, Nehemiah, Monique, Nicola, Lornamae & Cheryl Davis, Debbieann Jones, Sandra Williams, Dollamae, Dwight, Solomon Jr. & Leroy Davis, Gladys Whymns & Maryann Malone of West Palm Beach, Fl., Frederick, Latoya, Ebonique, Sophia, Joy, Jermaine, Antonio, Arnold, Vernon, Delano, Shantol, Shanton, Crystal & Latisa,  Kellene, Cassius, Aaron,  Leferia,  Lateria &  Sanita Gaitor, Mario Fowler, Vernita Oliver & Justina Baillou & Family, the descendants of Sidney Deveaux, the descendants of Lottie Fowler & The descendants of Blossie McPhee; Best friend: Christine Moultrie; Other relatives and friends including: Amanda Johnson, Rodney and Joanne Johnson & Family, Fredericka Colebrooke & Family, Winston Churchill & Franklyn Rolle, Sidney Demeritte, Edna & Louise Young, Nancy Bodie, Bertha Curry, Bishop Salathiel  & Minnie Rolle, Celeste Deveaux, Barbara Deveaux, Rochelle Mortimer, Roslyn Brown, Carmen Thompson, Mable Dean, Cynthia Brown, Ruby Brown, Sam Brown, Freddie Brown, Rex Adderley, Adrianna Wright, Peggy & David Smith, Basil Smith, Beatrice & Carol Brown, Joyclyn & David Rolle Jr., Theophilus Davis, Patsy, Naomi & Edith Davis, Freddy Clarke, Dean Patrick Adderley, Father Colin Humes  and The Christ Church Cathedral Family, Rev. Ivan F. Butler and The Kemp Road Ministries Family, Elder Edithmae Taylor & Family, Deaconess Ennamae Wright, Michael Moxey, Ena Curtis, Michelle Colebrooke, Billy Gilbert, Stephen Ferguson, Andrew Smith Sr., Dwayne & Andrew Smith, Sharanda Bain, Lynden Jr. & Lester Johnson, The Kelly Family esp. Hilton & Ellen, Calvin Mackey, Sean Daxon, Alphonso Dupuch, The Market St. Crew esp. Sammie, Jason, Smarty, John Burns, Michael, Melvin Carroll & Simon. The White Subdivision Community, The Apache Alley Crew, The communities of Mastic Point, Andros & Black Point & Barraterre, Exuma.
Viewing will be held in the Halcyon Suite at Restview Memorial Mortuary and Crematorium Ltd., Robinson and Soldier Roads on Friday from 10:00 a.m. to 6:00 p.m. and at the church on Saturday from 9:30 a.m. until service time.