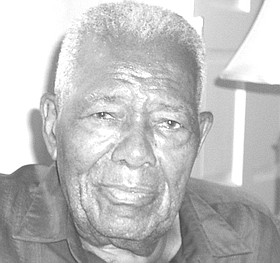 Dr. Gilbert Fitzroy Davis
unknown - unknown
Funeral Service for
Dr. Gilbert Fitzroy Davis, 94
of Sans Souci, New Providence will be held on Tuesday, February 20, 2018, at 11:00 a.m. at St. Anselm's Roman Catholic Church, Bernard Road, Fox Hill. Father Anselm Russell will officiate, assisted by Monsignor Preston A. Moss, Father Noel Clarke and Deacon Keith Roberts. Interment will follow in the Church's cemetery.
Pre-deceased by Cora, his beloved wife of 59 years, he was the devoted father to three children: Monica Davis Iton, Sylvia Bizzell and Linda Davis Tolbert; grandfather of five: Greer Anjelica Iton Chams, Jesse William Davis Iton [deceased], Bianca Coralynn Tolbert, Bridgette Sophia Tolbert, and William Tolbert III; father-in-law of Clement William Iton, Peter Bizzell and William Tolbert Jr.; and grandfather-in-law of Fayez Chams. He was pre-deceased by three brothers: Ulysses, Sylvester and Donald, and by one sister, Monica. He is survived by one brother, Winston "Tappy" Davis; one sister-in-law Delores Davis; and numerous members of the Davis family in The Bahamas and abroad.
Friends may pay their last respects at Bethel Brothers Morticians, 32, Nassau Street on Monday from 12 noon to 6:00 p.m. and at the church on Tuesday from 10:00 a.m. until service time.
In lieu of flowers, donations may be sent to:
The Children's Breakfast Programme
and/or
The Society of Saint Vincent de Paul
at
Saint Anselm's Roman Catholic Church
PO Box FH 14389
Nassau, Bahamas