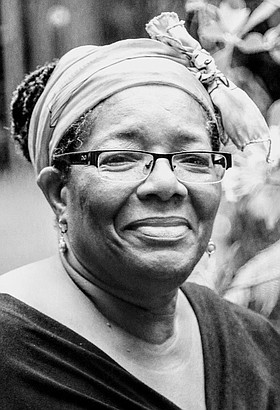 DEACONESS JENNIFER VERONICA ROBERTS-RILEY
unknown - unknown
Funeral Service for the late DEACONESS JENNIFER VERONICA ROBERTS-RILEY age 66 years of #4 Catas Close will be held on Sunday, February 18th, 2018 at 1:00 p.m. at New Life Ministry, Faith Avenue South. Officiating will be Rev Antonio Beckford assisted by other Ministers of the Gospel. Interment will follow in Woodlawn Gardens, Soldier Road.
Her legacy will live on through the lives of her loving and devoted husband of 40 years: Rev. Bursel C. Riley; Seven (7) Children & their Spouses: Darren (Rose), Malik (Madonna), Roberto (Schylema); Daughters: Tonia (Eric) Knowles, Vanessa Riley, Audra Riley, RaMona (Renardo) Bethell (predeceased); Twelve (12) Grandchildren: Erin Kaila, Tomasso, Eric Jr., Timothy, Revival, Ethan, Revere, Elizabeth, Revine, Raechel, Enzo, & Faith; Brothers-in-Law: Lloyd, Glen, Leslie, Barry; Sisters in- Law Willamae Riley - Coleby, Brenda Riley; Nieces: Marina, Linda, Caroline, Theola, Keva, Sherelle, Ginger, Sherry, Patrice, Shenique, Nadia, Urshula, Rochelle, Helena, Sophia, Anethra, Kendra Shameka, Sharron, Sanchia, Sienna; Nephews: Je'Rome, Dirk, Carlton, Terrance, Sean, Ricardo, Andrew, Tony, Lynden, Wayde, Ernest, Pedro, Eric, Anthony, Steven, Joe, Godfrey, Ronesto, Kevin, Barringtino, Romano, Larry, Michael, William, Monty, Janone, Fontiane, Damone, Glenroy Jr., Shannon; God-Daughters & Adopted Daughters: Denricka Kerr- Taylor, Renee Farquharson, Kedeisha Cooper, Alice Mather & their families; Other Relatives & Friends: Gloria Rhoden Dale & Family of NYC, USA, Rev. Antonio Beckford & the New Light Church Community, Rev. Judy Charlton & Sanctuary of Praise Ministries, Mount Moriah Church Family & the Community of Farrington Road, C.R. Walker School Family, The Government High School Family, Training for Reigning Institute Family, The Ministry of Education – Library Services Unit, Alan Pinto & family, Charles Major & family, Michael Marks & family, Alexandria Turnquest & family, Sophia Moss & the Teachers' & Salaried Workers Credit Union family, Chuck Smith & family, Philip Dorsett & family, Dorothea Ritchie & family, Clara Cooper & family, Sabrina Skinner & family, Jacinth Taylor & family, Donella Davis & family, Helen Rolle & family, Clothie Lockhart & family, Majorie Russell & family, the Christie, Colebrooke, Treco, Peet, & Oliver families, and a host of past students, including the Honourable Marvin Dames & other friends too numerous to mention.
Viewing will be held in the Halcyon Suite at Restview Memorial Mortuary and Crematorium Ltd., Robinson and Soldier Roads on Saturday from 10:30 a.m. to 4:00 p.m. and at the church on Sunday from 11:30 a.m. until service time.