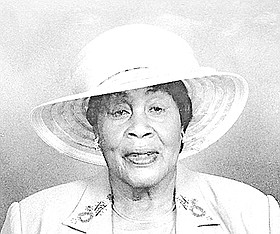 Rosemary Swain
unknown - unknown
Funeral Service for
Rosemary Swain, 84
of Murphy Town, Abaco will be held on Saturday, September 30th, 2017 at 11:00 a.m. at Daystar Bible Church, Dundas Town, Abaco, The Bahamas. Officiating will be Rev. Livingstone Edwards, assisted Elder Wenzel McBride and other ministers of the gospel. Interment will follow in Murphy Town Public Cemetery, Dundas Town, Abaco.
She is survived by her Children: Virginia Albury, Minerva & Johnathan Reckley, Daniel Minns, Cedric Minns, Nigel & Acilia Minns, Bertram & Melissa Minns and Natasha & Richard McKenzie, Veronica Swain; Step-Daughter: Iva Duncombe and her husband Loftan Duncombe; Sister: Louise Swain and her husband William Swain; Grandchildren: Tyrone& Tennie Albury, Marvin & Pauline Albury, Theresa Hughes, Samantha & Trevor Miller, Sherry & Donald Sawyer, Tracey &Rimberto Taylor, Jeremy Albury, Leland & Kay Swain, Lewis & Madeline Swain, Kelly Swain, Lance Swain, Kimberly & Jamal Russell, Keva Poitier, Rosemary Reckley, Amanda & Ashley Smith Sr., Kimberly, Jonathan Jr. and Tamara Reckley, Shariena & James Sweeting, Simeon Minns Jr., Leonard Jr., Robert Abraham, Shakinah, Trinity, and Alisha Minns, Joanna & Hiram "Pebbles" Tinker, Bertram Minns Jr., Rachel and Mariah McKenzie; Step-Grandchildren: Wayne, Isaiah, John, Lester and Vera Swain & Family; Great-grandchildren: Marvin Albury Jr., Enoch Albury, Tyronia, Tyroneka, and Carlisa Albury, Delvern Simms Jr., Trenay Miller, Marissa Pratt, Terran Albury, Tarage Taylor, Jordan, Daniel, Kobe, Dylan, and Victoria-Rose Hughes, Essence and Harmony Sweeting, Trevon Rolle, Kailesha and Khanti Swain, Rhianna Poitier, Jamal Russell Jr., Garrison Carey, Emmanuel Joseph, Shakarah, Dominic and Chelsea Swain, Mateo Russell, Lucas and Lilah Swain, Ryanna Reckley, Miles Davis, Ayanna Smith, Leonard Minns Jr. III, Robert Minns Jr., Lauryn and Zion Tinker, and Catalina McKenzie; Nieces & Nephews: Paul Mills & Family, Judy Hunt & Family, Van Darville & Family, Marvin Bethel & Family, Relando Darville & Family, Sherman Swain & Family, Peter Swain & Family, Baron Swain Sr. & Family, Sherry Godet & Family, Linda Seymour & Family, Ruth Swain & Family, Lynette Rodriguez & Family, Wenzel McBride & Family; A Host of Relatives & Friends including: Vonnie & Nita Ingraham & Family, Aremena Bootle & Family, Rupert Bootle & Family, Children of The Late Rev. Roland Swain & Family, The Swain Family, The Bootle Family, The Williams Family, The Minns Family including Sheila & Ivy Minns of New Providence, Ida Swain & Family, The Simms Family, The Curry Family, Natasha Roberts, Verona Reid, Leota McDonald & Family, Eleanor Russell & Family, Bethsheba and Rosie McIntosh & Family of Coopers Town, Sis. Winnie McIntosh & Family, Children of The Late Almeta Sands & Family, Children of The Late Alexander &Isamae Dawkins, The Davis Family, The Mills Family, Nurse Barbara Reckley & Family, The Dean Family, The Cornish Family, The Saunders Family, Anna Ruth Bootle & Family, The Lowe Family, The Beneby Family of Freeport Grand Bahama, both Doctors Swarna & Family, The Staff of the Marsh Harbour Govt. Clinic, The Staff of BTC, The Management and Staff of The National Insurance Board, The Post Office Staff, The Island Bakery Crew, BCN Management & Staff, Members & Congregation of Daystar Bible Church, Members & Congregation of Victory Tabernacle Church, Members & Congregation of Friendship Tabernacle Church, Member & Congregation of St. Andrew's Methodist Church, Members & Congregation of Zion Baptist Cathedral,Members & Congregation of Bethany Gospel Chapel, Management & Staff of Corner Value & Abaco Gas, and the Murphy Town Community &Township Committee.
Relatives and friends may pay their last respect at Evergreen Mortuary, Queen Elizabeth Drive, Marsh Harbor, Abaco on Friday from 10:00a.m. – 6:00p.m. and again at the church on Saturday from 10:00a.m. until service time.