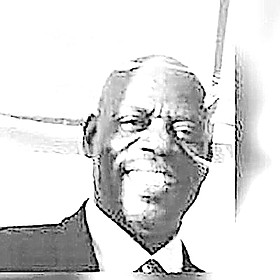 Patrick Rigby
unknown - unknown
Funeral Service For
Patrick Rigby, 54
of Bowe Avenue, Montel Heights who died on September 10, 2017 will be held on Saturday, September 30, 2017 at 2:00 pm at First Holliness Church Of God, Bamboo Town. Officiating will be Bishop Gregory Collie assisted by Other Ministers. Interment will follow in Old Trail Cemetery, Old Trail Road.
Precious Memories will linger in the hearts of all knew him especially his Wife: Michelle Bastian Rigby; Daughters: Shavon Rigby Williams, Shakera, Shanell and Sharell Rigby and Dominique Dukes; Sons: Patrick Rigby Jr. and Enero Laing Rigby; Step-father: James Cooper; Step-mother: Helena Rigby; Grandchildren: Lavaughn Sargent, Deangelo Smith, Patrick Rigby III, Treasure, Trazelle and Shakara Rigby, Destiny Moss and Ashanti Pratt; Sisters: Sheryl Rigby Benaby, Tangy Rigby of Grand Bahama, Janet Farrington and Erica Mackey; Brother: Dereck Smith; Son-in-law: Cpl 3350 Theo Williams; Brothers-in-law: Dr. Tyrone Bartlett, Tyrone Benaby, Brandon, Jason, Joshua Cox, WInsworth Roberts and Anthony Mackey; Sisters-in-law: Marsha Bartlette, Lauree Greenslade and Kristy Roberts; Aunts: Iris Rigby Williams, Anna Rigby Forbes of Freeport, Ruth Gibson, Naomi Simmons; Uncle: Samuel Miller of Fort Lauderdale; Nieces: Monica McCartney, Erica Miller, Sky Collie, Keva Greenslade, Herbalese Brown, Xatavia Roberts, Monica Taylor, Alexis Farrington, Anthonique Mackey, Tamari, Torell, Deranique, Damon Smith; Nephews: Constable 3738 Eric Collie, Tyrell Benaby, Constable 3731 Kevin Greenslade, Kavon Greenslade, Keith Braynen, Deanza, Chrisworth Roberts, William and Leonardo Farrigngton, Richard Mackey, Dereck Jr., Diajalo and Ricko Smith; Other relatives and friends including: Anthony McKenzie, Neville Bain, Tony Pratt, Black's, Bishop Greogry Collie, Inspector Devin McCartney, Annamae, Enid, Barry, Gwendolyn, Adrian, Sharice Minnis, Deangelo Smith, Alamare Richardson, Rashad Kelly, Dominique Rhoderiquez, Lynden Maycock and Family, Selma McIntosh and Family, Janice Butler and Family, Xavier and Monica, Bruno Cunningham, The Sargeant Family, The Williams Family, The Word of Life Kingdom Ministry, The National Sports Authority, The King Bar Family, Nassau Stadium Family and Montell Heights Family.
Viewing will be held in the Legacy Suite of Vaughn O. Jones Memorial Center, Mt. Royal Ave. and Talbot Street on Friday from 11:00 am to 5:00 pm and on Saturday at the Church from 1:00 pm to service time.