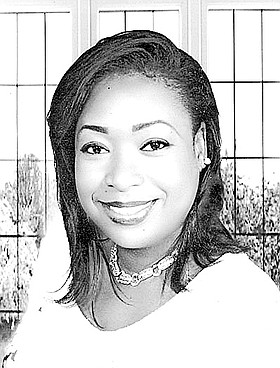 PAMELA MARIJKE COX-YOUNG
unknown - unknown
Emerald Celebration Service For
PAMELA MARIJKE COX-YOUNG, 41
of #10 Hamilton Road, Mt. Pleasant Village, will be held on Sunday, October 01, 2017 at 2pm at Hillview Seventh Day Adventist Church, Tonique Williams Highway. Pastor Melvin Lewis, assisted by other Ministers will officiate, Pre-Cremation.
The Radiance of this "Emerald of A Gem" will always glow in the hearts of her: Children: Cy, Devore and Aliyah Young; Parents: Rupert and Norma Cox; Step-Grandmother: Naomi Williams;
Special Friend: Everette Coakley; Siblings: Patrice Murphy, Patricia, Prescott, Papillon, Peron and Parris Cox and step-brother: Dwight Powell; Spouses of Siblings: Curtis Murphy, Denise, Kerry-Ann, Kaadhy and Charita Cox; Nephews: Charles, Jonathan, Justin and Papillon Cox Jr.; Nieces: Kurtisa Murphy, Shantana and Loren Cox;
Uncles: Stephen and David Cox, Al and Washington Collie; Step-Uncles: Ashlyn and ASP. Miller, Marty and Randy Powell; Aunts: Eliza Taylor, Malcolin, Lerlean and Diane Cox, Brenda Rolle, Roslyn Nixon, Malory, Drucilla, Roslyn and Eartha; Step-Aunts: Janice Evans, Jacqui Powell, Sharon Stubbs, Kim, Kayla and Bridgette; Cousins: The Honourable V. Alfred, Mario and Janine Gray, Laverne Thompson, Duke Erol and Dorey Strachan, Syblean McPhee, Nina, Don, Ashley, Renald, Sonya, Larry, Keno, Lydia, Anya, Elridge, Marshalyn Seymour, Benia Dean, Neresa Bandelier, Jobina Bain, Lynette and Latonia Nixon, Perilee, Eloise, Martha, Wendy, Eileen, Karen, Pauline, Jehu, Mark, Shantel Saunders, Venal Kemp, Basil, Shanendor Saunders, Mavis Hanna, The Honourable Marvin Dames, Velma, Jerry, Hermon and Fritz Ferguson, Curtis and Peter Hanna, Derek Collie, Sharon, Tanya and their families and the entire Dames family; Other Relatives and Friends: Zorrine Curry, Dr. Cleveland (Fritz) Eneas Jr., Chanel Brown, Keya Young, Vanessa, Suezette Bain, Wendy Mcewan, Tony F, Ronny Butler, Kelsey, Aubrey, Ruby Polhamus, Artehel Gibson, Curlean Gibson, Brigette Neven, Godfrey and Rosemay Newry, The Wright Family, Carrie Simms, Pastor Philmon Wilson, Henretta, The Honorable Shane and Eric Gibson Jr., Ena Charlton, Ronnie, Melva, Sabrina, Delli, ACP. Deleveaux, Delworth and Zena Gibson, Rev. Kirklyn Collie and their families, the Johnson family, Mount Pleasant Village Community, Pastor Lewis and members of Hillview Seventh Day Adventist Church, and many more relatives and friends.Special Thanks To: Anton Mitchell and members of Church of God, Acklins Regatta Committee, Sandal's Projects Department, Marilyn Simmons, Rita-Ann Saunders and Staff of Baha Mar Resort.
Book of condolence: can be signed at the Hillview Seventh Day Adventist Church, Tonique Williams-Darling Highway on Sunday, October 01, 2017.