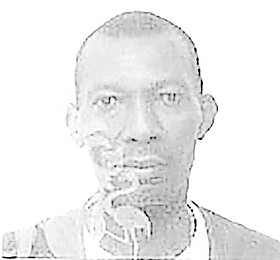 Ormald Creswell Moultrie
unknown - unknown
Funeral Service For
Ormald Creswell Moultrie, 62
a resident of Matthew Town, Inagua, will be held at Christ the King Anglican Church, Ridgeland Park West, on Saturday, 30 September, 2017 at 10:00 a.m. Officiating will be Archdeacon James Palacious. Interment follows in Lakeview Memorial Gardens, John F. Kennedy Drive.
Left to cherish wonderful memories of his are his Son: Gerard Moultrie and Nicole Moultrie (daughter-in-law); Stepdaughter: Dashinka Johnson and Leonardo Johnson (son-in-law); Brothers: Wellington Geoffrey Moultrie, Jr., Honourable D. Halson Moultrie, M.P. and Speaker of the House of Assembly, Vivian F. Moultrie; Sisters: Leoni Moultrie, Ethalyn Cartwright, Andrea Moultrie and Mispah Moultrie; Brothers-in-law: Michael and Ken McKenzie; Sisters-in-law: Nicole Moultrie, Kim Moultrie, Sandra Robinson, Delores and Jennifer McKenzie; Grandsons: Taraj Wilkie, Nigel Moultrie and Liam Johnson; Granddaughter: Nyrelle Moultrie; Aunts: Bloneva Balfour, Mary Johnson, Dorothy Ingraham (adopted), Winifred Clarke, Malvese Hepburn; Nephews: Keith (Eartha) Dean, Avando Cartwright, Minister Torrien (Desiree) Rutherford, Nathaniel Adams Jr., Rico Moultrie, Herschel D. Moultrie; Neices: Urika, Theodora, Tammi Cartwright, Tazia Rutherford, Blanette Baltimore, Lornia and Anthea Moultrie; Cousins: Calvin, Edwin, Melvin, Harriet, Earl, Bloneva, Jacqueline, Evamae, Lucy, Willis Jr., Francis, Vincent, Willamae, Pochina, Utta, Vannessa, Eleanor, Barbara, Arthiston, Ruth Bullard of New York, Larry, Lorna and Alec Bullard, Wellington Pinder, Edna Walkine, Kirk and Ula Walkine, Beverley, Judson, Leopold, Berdina and Dean Mullings, Doris Gomez, Evelyn Cox, Ernestine, Christopher Malcolm, Alicia, Burt, Deidre, Rose, Antonio, Ricardo, Eleanor Steele, Dorothy Ellis-Smith, Ena Brown, Nicole McKenzie, Wayne and Walter Newman; Other Relatives & Friends: Joan Wilson-Rolle, Eugene "Stevie" Mortimer, Stephen Rutherford, Malachi Grant, Jeffrey Sturrup, Clyde Rolle, Basil Lightbourne, Charles Morley, Garnet Cox, Evette Mortimer, Stephen Mullings, Franklyn "Dickie" Collie, Stafford Higgs, Desmardo "Stileet" Finley, Jermaine Finley, Dominique Wilson, Smiley, Leslie Albury, Marion Cartwright, Lavender Bain, Kenneth and Maxine Forbes, Dr. John Bain, Cheresa Campbell, Laurice Bernard, Sandra Bain, Angela Munnings, Natecia Knowles, Langton Bain, The Poitier Family, The Johnson Family, Prudence Palacious & Family, The Smith Family, The Wilson Family, The Beneby Family, The Barbes Family, The Farquharson Family, The Pyform Family, The Rolle Family, The McIntosh Family, The Fawkes Family, The Seymour Family, Honourable Vernon J. Symonette and Family, The Hanna Family, Alice Watson & Family, Ulric Williams & Family, The Crystal Palace Casino Family, St. Augustine's Class of 1971, Dr. McKenzie, Honourable Dr. Duane Sands, M.P. and Minister of Health, The Inagua Clinic and the entire community of Great Inagua.
Ormald impacted so many lives, we humbly apologize to all those who names may have been inadvertently omitted.
Friends may pay their last respects at Demeritte's Funeral Home, Market Street, from 12-6:00 p.m. on Friday & on Saturday at the church from 9:00 a.m. until service time.