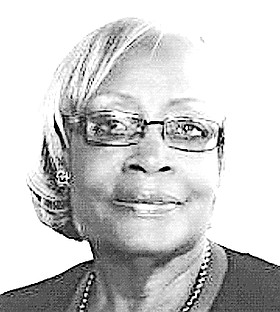 ODENA VERONICA ADDERLEY BURROWS
unknown - unknown
Funeral Service For
ODENA VERONICA ADDERLEY BURROWS, 80
of #21 East Ave, Millers Heights, will be held on Saturday, 30th September, 2017 at 1:00 p.m at Evangelistic Temple, Collins Ave. Officiating will be Pastor Rob Elliott, assisted by other ministers of the clergy. Cremation will follow.
Left to cherish her memories: Her Husband: Stanley Arlington Burrows; Children: Rev. Stanley Evan (Rosa), Andrew (Camille), Karen Stubbs (Kemuel Sr.), Deborah Bain; Grand Children: Lisa Sturrup (Robert), Shavonne, Dareio, Davario, Leonardo Sr., De'Vand, Cameron, Calderon, Henry, Andrew and Attorney Theo (Larissa) Burrows, Kemuel Jr. (Jacinda), Kellee and Kenisha Stubbs, Dayan and Ellia Bain, Attorney Megan Taylor and Leah Knowles; Great Grandchildren: Robyn and Rachae Sturrup, Leonardo Jr. and Devari Burrows. Sister: Marjorie Ferguson.
Friends may pay their last respects at Bethel Brothers Morticians #44 Nassau Street on Friday from 10am to 6pm. and at the temple on Saturday 12:00 noon. until service time.