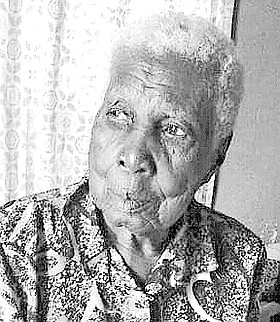 MELVINA HANNA-TAYLOR
unknown - unknown
Memorial Service For
MATRIARCH MELVINA HANNA-TAYLOR, 103
of Snug Corner, Acklins, who died on 15th September, 2017, will be held on Friday, 29th September, 2017, at 6:00pm at St. John's Native Baptist Church, Meeting Street. Officiating will be Rev. Dr. Carrington S. Pinder, assisted by other Ministers of the Gospel.
FUNERAL SERVICE for
Matriarch Melvina Hanna-Taylor, 103
of Snug Corner, Acklins, who died on 15th September, 2017, will be held on Sunday, 1st October, 2017, at 10:00am at St. Matthew Baptist Church, Masons Bay, Acklins. Officiating will be Rev. Herman Ferguson, assisted by other Ministers of the Gospel. Interment will be in the Public Cemetery, Snug Corner Acklins. She is predeceased by her husband: Hosea Taylor; daughter: Martha Hanna-Rahming; sons: Stuart and Alfred Hanna, Wellington Williams.
Left to honor the life of this extraordinary woman who touched many lives her Sons: Lawrence and Hercules Hanna Jr.; Daughter: Florine Hanna-Emmanuel; Daughter-in-law: Nurse Pandora Williams; Sister-in-law: Clementina Hanna; Grandchildren: Kendal, Franklyn, Leslie (Avis) Rahming, Lynniskha (Brian) Wilson, Kevin, Sheila and Yvette Styles, Lloyd (Lena) and Conroy Ingraham, Audley Hanna, Jo'Ann, Cynthia, Pandora, Rosemary (D), Kathy, Lawrence Jr., Glendora, Lamont and Larando Hanna, Lenora (Felix) Bain, Miriam Emmanuel, Isaac, Police Corporal Elvin (Carla), Stephan, Stephanie (D) and Granville Jr., Emmanuel, Cory, Defence Force Glenroy, Kendris and Raymond Williams, Ricardo (Latoya), Arlene Rahming, Rochelle (Waldon) Russell, Nicole Rahming; Great Grandchildren: Duran, Jamal, Briealessa Wilson, Adam, Ciara, Jaydealy, Lezley, Hayley, Josh, Kenjia Rahming, Selina Styles, Christopher, Alisa, Rashad Williams, Martinique Nixon, Jason, Deshay, Deshawn, Deja, Rhianna, Radra, Kath Ingraham, Ellesse McCartney, Amanda, Ashton Rahming; Numerous Great Great Grandchildren including: Christina Williams, Alexandria Bain, Mya Charles, Dashwell Rahming Jr., Elicia Emmanuel; Nephews & Nieces: Monica(Arthur) Brown, Cy (Sandra) Hanna, Princess (Ben) Guillory, Dawn (Ed) Bethel, Joy (Arthur) Rolle, Yomo Phyllis Hanna, Lynda Cartwright, Phyllis (Vernon) Symonette, Lydia Lamm, Harry, Ferris Hanna, George Bain, Rufus Sweeting, Susanna Peterson; Grandnieces & Nephews: Sister Caffine (John) Jean-Jacques (PMH), Arthur Brown Jr., Franklyn (Terneal) Brown, Patrice Minnis, Patrick Brown, Tamika (Kevin) Neymour; Other relatives & friends: Rev. William III and Beverly Peterson (Vero Beach), Mae Symonette, Ivy Ingraham, Olvita Strachan, Sarah Marion (Ft. Lauderdale), Peggy Thomas, Iris, Dancy, Kendal Tynes, Lethia Knowles, Bishop Orville Peterson Sr., Peggy Knowles, Marilyn Wilson, Ruth Evans, Delerease Rahming, Barbara Hepburn and Family, Nancy Rahming, Mia Alexander (Seattle Washington), Copeland and Cedric Rolle, Cyslin Cooper, Velma Ferguson, Minister Cleo Cash, Sarah Rahming, Estella Farrington, Kathleen Brice, Bishop Leroy Emmanuel, Samuel and Beatrice Anderson, Charles Newry, Mavis Charlton, Lillymae Deleveaux, Eulalie Johnson and Family, Families of the Jameson, Rahming, Styles, Ingraham, Hanna, Heastie, Tynes, Green, Clare, Johnson of Lovely Bay, William Campbell, Naomi Davis, Peter V. Sturrup, Pastor Claudine Virgil, Elijah Beneby, Lerlean Cox, Curtis and Mable Hanna, Naomi Mackey, Eliza Taylor, Fritz Ferguson, Charrise Capron, Samantha Chisholm, Rev. Herman and Theresa Ferguson, Rev. Vernal Hanna, Rev. Leon Anderson (West End), Rev. Newton Williamson, Rev. Dr. Veronica Atkins, Rev Dr. Marina Preston (Atlanta), Bishop Carol Rolle, Rev. Moses and Mable Cox, Dianna Forbes, Urlean Hanna, Orient Hanna, Michelle Rolle, Henry Rolle, Mr. & Mrs. Rupert Cox, Curtis (Boy) Hanna, Ruby Polumues, Ethlyn Bain, Jeffery Taylor, Marie Ferguson, Geneva Jones, Francis Wilson, Family of the late Mr. Hosea Taylor and the entire Community of Acklins and Crooked Island and a host of other relatives and friends too numerous to mention.
Relatives and friends may pay their last respects at Newbold Brothers Funeral Chapel, Palmetto Avenue & Acklins Street, off Market and East Streets on Friday from 10:00am to 5:00pm and at the church on Saturday from 2:00pm until service time.