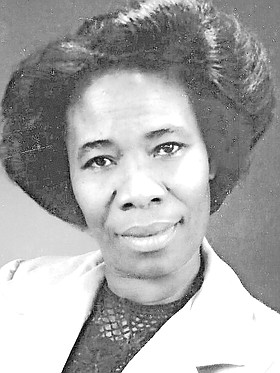 MADELINE HANNA
unknown - unknown
Funeral Service For
MATRIARCH MADELINE HANNA, 82
of #123 Hanna Road West, will be held at 11:00 a.m. Sunday, 1st October, 2017 at Hillview Seventh Day Adventist Church, Tonique Williams Darling Highway. Officiating will be Dr. Leonard Johnson, assisted by Dr. Wendell R. McMillan, Pastor Paul Scavella and other Ministers of the Gospel. Interment will follow in the Woodlawn Gardens Cemetery, Soldier Road.
Madeline's Life, Love, and Legacy will forever be cherished by: Husband: Pastor Royden Isaac Hanna; Sons: Dr. Martin Hanna, Mr. Haydn Hanna, Mr. Edward Hanna; Daughters: Miss Betty Hanna and Mrs. Esther Gordon; Son-In-law: Pastor Delthony Gordon; Daughters-In-Law: Dr. Henrietta Hanna, Mrs. Barbara Hanna and Mrs. Dian Hanna; Grandchildren: Pharez and Shacoyia, Melody, Zachary, Dominic, Gabrielle Hanna; Jonathan and Hadassah Gordon; Sisters: Mrs. Miriam Smith, Mrs. Netta Bowen, Dr. Althea McMillan; Brothers-in-law: Dr. Wendell McMillan, Wycliff Bowen, Othniel Darling, Gerard and Leon Hanna, Pastor Jeremiah Duncombe, James Sands; Sisters-In-Law: Inez Moncur, Roslyn Moncur, Thelma, Mildred, Carolyn, and Doreen Hanna, Joan Duncombe, Emily Ferguson, Alice Sands, Muriel Darling; Nieces: Alice Gilbert, Veronica Sherman, Mary Grey, Melanie Ciccolella, Zelda Azor, Donna Hannah, Lisa Cunningham, Agatha Nottage, Netta Blake, Ellissa Mwesigwa, Coralie Adderley, Laurel Long, Dr. LaKeischa McMillan, Portia Allen, Jennifer, Zipporah, Amanda, Marica, Ingrid, Shirley, Yvonne, Kathenna, Janet, and Marcela Moncur; Kimberley, Hazel and Jackie Greenslade; Lenece Stubbs, Janis Butler, Denise and Voniel Smith; Jeannie and Barbara Ferguson; Dorinda Darling; Idamae, Zelda, Donna, Angela, and Hope Hanna; Patricia Cleare, Chyrial Penn, Violet Bowlin, Alree Price, Juliet and Carla Sands; Sherry Rahming, Cynthia Johnson, Eleanor Harden, Shon and Kathleen Ford; Kaywana Forbes, Kemoree, Brendeka and Jennifer Duncombe; Alexandra Ripley; Nephews: Eris Moncur Sr., Alden Smith, George, Reginald, Maxwell Jr., Nelson, Peter, Carver, Ricardo, Dwight, Alton, Dale, and John Moncur; Commissioner Ellison Greenslade, Desmond Greenslade, ACP Ashton Greenslade, Sgt. 464 Kevin Greenslade, Stephen Greenslade; Archibald and Edison Minnis; Wycliff Bowen, Wendell McMillan II, John Mwesigwa, Ethan Adderley, Stephen Allen, Kevin Long, Mitchell Gilbert, Harry Azor, Levon Hannah, August Blakes, Anthony Nottage; Charles, Hubert, and Donald Ferguson; Kenny Darling; David, Andrew, Mark, Matthew, Leonard, Phillip, Christopher, Frank Jr., Leon, Drayton, Frederick, Francis, Reginald, Raymond, and Greg Hanna; Randolph Bowlin, Pastor Kent Price, Roderick and Roger Sands; Louis Cleare, Jeremiah Jr., Vincent, and Cpl. 2757 Wayne Duncombe; David Smith, Jerome Ford; Many grand, great grand, and great great grand nieces and nephews. Numerous friends, cousins, ministerial and professional colleagues and other relatives and friends too numerous to mention.
Friends may pay their respects at the ROCK OF AGES FUNERAL CHAPEL, JASPER SUITE, Wulff Road and Pinedale from 10:00 a.m.-6:00 p.m. on Friday 29th September and at the church from 10:00 a.m. until service time on Sunday 1st October, 2017.