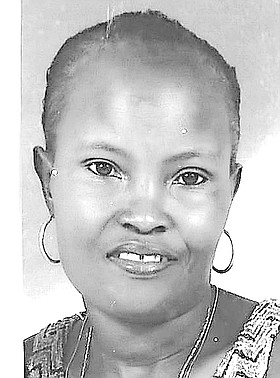 LAUREL LANETTE BETHEL-PINDER
unknown - unknown
Funeral Service for
LAUREL LANETTE BETHEL-PINDER, 55
of Hatchet Bay, Eleuthera, will be held on Saturday, September 30th, 2017 at 1:00 p.m. at St. Mark's Methodist Church, Hatchet Bay, Eleuthera. Officiating will be Rev. Godfrey Bethel and Deacon Audrea Clarke. Interment will follow in Big Bay Cemetery.
Precious memories will remain with her Husband: Charles Pinder I.; Children: Ephesius Bethel and Charles Pinder II; Grandchildren: Johnell Ramsey, Ephesius Pinder, Gidgette Ramsey III, Ephesius Bether Jr., Javis Bethel and Charles Pinder III; Brother: Sidney "Jimmy" Bethel; Sisters: Reverend Kathrina Durham and Wilhemina Ferguson; Brothers-in-law: Daniel Ferguson, Cedric and Junior Rolle; Sisters-in-law: Jewelann Bethel, Dorothy Bethel, Wilhemena Bethel, Audrey Gibson, Annamae Davis, Sandra Johnson, Lonnie and Francina Rolle; Stepchildren: Applonia Pinder, Cheranuk Pinder; Adopted Child: David McQueen; Nephews and Nieces: Lyden and Elroy Knowles, Ruthie McPhee, Brenda Kenny, Diane Knowles, Louise and Tommy Pinder, Judith and McNeil Johnson, Vernell Ferguson, Vyette and Laurie Belle, Latricia Cambridge, Shungrea Kelly, Tamara and Arthur Nixon, Thelia and Eline Sineus, Bernadette Williamson, Owen and Sherial Campbell, Norlette, Charles, Kendall, Claudius, Neil, Jamal, Sidney, Lawrence, Howard, Jefferson and Ted Bethel, Adolphus Davis, Clarrington Ferguson, Lorenzo, Theodore and Franklyn Durham, Bertheria Pickstock, Cpl. 2702 Beckford, Keshia Ward, Dwayne Johnson, Xenia Greene, Marcia and Felecia Bethel, Jason Hepburn, Raquel Beneby, Navardo Johnson, Niska Bethel, Lolita Bethel, Corneil Johnson, Dominique Wood, Mario Wood, Dario Curry, Louval Johnson, Salomon Rolle, Michael Rolle, Cassandra Johnson, Anika Johnson, Michael Rolle, Javan Ward, Ariel Johnson, Sharon Rolle, Janice Rolle and Deandra Johnson; Grandnephews and nieces; Great Grandnephews and nieces; Numerous relatives and friends including: Dr. Calsey, Stephen, Addielee, Patsy Johnson, Neutie Seymour, Evangelist Violet Bethel, Joan Pinder, Minerva Delancey, Beatrice Rolle, Kenneth Kemp, Carmetta and Geralene Dean, Rev. Claudius Bethel, Sheena Duncombe, Donna Bethel, Sylvia Bethel, Wanda Roberts, Rev. Delbert Bethel and Rev. Godfrey and Almena Bethel, Deaconess Janet Donahue, John and Beverly Kemp, Alexander Farrington, Lavern Saunders, Bernadette Brown, Emily and Ernest Davis, St. Mark's Methodist Church and the entire community of Hatchet Bay, Eleuthera.
Viewing will be held in St. Mark's Methodist Church, Hatchet Bay, Eleuthera on Friday from 7:00 p.m. until service time on Saturday.