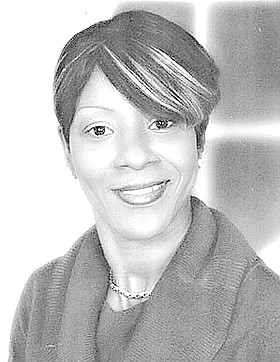 Karen Ilene Bastian Ingraham
unknown - unknown
Funeral Service For
Karen Ilene Bastian Ingraham, 55
a resident of Thompson Avenue, Stapledon Gardens, will be held at Southside Christian Church International, #1 Dignity Gardens, off Carmichael Road, on Saturday, September 30, 2017 at 12:00 p.m. Officiating will be Apostle Dr. C. Clifford Smith & other Ministers of Religion. Interment follows in Lakeview Memorial Gardens, Soldier Road.
Left to cherish her r memories are her loving husband: Orpheus Ingraham; (2) daughters: Sharmaine Ferguson & Cassie Battiata; 1 Son: Corey Bastian; 13 grand children: Kevinna Pennerman, Cardino, Shaquan Ferguson, Adreanna, Amanda, Allyhanadra, Adrian , Amaziah, Aleena, Alicia Battiata; Dorlysha, Doyle, Delano Bastian; Great granddaughter: Xyonique Moss; 1 son in law: Adrian Battiata; 1 step son: Desario Ingraham; 2 step daughters: Oliva & Shenique Ingraham; 5 step grand children: Ian, Cornell, Jamari, Tenesha & Nyla Ingraham; 3 brothers: Shawn Benjamin, Robert and Bernard Jr. Strachan; 5 sisters: Bridgette Miller, Shonie Strachan, Tesselane Evans, Belkis & Clara Strachan; 3 Aunts: Vigina Major, Venita McKenzie, Miriam Brown; 9 Brothers in law: Lynden Miller, Bishop Terrence Strachan, Solomon Evans, Joshua , Pete, Kendal, Edwin, William & Kris Ingraham & Steve Joseph; 14 sisters in law: Nadia Benjamin, Clarita, and Sandra Strachan, Edith Ingraham-Taylor, Paige Ingraham Joseph, Deborah Ingraham, Renee Ingraham- Duncombe, Glenda Ingraham- Thompson , Sandy Ingraham-Smith, Ingraham Wright, and Mia Ingraham , Lola ,Theresa & Bethsheba Ingraham; Nephew: Claude Grey, Charley, Theo Miller, Jeremey Dwight, Marcus s & Elan Lockhart, Clarion Curry Saletheil, Santangelo Dames, Solomon, Samuel Evans, Deangelo Armbrister, Tavon , Terran Strachan, Kendal, Gordon, Jeffery & Lil Ferry Ingraham; Nieces: Tomeko Grey, Crystal & Randa Missick, Lakeisha, Lithera, Hollinna Sears, Johnisha Ferguson, Peaches ,Elene Evans, Ursula Dames, Toni, Samantha, Stephanie Joseph, Kendra, Bri, Crysta Ingraham; Other friends and family – The Bastian family, Arnold Morley and family, The Battiata family, Apostle Clifford Smith111 & Elder Judy Smith and the entire Southside Christian international Ministry family, Lola Ingraham , The South Ocean family, The Big 10 family, The Sandy Port family , St. Paul Church family , The entire Ingraham family, The Stapleton community family, Gaynell, god children, Sharon, Dominique Moss and family, Lynden, Adrian, LaVette and family, Ashley Mackey, Janice Gray , Ally, Benjamin, Dr. Bartlette, Garvin Ellis, Police Commissioner Ellison Greenslade & family, Diorsett, Sherman, Strachan, Seymour, Moncur, Pratt, Russell, Newbold, King, Desmond & Alice Greenslade, Ms. Ethlyn Pickstock, Brooks, Stubbs, Sands, fellow Limousine Colleagues, Sandy Port H.O.A.. Thanks to the female surgical ward, The Female Medical Ward, The Intensive Care Unit and all the medical staff of Princess Margaret Hospital.
Friends may pay their last respects at Demeritte's Funeral Home, Market Street, from 12-6:00 p.m. on Friday & on Saturday at the church from 11:00 a.m. until service time.