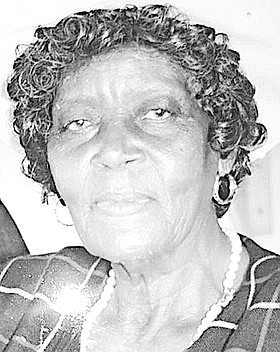 JULIA NEELY-NESBITT
unknown - unknown
Funeral Service for
MATRIARCH JULIA NEELY-NESBITT, 98
of Catnip Close, off Soldier Road and formerly of Congo Town, South Andros, will be held on Saturday, September 30th, 2017 at 11:00 a.m. at Golden Gates Native Baptist Church, Balliou Hill Road. Officiating will be Rev. Dr. Alonzo Hinsey. Interment will follow in Lakeview Memorial Gardens and Mausoleums, John F. Kennedy Drive & Gladstone Road.
Julia was predeceased by her Son: Frank Rolle; Daughter: Sybil Nesbitt; Grandson: Marck Deleveaux; Great Grandchild: Kendal Nesbitt Jr.; Niece: Dorothy Cooper; Nephew: Kermit Sweeting.
Awaiting a heavenly reunion are her sons: Cedric Nesbitt of Nassau and Herb (Patsy) of Charlottesville, Virginia; adopted daughters: Mable Forbes and Berlin Williams; granddaughters: Michelle Renee Walks, Keisha Cohen, Tonya Nesbitt, Wenonah Symonette-Duncombe (Kendon), Erica Carroll, Shornelle Nesbitt, Yolanda Nesbitt, Tasha Nesbitt, Brianna Nesbitt and Natasha Rolle; grandsons: Kendal Nesbitt, Sean Nesbitt (Tamika), Reshad Nesbitt, Joshua Nesbitt, Kyle and Kingsley Nesbitt; great grandchildren: Kiesta Sears, Jamal Nesbitt, Sonia Nesbitt, Sheanell Walks, Sean Walks, Reno Walks, Leon Carroll, Ashton Turnquest, Elenora Nesbitt, Elon Nesbitt, Marc Nesbitt, Arona Strachan, Kyyen Duncombe, Luke Nesbitt, Lyric Nesbitt, Taysean Nesbitt, Mekhai Nesbitt, Lela Leal Nesbitt; great great grandchildren: Khrishea Bryant, Nevaeh Dean and Karcmalie Pennerman; nieces: Ezerena Forbes, Berthamae Higgins, Eulalee Stuart, Jenny Neely, Judy Duncombe; nephews: Kenneth Knowles of West Palm Beach Fl., George Fernander of Margate, Fl. and Carlton Sweeting of Winter Haven, Fl.; other relatives and friends including: Karen Bethel, Dorette Nixon-Sweeting, LaRhoda Spence and family, Janet Cooper, The Neely family South Andros, The Duvalier family of Sunset Park, Small Duncombe, Pastor Alfred Stewart and the Mt. Zion family, Rev, Constance Knight, Francise Symonette, Petty and Julian, The Fergusons, Rev. Dr. Alonzo Hinsey and the Golden Gates Native Baptist Church, Richard Dames, Jenny Neely, Kemsy & Clive, Newton Bowe, James Kemp others too numerous to mention.
Viewing will be held in the Perpetual Suite at Restview Memorial Mortuary and Crematorium Ltd., Robinson and Soldier Roads on Friday from 10:00 a.m. to 6:00 p.m. and at the church on Saturday from 9:30 a.m. until service time.