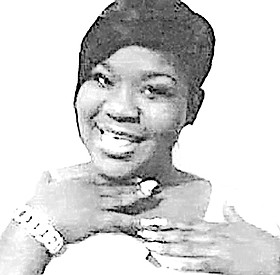 Jasmine Lavon Larrimore
unknown - unknown
Funeral Service For
Jasmine Lavon Larrimore, 36
a resident of #605 West Bay Street, will be held at Mount Tabor Church, Willow Street Avenue & Mt. Tabor Drive on Saturday, September 30, 2017 at 10:00 a.m. Officiating will be Pastor Kenneth Romer, assisted by Pastor Delton D. Ellis & Pastor Hervis Bain III. Interment follows in Southern Cemetery, Cowpen & Spikenard Roads.
Left to cherish her memories are her son: Jayden Tyler McKenzie; Mother: Marsha McQueen; Father: Kevin Larrimore Stubbs; Grand Father: Alton McQueen; Sisters: Lennette Aria Gibson, Alexandrea and Genesta Larrimore; Brothers: Avery, Kevin, O'Neal and Alexander Larrimore, Jason Stubbs; Aunts: Maud Smith, Patsy Patton, Cecile Bonamy, Carol Bonamy; Uncles: Lloyd, Charles, & Stephen (Andrea) McQueen, Gilbert Gowie, Stephen Wilson, Erick Larrimore & Theophilus Bonamy; Grand Aunts: Maxine Austin, Dorothy Bowe, Louise Guierre; Grand Uncles: Charles, Godfrey & Eric Bonamy, Bersil Larrimore; Numerous Cousins, nieces & nephews including: Beauthnie Campbell (Oscar), Bryant Smith (Brie), Johnathon Carthorn, Kazia Pearce, Aniyah Campbell, Felicia, Alicia, Lloyd McQueen Jr, Jason, Terrance Jr. Stephen McQueen Jr., Jade & Savannah McQueen, Kimberley Hurst (Raymond Love Jr. and Ashley Monet Hurst), Tanya & Billy Thomas (Michael Williams Jr.), Jason Cooper, James & Vika Bonamy, Yvette Lee, Charles Bonamy & Delario Hall, Sharon & Orlando Gardiner, Cassandra Cooper, Jefferson Davis, Michael Patton& Tiffany Larrimore; Numerous Friends & Clients including: Samantha Walker, Cardina Sands, Alicia, Richard & Agatha Thompson and family, Linda Mortimer. Elizabeth Williams, Shelly & Frank Hardy & Family, Denise, Letisha & Dion Miller & families.Nai Glinton, Ava Bowen, Kerisha Davidson, Nurse Rahming, Dr. Gertrude Holder, Dr. Grant Taylor, Staff & Nurses at the Renal House, Nurses & staff at the PMH Dialysis Unit & Gynae Ward, Lesley Whitfield & Family, Coastline Community Care Nursing Home Staff, family & residents (past & Present), The Coral Heights East Community including Judean Gray & family, Claudine Butler & family, Charmaine Smith& Family, Kim Deveaux & family. Danny Gibson, Raymond McKenzie Jr & Sr., Willamae & Scarlett Stuart & family, Patrice Thompson & Family, Sis Telzena Coakley & family, Bishop Ellis & the Mount Tabor church family.
Friends may pay their last respects at Demeritte's Funeral Home, Market Street, from 12-6:00 a.m. on Friday & on Saturday at the church from 10:00 a.m. until service time.