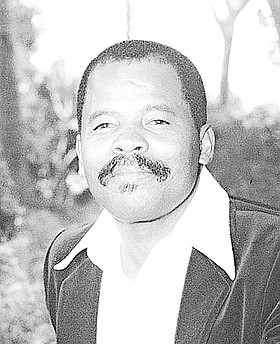 George Wellington Gibson
unknown - unknown
Funeral Service For
George Wellington Gibson, 76
a resident of Devonshire Drive, Coral Harbour, will be held at Evangelistic Temple Assembly of God, Collins Avenue, Centreville, on Saturday, September 30th, 2017 at 10:00 a.m. Officiating will be Reverend Dr. Vaughan L. Cash, assisted by Pastor Dave Cash, Reverend Bradick Cleare & Pastor Keno Smith. Interment follows in Lakeview Memorial Gardens, John F. Kennedy Drive.
George will be forever cherished by Elizabeth his beloved and devoted wife of 47 years; SON: Andre Gibson; DAUGHTER: Sonja Gibson; BROTHERS: Samuel Sands, Joseph (Lynda) Gibson; SISTERS: Virginia Bullard, Patricia Sands Cole, Eleanor (Charles) Rolle; GODCHILDREN: Stephen Thompson Jr., Annalisa (Sheldon) Johnson, Durie Smith; IN-LAWS: Chrispin Newbold Sr. (Cleo), Philip (Annie), Kirkland, James (Angela), Thomas (Miranda) Smith, Eloise Archer; UNCLE: Henry Sands; AUNT: Pauline Gibson; NEPHEWS AND NIECES: Debbie Jones, Kevin Greg (Sharon) Sands, Clarke Keith (Deidra) Sands, Gina Scavella, Clinton (Heather), Chandler Troy, Charlton Treg (Margureitta), Vivian and Channon Sands, Edward (Celia) Cole, Diahann Cole, Renee (Winton) Bain, Ron (Noella), Tracey Sands, Sandy (Jason) Carpenter, Charles, Cordell, Dr. Colin Bullard, Janine, Dr. Jamil Gibson, Anthony (Elizabeth) Rolle, Chariamae (Carl) Nixon, Denise Rolle, Charles (Sophia) Rolle, Eleanor (Alexander) Williams, Hughie (Ishka) Rolle, Jason, Wanda, Cheyanne, Jehu and Ebony Sands, Chann (Donica) Hall, Marie (Kingsley) Fowler, Suzette Rolle, Sean, Monique, Shavonne, Annissa, Samantha, Samuel, Dwight, Diahann, Dario (Shakera), Netisha, Durie, Patrick, Devanno Smith, Dwayne (Lisa) Smith, Leora (Edson) Nascimento, Tiana (Philip) Miller, Jaime Smith, Anton (Prindeisha) Carey, Candice, Tarae, Tamyia Smith; NUMEROUS COUSINS, GRANDNIECES, GRANDNEPHEWS AND OTHER RELATIVES; SPECIAL FRIENDS: Neville Rolle, Raynold Culmer, Burt Gibson, Evelyn Gibson Neely, Stephen Thompson and Family, Ernest Culmer, Curlene McNeil, Antoinette Outten and Family, Loretta and Kermit Mackey and Family, Dr. Edward Demeritte and Family, Dr. Indira Minus-Grimes, Paul Roker, Myra Lundy-Mortimer and Family, Anastacia Brooks, Ansula Bowe, Rodena Sands, Cherfelt Wells, Gaston and Felicia Smith and Family, Nerissa Hamilton, Simeon Smith, Olive Patton and Family, Sylma Watson, Carla Kay Thompson.
Friends may pay their last respects at Demeritte's Funeral Home, Market Street, from 12-6:00 p.m. on Friday & on Saturday at the church from 9:00 a.m. until service time.