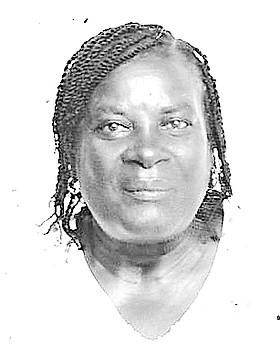 ELISIA SOIVILIEN
unknown - unknown
Funeral Service For
ELISIA SOIVILIEN, 64
a resident of Market Street, Nassau N.P., The Bahamas and formerly of Port De Paix, Haiti, will be held on Saturday, September 30th, 2017 at 1:30pm at Calvary Haitian Baptist Church, West Avenue. Officiating will be Bishop Dr. Henri Cher-Ami. Assisted by Other Ministers of the Gospel. Interment will follow in Woodlawn Gardens Cemetery, Soldier Road.
Her Memories will forever live on in the hearts of her Father: Selinor Soivilien; Son: Ivenel Soivilien; Daughters: Kerline Willians-Simeon, Claudia Calixte; Son-In-Law: Marcelin Simeon; Sisters: Merryta Soivilien, Maritane Soivilien, Mrs. Nona Soivilien, Setamise, Lamoze Soivilien (pre-deceased); Brothers: Elisnor Soilvilien, Gabriel Soivilien (Pre-deceased), Sesilio Soivilien (pre-deceased); Grandchildren: Diana Simeon, Shamantina Simeon, Keshawn Marcelin Simeon, Marcelin Simeon; Great Grandchild: Quentin Culmer; Godchild: Genervil Mergilus; Nephews: Jaslin Vilsiant, Jean-Sincere Vilsiant, Clearson Shallow, Clearsin Shallow, Dieuseul Soivilien, George Soivilien, Leo Soivilien (pre-deceased); Nieces: Julina Vilsiant, Marry Jose Vilsiant, Melun Shallow, Gladisse Vilsiant, Muna Soilvilien, Islene Soivilien, Meliane, Meritha; Great Nieces: Chiloure Vilsiant, Falin Vilsiant; Nieces-In-Law: Siltana Soivilien, Francilia Esterlien; Cousins: Joy Soilivilien, Gary Soilivilien; Madeline and Family; Great Cousins: Lewood Vilsiant, Wallginne Vilsiant, Love Sing Vilsiant; Numerous Relatives in Miami Florida. A host of other relatives and friends too numerous to mention including: Ivenel &Family, Meliane & family, Meritha & Family, Setamise and Family, the Market Street community, and the family of Calvary Haitian Baptist Church.
Friends may pay their last respects at REST ON FUNERAL CHAPEL LTD. #19 Kenwood Street and Mount Royal Avenue from 10:00 a.m. to 5:00 p.m on Friday 29th September and at the church on Saturday 30th September from 12:30 p.m. until service time.