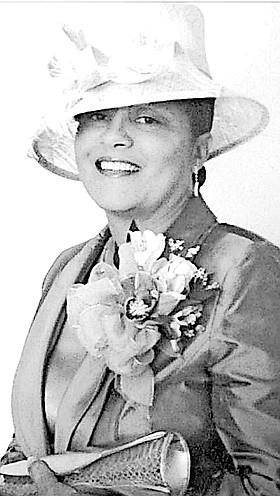 Eleanor Angelina Dean
unknown - unknown
Funeral Service For
Eleanor Angelina Dean, 54
of Taits, Long Island will be held on Saturday 30th September, 2017 at 10:00 a.m. at Our Lady of Mount Carmel Catholic Church, Hamilton's, Long Island. Officiating will be Fr. Reginald Demeritte assisted by Deacon Patrick Darville. Interment will follow in the Holy Trinity Catholic Church Cemetery, Taits, Long Island.
Left to cherish her memories are her CHILDREN AND SPOUSES: Marshario (Charise) Taylor, Philip (Elvisa) Dean, Staycie (Jerome) Bremmer, Jamal (Anishka) Dean, Clency, Prince and Adam; MOTHER: Hilda Taylor; SIBLINGS: Kenneth and Sarah Taylor and Theresa Kemp; GRANDS: Destiny and Pacey Cartwright, Hailey and Marsharia Taylor, Kenadie Dean, Jamia, Jamal Jr. and Ariana Dean; MOTHER-IN-LAW: Geneva Dean; SISTER-IN-LAW: Thelma Dean and Merlene Dean; BROTHERS-IN-LAW: Drexel and Mitchell Dean and Clyde Nanan; NIECES AND NEPHEWS: Shavonne Smith, Sheniqua Pugh and Sasha Kemp, Bernadette Dean, Darren and Joney Dean, Bertram Major, Corretta, Carlene Burrows, Carlisha, Carl and Asten Dean, Bernadette Dean, Carl Butler, Zetta, Clancy, Prim, Mostack and Indira Nanan; OTHER RELATIVES & FRIENDS: Charles Major, William Major, Maris Major, Corline Major, Bruce Dean, Clarence Dean, Sharon Dean (Dean Family Nassau), Angela Kelly, Janet Bridgewater, Inez Major, Dell Major, Majorie Reckley, Daniel and Maxwell Dean, Vernita Taylor, Plumata Major, Hazel Major, Victoria Major, Wesley Lloyd, Jelva Lloyd and family, Kesa, Kera Lloyd and family, Diana Darville and family, Frank Dean, Cecil Dean and family, Deloris Edgecombe and family, Martha Dean and family, Cassandra Dean, Mr. Ellis Major and family, Phillip Cartwright and family, Angie Cartwright and family, Elvis and Prescola Hanna, Janet Rolle, Sharfstiens Family, Danny Cartwright and family, Rudolph Pratt, and family, Paul Cartwright and family, Leslie Cartwright and family, Terrecita Major, Baltron Major and family, Paul and Sandy Carroll, Clarise Cartwright and family, Deacon Patrick Darville and family, Bertram and Chanette Major, Terrece Bootle, Cleola Pinder, Mary McIntosh, Stacey Fox, Diedre Fox, Ian Knowles and family, Sheila Dean and family, James Taylor and family, Ian Adderly and family, Charles Kemp, Glendon Rolle, Min. Adrian Gibson, Morley Dean, The Parking House family and the entire Long Island Community especially Tait's and Roses.
Viewing will be held on Thursday (TODAY) from 4:00 p.m. until 5:00 p.m. at Vaughn O. Jones Memorial Centre, Mt. Royal Avenue & Talbot Street, Nassau, N.P., The Bahamas and on Friday from 5 p.m. until service time on Saturday at Our Lady of Mt. Carmel Catholic Church in Hamilton's, Long Island.