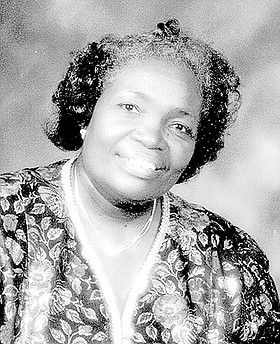 Barbara "BJ" Jane Brooks
unknown - unknown
Funeral Service for
Mrs. Barbara Jane "BJ" Brooks, 77
of Ebony Close, Eastern Estates who died on Sunday, September 17th, 2017 will be held on Saturday, September 30th at 11:00am at The William Johnson Auditorium, formerly The Joe Farrington Road Auditorium. Officiating will be Apostle Delton D. Fernander, assisted by Pastor Peter Butler and Other Ministers of The Gospel. Interment will be made in Woodlawn Gardens, Soldier Road.
Barbara is survived by Her (3) Children: Lyndon Sands, Wendell Albury and Bridgette Cooper; (1) Son-in-law: Owen Cooper; (4) Grandchildren: Lance and Sarah Albury of Tampa, Florida, Tyler Jade Cooper and Kentrell Parker of U.S.A; Nieces and Nephews: Bernard (Ethel) Lundy, Andrea Wood, Dawson (Gladys) Ferguson of Texas, Rev. Paula (Pastor Leonard) Clarke, Bernadette Major, Nancy (Rev. Keith) Baker of Canada, Linda Sands of Canada, Gerald (Anne) Johnson of Michigan, Mike (Terry) Sands, Wenzel (Sandra) Sands, Phillip (Margaret) Sands, Frederick (Daphne) Sands, Leslie (Janet) Sands, Baswell (Melvern) Sands, Carl Sands, Juliette (James) Newbold, Thomas (Telzene) Sands and Sylvia Bethel; Other Family Members and Friends: Shawon Curry, Jolyn Bullard, Tammy Dean, Kendal (Vashti) Turner, Nadia Major, Sarah (Christopher) Moss, Bronson Sands, Leonard Jr, Leonardo and Leonette Clarke, Corey (Deidre) Baker, Anna, Bobby and Ryan Baker, Kobe Archer, Sherry FuMeyin, Glenette and Adrian of Canada, Dawson Jr. And Ashton Ferguson of Texas, Danielle and Joshua Johnson of Michigan, Edith Lockhart, Winifred and Carl Oliver, Rashell & Raquel Sands, Rev. Hilda (Rev. Michael) Symonette & Family, Rev. Carrington Pinder & Family, Rev. Napolean Roberts & Family, Verna Jennings & Family, Rev. Peter (Cheryl) Butler & Family, Laurie Johnson & Family, Phillip Butler & Family, Dudson Higgins, Rev. Delton (Calpurnia) Fernander, The Men of Destiny, The Choir, Women's Fellowship, Sunday School, Bible Study Group, the Green Team (Esther) and the entire New Destiny Family, Deacon Alfred (Bessley) Gray & Family, Norman & Vordell Dean, Althea Butler, Dexter Fernander, Delores Fernander, Min. Patrice Demeritte, Ken (Lola) Ingraham, Rev. Edgecombe & Family, Bro. Haverson McKenzie & Family, Sheila Johnson, Cindy Davis, Sidney and Nora Cooper & Family, Wellington & Cheryl Johnson & Family, Vanessa Penn & Family, Telford Munnings & Family, Valerie Smith & Family, Joanne Whylly & Family, Mr. & Mrs. Sylvester George & Family, The Burrows Family, Val Wells, James Farrington II, Dr. Nathan Booth(USA), Mr. Pietta Baker(USA), Neville Wisdom, Janet Bostwick & Family, The Eastern Estates Family, New York and Honduras Family, The Fynes Family, The Sands Family, Masons Addition Family, The Brooks Family, Andros and Abaco Family, Nygel Peralta Mack & Family(USA), Omar Peralta(USA), Oris Symonette, Livone Phillips, Saint John's Baptist Church and Bahamas Real Estate Association, Bahamas Telecommunications Family and Veronica Minnis; Special Friends: Astrid Fraser, Cynthia Maynard, Margaret Rodgers, Berkley Williamson & Family, Keturah Ferguson, Teenie Jones, Connie Perez of New York, Pandora Miller & Family, Tommy, Theo Moss & Family; Special Thanks to: the Doctors and Staff of Princess Margaret Hospital, Dr. Ferguson, Dr. Taylor and Team members, Nurse Carey, Female Surgical One Nurses, Staff of Oncology Department, Drs. Turnquest, Roberts, Serville, Dr. Locksley Monroe and everyone who played a part in the care of our Mother Barbara Jane Brooks. May God Bless You All; Special Thanks to: Deacon Ronald Johnson who picked her up every Thursday for Choir Practice and every Sunday morning for service.
Viewing will be held at Clarke's Funeral Home & Crematorium, East West Highway on Friday, September 29th from 11:00 am to 6:00pm, and on Saturday from 10:00am at the church until service time.