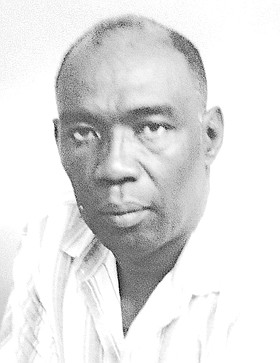 AUSTIN "SHEEPIE" THEODORE THOMPSON
unknown - unknown
Funeral Service for
AUSTIN THEODORE THOMPSON, 72
affectionately called "SHEEPIE"
of Gregory Town, Eleuthera, will be held on Saturday, September 30th, 2017 at 11:00 a.m. at St Gregory's Catholic Church, Gregory Town, Eleuthera. Officiating will be Monsignor John Johnson. Interment will follow in the Public Cemetery.
Austin was predeceased by his Brothers: George and Paul.
Heart filled memories will remain in the hearts of his Wife: Nora Thompson; Daughters: Wendy Thompson Bastian & Celina Jessica Thompson; Son: Capt. Joel Thompson; Granddaughter: Nijah Bastian; Grandsons: Ryan Bastian and Kayden Thompson; Sister: Anne Thompson; Brothers: Bruno, James (Skidoo), Gregory and Robert Thompson; Nieces, Amanda, Amy, Ashlie, Theidra, Lakeisha Thompson, Tasha Thomas, Sarai & Michelle Funes, Pamela, Danitza Manzano, Melissa Fajardo Elizabeth Funes; Nephews: Derek (Rick), Michael, Capt. Marico, Brent Thompson, Reno Taylor, Michael Shucks, Roberto Thompson, Akeen Johnson, Shamario Farrington, Francis Tochez, Ricardo, Julio Jr, Jaime Jr Manzano; Grandnieces: Annalise, Makayla, Marica, Danae Thompson, Huneka Hanna, Kaynia Minnis, Latallia Thompson, Althea Johnson, Chrystal Wilson; Grandnephews: Malik Moss, Cohen Simmons, Jakeem Deal Khyien Johnson, Andre (Mileage) Cambridge Jr, Patrick (PJ)Ferguson, Tario, Kanye Johnson; Aunt: Augusta Cartwright; Mother-in-law: Maria Manzano (Mama Julia); Sons-in-law: Kevin "KB" Bastian and Ian Thompson; Sisters-in-law: Gloria Thomas, Lilian Funes, Nohemy (Tey) Fajardo, Wendy, Pamela & Therese Thompson, Marina & Lenny Manazo; Brothers-in-law, Samuel (Ovidio) Funes, David Funes, Julio Manzano Sr, Jaime Manzano Sr, Morgan (Butch) Thomas; God Children: Lyn Gaitor, Petty Roberts Minnis and Sabrina Thompson. Families of: Zaccheus, Monica, Betty, Frances Thompson, Theola Zaritzky, Philip & Valencia Thompson, Willamae Gibson, Daniel, Aaron, Paul, Donahue, Carl Thompson, Jeanie Deveaux, Tiffany, Shauna & Jhinaro Thompson, Andrew, Allen, George Jr, Charles & Joan Thompson, Marilyn Adderley, Mattie Emmanuel, Sylvia Mackey, Emmaline Dubreus, Danny, Neville, Sherman, Leslie, David Thompson, Jacqueline Strachan, Margaret Winters, Michelle Mortimor, Dina Johnson, Paula Ellis, Earla Johnson, Van & Cyprianna Mackey, Jack & Frank Cambridge, Sandra Hepburn, Joyce, Harriet, Pamela, George, Teddy, Chris, Paul (Pico), Greg Petty, John, Sean, Ricky and Rio Cartwright, Sister Agnes Johnson, and Rita Moxey. Care takers: Gina Theme & Annieflor Fleurrissaint; Other relatives & Friends including their families: Willie Maurice, Darron Pinder, Mack Francise, Steven Albury , Bennett Roberts, Barry Zaritzky, Dametra Moss, Capt. Steve & Barbara Salem, Beryl Bastian, Mary Thompson, Don Wood, Sandra Saunders Young, Nurse Charlotto Mcintosh, Mr Andre Julian, Brent & Dennis Headberg, Phyllis Whitman, Buck and Martha Kuttner, Hill Top Garage family Thomas (Tommy), Don, McClain Pinder, Gilbert Hanna, Dillion Wood, Alton Ferguson, McNeil Johnson, Ray Mather, Herb Mackey, Edison (Jah) Johnson, Marlin Roker, Fadner Aurel, Dexter Neely, Edison Charley), All the Hill top Garage customers, Burchinald Gibson, Eric Johnson, Welly & AB Johnson, Salem Baptist Church Mission Team of Virginia USA, Ray Roberts, Cathy Higgs, Patricia Thompson, Carlie Barry, Pearline (P.T) Barth, Eddie Cleare, Veronica Daniels, Mara & Marie Johnson, Beverly Roberts, Dennis Johnson, Cheryl Minnis, Patsy Charlow, Rowena Sands, Judy Johnson, Rudolph Fritzgerald, RBPF Sgt Sedano Sands, Insp. Julian Newbold, and Retired Mark Demeritte, Danielle, Joneka, Tomico, Tekeishia, M.P Rickey Mackey, Theo Stuart, Paul Simmons Sr. and Jr., Steve Albury, Tiffany and Deja, Prince Mather, Cecilia Thompson, Pinders of Hatchet Bay, Rolles of Governors Harbour Theater, Knowles & Culmers of Palmetto Point, Culmers of Savannah Sound, AID auto parts Friends of Rock Sound, Bay St Garage, Cartwrights Garage, Bahamas Fire & Welding Conrad Jennings Friend of the North Eleuthera Kingdom Hall, Pedro Knowles, Leonard (Fat Pig) Johnson, George Cash, Ednol Cash, Dudley Kelly, Uncle Lyme, Anthony Mather, Mariam Saunders, Angela "Star Fish", Wade Higgs, Fredrick Higgs, Earthly Johnson, Mechanic Friends throughout the Bahamas. Extended family and friends of El Salvador, C.A; Family of the Late: Johnny Thompson, John Thompson, Earlean Thompson, Rudolph McSweeney, Salomie Cartwright, Bruce Thompson and Anthony Thompson; The entire Island of Eleuthera, north to south including the community of Spanish Wells and Harbour Island; Thank you to every Nurse, Doctor and all who assisted. Other relatives and friends too numerous to mention, therefore if we have not listed your name please forgive us. It does not mean we did not count your friendship and it was not intentionally left out.
Viewing will be held in St. Gregory's Catholic Church, Gregory Town, Eleuthera on Friday from 7:30 p.m. until service time on Saturday.