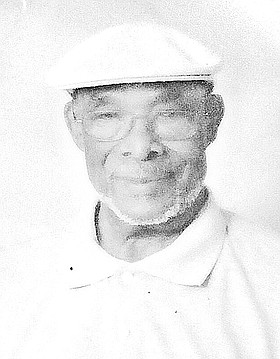 Wilfred Melvern Coper
unknown - unknown
Funeral Service For
Wilfred Melvern Coper, 86
of Dean Street will be held on Saturday,
September 23, 2017 at St. Mary the
Virgin Anglican Parish #25 Virginia
Street Nassau, New Providence, Bahamas
10:00 a.m. Officiating will be Rev'd
Fr. Dwight M. Bowe, assisted by Rev'd
Canon Harry Ward and Rev'd Fr. Shazzasbazzar
Turnquest. Interment will follow
in the Church Cemetery.
Left to cherish his fond memories are
his Children: Wilfred Jr., Floyd, Doyle
Walrick, Barbara, Louise, Laverne and
Chiloone Cooper Young; Sister: Mildred McKinney; Brother: Bishop
Alfred Cooper; Grandchildren: Shawn, Deon, Theodore, Valentino,
Shivargo, Antonio, Maurice, Damario, Clarence, Rashard, Kevin,
Marvin, Dominique, Walrick, Miguel, Aaron, Richard, Otis, Emmanuel,
Jerald, Dino, Ron, Crystal (Kissy), Christine, McKell, Claudette,
Vanessa, Dymphna, Damera, Kimberly, Anaya, Alencya, Aronnay,
Vernetta, Meliane, Shantel, Crystal, Indira, Macey, Lakeshia; sixty
eight: Great Grands; Five Great Great Grands; Grand Daughters-
in-law: Rochelle Brown and Samantha Cooper; Sister-in-law:
Minister Edith Cooper; Daughters-in-law: Deborah and Marva; Adopted
Children: Shawn Jr. and Quinton Strachan, Cecil and Rochelle
Smith, Zoona and Syrano Rolle; Nephews: George McFall of New
Jersey, Ricardo, Herbert and Warren Cooper, Shervin and Stephen Seymour,
Doylen Williams, Errol Thurston, Charles Glinton, Don Brown;
Nieces: Deborah and Annette Allen, Sonia Nesbitt, Monique, Patrice,
Deanne, Veronica, Laura, Luciel, Ena and Kimberley Cooper, Beverley
Cooper, Gaylor, Judy Glinton Lockhart, Shiela, Ethel and Agnes
Butler; Other Relatives and Friends: Rev'd Fr. Dwight M. Bowe,
Pastor Timothy Stewart, Alexander Butler and Family, Ricardo Argo,
Andy Sargent and Family, Joesphine Simeon and Family, Bertha Alber and Family, Kimyda Young and Family, Everette McKenzie and the A.C.M. Family, Micheal Ingraham and Family, Mertilia Farrington
and Family, Rosewell Bennet, Sharmean Wallace and Family, Jessica
Robinson & Family, Holly McKinney, Dion Thompson and Family,
Shannon Ellis, Darrel Bain, Johnathan McKinney and Family, The Mc-
Donald, The Thurstons, Veronica Rolle-Smith, Oraysio Young, Ronald
Pierre, David Mason, Bahamas Food Service, Lands & Survey, Horse
Survey, Jimmy's Auto Head, Tiffany Cooper and Kids, Cynthia Whyll
& Paultisha Clarke and Family, Leon Huyler, Nichollas Huyler, Kings
and Queens Barber Shop, Gilber Dea, and a host of other relatives
and friends.
Relatives and friend may pay their last respect at Evergreen Mortuary
located on Collins Avenue & 5th Terrace, Centreville on Friday
from 10:00a.m. – 6:00p.m. and again at the Church on Saturday from
9:00a.m. until service time.