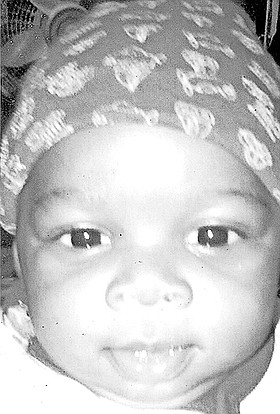 Shelton Delano Tinker Jr
unknown - unknown
Funeral Service For
Baby Shelton Delano
Tinker Jr., 8 months
of Rupert Dean Lane, Nassau, N.P., The Bahamas
will be held on Saturday, September
23rd, 2017 at 2:00 p.m at Evangelic
Assembly Church of Christ, Blue Hill
Road. Officiating is Pastor Patrick V. Smith
assisted by Rev. Nelson Brown and Elder
Stephen Sands. Interment will be in The Old
Trail Cemetery Abundant Life Road, Nassau.
Baby Shelton is survived by his loving Parents:
Jeffrina Sweeting and Shelton Tinker
Sr.; Sister: Sheltonique Tinker; Brother:
Jermaine Adderley; Grandparents: Althea & Jeffrey Sweeting,
Alternese & Norris Walford and Hansel Johnson; Great grand
Mother: Olga Smith; Aunts: Cherry and Yvette Sweeting,
Jackie Johnson, Natasha Sweeting, Sherrell Clyde, Annastacia
& Shereka Tinker, Shantel Larrimore, Demetria Bullard, Indira
Clarke, Anitta Sweeting, Aretha Higgs and Stephanie Newbold;
Uncles: Addington Tinker, Stanley Forbes, Livingston Strachan,
Dwayne Davis, Mario Sweeting, Elliot Morrison, Edward Smith,
Ricardo Walkes, Edward Winder and Everton Wright; Grandaunts:
Francis Lord, Essiemae Barr, Sylvia Sweeting, Wendy
Storr and Loretta Lord; Granduncles: Richard William & Wellington
Taylor; Cousins: Britney, Nakeisha, Jayquadin, Caiden,
Latara, Evan, Lavethea, Elernique, Livae, Marvin, Dugaye, Darrel,
Aliyia, Cassandra, Addiesha, Debbie Griffin, Prenell Brown,
Shandra Brown, Ivy Gibson, Bernard Brown, Eric Stubbs, Mike,
Pooh, Adina Lockhart, Michaela Sargent Sasha Lewis and Edwardo;
Other Family & friends including: The Evans family,
Barr Family, Storr Family, Mr. Ortland H. Bodie Jr., Church of
Christ Highbury Park Family, Officer Rose and Family, Norman
Thompson & Family, Clyde Family and Lamm Family. Special
thanks to the Nurses and Doctors of I.C.U and IL Care Foundation.
Friends may pay respects on Friday at Kemuel Cox Funeral
Cremation #12 Arundel Street East from 11:00 a.m. to 5:00
p.m. Saturday at the church from l:00 p.m. until service time.