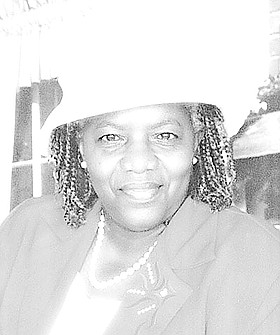 Roselene Virginia Smith
unknown - unknown

Funeral Service For
Mrs. Roselene Virginia Smith, 67
a resident of Forg Avenue, Kennedy Subdivision,
will be held at Holy Family
Catholic Church, Robinson & Claridge
Roads, on Saturday, September
23rd, 2017 at 10:00 a.m. Officiating
will be Father Kendrick J. Forbes & Deacon
D'Arcy Rahming. Interment follows
in Woodlawn Gardens, Soldier Road.
Left to honor the life of this extraordinary
lady who touched the lives of so many
are her devoted husband of 44 years, Audley; her beloved children,
Shawn Alexander Smith and Audrea Rozette (Dexter) Lewis;
the sunshine of her life, her beloved granddaughter, Shaun
Jahlea Michelle; sisters, Myra Cooper, Clara (Christopher) Smith,
Curlene Mounts, Ruthiemae (Wayne) Elliott; brothers, Gary, Jeffery,
Richard (Sabrina) and Randolph (Glendamae) Cooper; the
children of Thomas McKinney including Thomas, Barsil, Jerome,
Lisa and Carrie McKinney; sisters and brothers-in-law including,
Angela Pinder, Patricia (Gregory) McPhee, Petrona Smith, Chester,
Gregory, Jeffery, Keith (Freda), Kevin (Lenora), Michael and
Kenroy Smith; her aunt, Clara (Earlin) Williams; numerous nieces
and nephews including, Shawn C. Smith, Willis Symonette,
Nevin and Nakera Cooper, Shavonne (Gerard) Thompson, Megan
Mounts, Shandia (Ken) Ingraham, Charlene and Wayne Jr. Elliott,
Cortrea, Jeffery Jr., Ricardo and Sergio Cooper, Christian Smith,
Kalif and Dario Rodgers, Amanda (Rodney) Bain, Zhivargo Smith,
Melisa and Michael Jr. Smith, Veronique Brown, Cedtisha Cummings,
Shantol Smith Kevano, Keshano, Kelvardo, Neko, Keno,
Lakisa and Roberto Smith, Monique Cooper, Olivia Smith and the
children of the late Oswald Smith; numerous grand and great
grand-nieces and nephews; her cousins, Laura, Betty, Florence
Gibson, Theodore and Nikki Williams, Earnest Gibson and Annie
Carey, Linda Beckford and Linda Major, Sherry Beneby and
Lurlene Walcott, including the children of the late Annie Beckford,
the late Eugene Gibson, Clara Williams and the late Lucy Gibson;
her bestfriends, Alice Johnson and Albertha Bosfield; her friends
who became family including: Reginald and Princess McIntosh
and family, Nadia, Ronald, Nadilyn and Derand Rolle, Anita Ellis,
Bishop Victor and Mrs. Jackie Johnson and family, Antoinette
Hamilton and family, Elizabeth Rolle and family, Bernadette Rolle
and family, Elijah and Glendina Mills and family, Eleanor Heild
and family, Janice Moss and family, Crishcola Rolle and family,
Lloyd McPhee and family, Lynette Neely and family, Barrington
Hall and family, Donald Adderley and family, Julian Sands and
family, Pierre Paul and family, Beverly Jordan-Archer, Denise
Fritz, the entire parish of Holy Family especially the Women's
Auxillary and Senior Choir, the Bahamas Girl Guides Association,
the staff and students of Precious Jewels Preschool, E.P. Roberts
Primary and Claridge Primary Schools, the Bahamas Customs Department,
the Kennedy Subdivision community, the former staff of
Chase Trust and Atlantic Satellite, the staff of Express Air Cargo;
Mr. Arthur Gibson and family and the staff of A.G. Electric, other
relatives and friends too numerous to mention.
Friends may pay their last respects at Demeritte's Funeral Home,
Market Street, from 12-6:00 p.m. on Friday & on Saturday at the
church from 9:00 a.m. until service time.