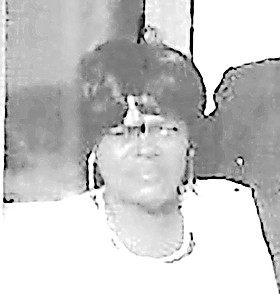 Prescola Hilra Pratt
unknown - unknown
Funeral Service for
Prescola Hilra Pratt, 73
of Dumping Ground Corner formerly of Zonnicle Hill, Cat Island will be held on Saturday, 23rd September, 2017 10:00 a.m. at Agape Baptist Church. Officiating will be Bishop Helen McPhee assisted by Rev. Christopher King. Internment will be held at Lakeview Memorial Gardens.
Left to cherish her memories are her Sons: Kennith and Kaleph Williams and Reckwill Pratt Sr.; Daughters: Hilda Valorie Williams Strachan, Wanda Williams, Delray Pratt and Patty Sporleder; Grandchildren: Mark A Williams, Ashley Pratt, Khadesha Curry, Reckwill Pratt Jr., Rickey, Rickiel and Richard Pratt; Great Grand: Amira Pratt; Sons-in-Law: Pastor Jason Strachan and Dean Sporleder; Daughters-in-Law: Cynthia Williams and Orphaine Pratt; Brothers: Frank Ward Sr and Godfrey Styles; Adopted Brother: Larry McPhee; Sisters-in-Law: Lenora Ward, Princess Styles and Madlyn Pratt; Nephews: Frank Ward Jr., Frederick and Fabien Ward, Corporal 143 Gregory Styles, Asp Bradley Styles, Terez and Dexter Styles, Rev Christopher King, Rev Harrison King, Ezra King, Joseph and Huie King, Herk, Harvey, Asp Darvey Pratt and Leon Pratt; Nieces: Vanria Bullard, Niki Styles, Redell King Hubbard, Idell Burrows, Min Christine Seymour, Cordell Hunter, Eloise King Ferier, Madell Woodside, W/R Sgt 489 Densimae Pratt, Mavis Pratt and Leanora Pratt; Numerous other relatives and friends including: Hazel Bullard and Family, Coral Kemp and Family, Tricia Rolle, Melrose Knowles and Family, George and Elizabeth and Family, Angie and Mary Zonicle and Family, Shevamae Rolle and Family, The Family of the Late Charles Zonicle, Verdell Brice and Family, Hilbert Wright, Geletta Adderley and Family, Mrs. Ruth Brown and Family, Bradley Dorsette and Family, Mrs. Corsette Johnson and Family, Vernis Storr and Family, Lilymae Thompson and Family, Evelyn Newbold and Family, Rosie Williams and Family, Dorilyn Tinker and Family, Gloria Patterson and Family, Lavern Albury and Family, Brenda Higgs and Family, Elcina Davis and Family, Alberta Adderley and Family, Bethowlon Smith and Family, Superintendant Mark Daniels, Kirky, Nurse Juva McPhee, Members of Our Lady of Zion R.C Church Port Howe Cat Island, Members of Holy Reedemer R. C Church New Bight Cat Island, Jeanne Timothe and Family, The Staff of KFC Oakesfield, The Housekeeping Department at Melia, The culinary department at O Grill Melia, The Stewarding Department at Melia, Praying Healing and Deliverance Ministry Freeport Grand Bahama, The Entire Cat Island Community, Augusta Street and Dumping Ground Corner Family.
Friends and family may pay their last respects at Last Mile Of The Way Funeral Chapel Ltd. in the Serenity Suite on Friday 22nd September, 2017 from 11:00a.m.- 5:00p.m. and again on Saturday at the church , from 9:00 a.m until service time.