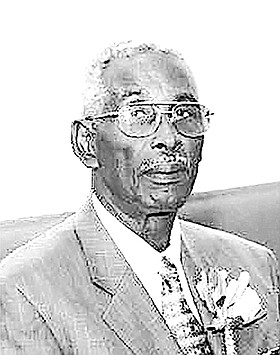 PERCY VINCENT MILLER
unknown - unknown
Funeral Service for
ELDER PERCY VINCENT MILLER, 82
of Bel-Air Estates and formerly of Mangrove Cay, Andros, who died peacefully in East Texas Medical Centre, Tyler, Texas, on Tuesday, August 15th, 2017, will be held at Church of God Auditorium, Joe Farrington Road, on Sunday, September 24th, 2017 at 10:00 a.m. Pastor D. Stephen Lewis, Pastor Mark Ewen, Pastor Barrington Brennen and Pastor Leonardo Rahming will officiate. Interment will follow in Lakeview Memorial Gardens and Mausoleums, John F. Kennedy Drive and Gladstone Road.
He is predeceased by his wife, Roceta Eleanor Lockhart-Miller; their son, Kendrick Anthony Miller and Percy's daughter, Helen Fox of Freeport, Grand Bahama.
He is greatly missed and will be lovingly remembered by all who knew and loved him including his Children: Paul V. Miller, Keffie A. Battles, Marlene V. McKinney and Cyrus C. Miller; Sons and Daughters-In-Law: Cherry Miller, Lafane Battles Jr., of E. TX, Silas Neil McKinney of Boston, MA and Carlene Miller; Grandchildren: Paulette and Herndon Sands, Chauntelle, PauléSherie and Paul Miller Jr., Andrae and Cindy Battles of Shreveport, LA, Andrea and Wilson Mafi of Haslet, TX, Andressa and Braden Boyd of Flint, TX, Andeidra and Kyle Timm of Myrtle Beach, SC, Andira Battles of Austin, TX, Kendra and Desmond Sturrup of Freeport, Grand Bahama, Kendrick Jr., and Kendia Miller, Selene and Anthony Roach, Neil McKinney Jr., and Vincent McKinney of Boston, MA, Inshira and Valentino Kemp, Inara, Ivana and Adil Miller, Starmita, Renardo, Diane, Lavanda, Andira, Lacoya and Clayton Fox (Bradenton, Florida); Additional adopted and cherished grandchildren: Prince Brown and Precious Wright, Shenika McPhee, (adopted daughter of Marlene McKinney), Jaila and Destinee Pierce of Texas, Shavonne, Shannon, Philip Jr. and Dewayne Armbrister and Bobbi Elizabeth Brown; Brothers and Sisters-In-Law: Edward and Yvette Lockhart, Vivian and Maribelle Lockhart, Milford and Emily Lockhart, Alfreda Hepburn, Wallis and Lionel Carey, Stephanie and Blythe Duncanson and Celeste Lockhart; Nephews and Nieces: Rosita Wallace, Virginia Johnson, Anna Strachan, Lavern Scavella, Angela Fluellen, Jennifer Greene, Anthony Miller, Raymond Rudon, Freddie and Deborah Munnings, Janice Miller, Diane Johnson, Lynda Lockhart-Burrows, Dr. Chinyere Bullard, Keishla Lockhart-Bethel, Viviann Pustam, Monet Gray and Bellamae Saunders; And a host of other relatives and friends too numerous to mention.
Relatives and friends may pay their respects at Grace Funeral Home, #36 Rosetta Street, Palmdale, on Saturday from 10:00 a.m. to 6:00 p.m. and on Sunday at the Auditorium from 9:00 a.m. until service time.