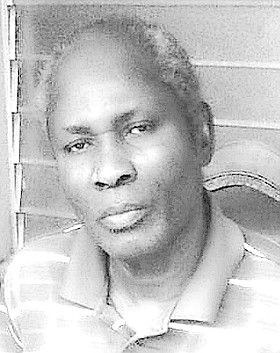 MICIUS TIKAT NOE
unknown - unknown
Funeral Service for
MR. MICIUS TIKAT NOE, 65
of Sandilands Village off Prince Charles Drive, will be held on Saturday, September 23rd, 2017 at 3:00 p.m. at St. Paul's Baptist Church, Bernard Road. Officiating will be Rev. Dr. J. Carl Rahming. Interment will follow in Fox Hill Cemetery, Fox Hill Road.
Loving memories will forever linger in the hearts of his Children: Micilia, Dianna, Silfina, Manuis, Wilson and Wilman Noe; Sister: Annadia Noe; Grandchildren: Loveline, Juroldens and Rose-Lovena Juste, Dino Charles, Ervensley Petit-Homme, Donald-Gina and Gina Dulcio, Litenn Noe, Julia Pierre; Son-in-law: Jimmy Dulcio; Daughter-in-law: Guerda Medelus Noe; Nieces: Annette Gerceus, Pierre Christiana, Lidiana Pierre and Madejerie Noe; Nephews: Timinus and Tiga Gerceus; Grand Family: Mr. Dirosier Joseph, Mrs. Durosier Joseph, Mr. Wislet Bien-Aime. Mrs. Wislet Bien-Aime, Kassandra Bien-Aime, Sharlene Bie-Aime, Libby Bien-Aime and Landysha Predelus; Other relatives and friends: Elinoe Deligence, Michet Paul, Rosalia Utile, Mrs. Ismith Joseph and Voloter Dervice and other relatives and friends.
Viewing will be held in the Celestial Suite at Restview Memorial Mortuary and Crematorium Ltd., Robinson and Soldier Roads on Friday from 10:00 a.m. to 6:00 p.m. and at the church on Saturday from 1:30 p.m. until service time.