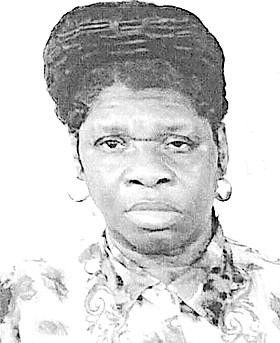 Liliss "Lilly" Lightbourne Marshall
unknown - unknown
Mother Liliss "Lilly"
Lightbourne Marshall, 81
of Calabash Bay, Andros will be held on Saturday, September 23rd, 2017 at 10:00 a.m at Miracle Revival Intl Ministry Inc. Calabash Bay, Andros. Officiating will be Apostle Dr. Dorinda E. Dean assisted by Bishop Dixon Ferguson and Pastor Kirkwood Dean. Interment will be at Fresh Creek Public Cemetery.
Left to cherish her precious memories are her children; Five sons: Ednal Smith, Alvin, Calvin, Issac and Wilbert Marshal; One daughter: Sherry McPhee; One adopted son: Pastor Kerone Coakley; Three Step Sons: Bert Jr., Chester and Timothy Marshall; Two stepdaughters: Kashmah Williams and Angel Marshall; Daughters-in-law: Rebecca Smith, Maedon Smith, Natasha, Philippa, Ingrid, Monique, Beatrice; Sons-in-law: Loslie Williams, and Glenroy McPhee; Brother: Prince Hopkins; Sisters: Mary Saunders, Irene Beneby, Antoniette Lightbourne and Elizabeth Penny Saunders; Sister-in-law: Pastor Janet Marshall; Godchildren: Sheral Stevens, Glenika Wendy Russell Johnson and Sabrina Johnson; Grandchildren: Theo, Anthon and Deandre Bonanby; Deron, Kevin and Eddreka Smith, Alshanique, Alternique, Alvernique and Alvin Jr, Alkeem Marshall, Kyle Neymour, Sherica Sergant, Sheneka Mezidot; Neices & Nephew: Dudley, Dwayne, Gigi, Portia, Delphine, Niki, Norald, & Kesha Coakley; Therisco & Reconda Jordan; Johnny and Philip Rolle; Caretaker: Diana Seabert; Other Relatives & friends Including: Apostle Dorinda Dean & Familly: Sonny Martin & Family; Betty Roberts; Fred Bowleg; Glen Johnson; Mary Tucker: Mable Stubbs; Loretta Farrington and Family; Jackie Cleare & Family; Naomi Clarke & Family; Nelson Gaitor & Family; Donna stubbs & Family; The Hinsey Families; the McKenzie, Thompson and Edgecombe Families; Roonie Scott & Family; Harringon Frazier & Fmily; The Robert, Rolle, and Hanna Families; The Fresh Creek Clinic Staff; The entire Miracle Revival Church Family. The Entire Fresh Creek; Central & North Andros District, Rupert Pinder & familu, Freddie Hinsey & family, Betty Neymour & family, Rozelda Thompson &family, Brian Moore, Cynthia Oliver & family, Wayne Cleare & family, Christine Thompson & family, Paul Roberts & family, Elizabeth Brown& family, Doreen family & family, Nelson Gaitor & family, Richard Clarke & family, Virginia Roberts & family, Dawn Curtis & family, John Curtis & family, Benry Smith & family, Daniel Coakley & family, Sidney Cargill & family, Hugh Edgecombe & family, Jerome Scott & family, Sandra Melon & family, Valderine Adderley & family, Sirtanno Humes & family, Deon Sweeting & family, Merial Rolle & family, Raymond Forbes & family, Robbie Neymour & family, Richard Lewis & family, Mary Neymour & family, Doreen Bowleg & family, Cleveland Bowleg & family, Sharmaine Neymour & family, Kevin Gaitor & family, Pleydell Gale & family, Rodney Moxey & family, Chiniska Smith & family, Terah Rahming & family, Pauline Cash & family, Doramae Rahming & family, Rosie Blaise & family, Simon Rahming & family, Jermiane Rahming & family, Shantia Gibson & family, Shannea Gibson & family, Adonis Johnson & family.
Friends may pay their last respects at Miracle Revival Intl Ministry Inc. Calabash Bay, Andros on Friday the 22nd September, 2017 from 3 p.m until 6 p.m and again September 23rd, 2017 9:00 a.m until service time.
There will be no viewing at Last Mile of the Way Funeral Chapel Ltd.