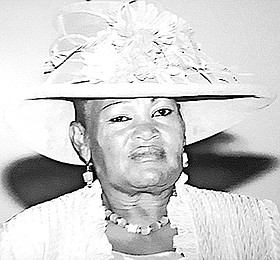 Karen "Mother Kay" Louise Moss-Johnson
unknown - unknown
Funeral Service for
Mrs. Karen Louise Moss-Johnson, 64
Affectionately Called "Mother Kay"
of Antiqua Street, Elizabeth Estates will held on Saturday, September 23rd, 2017 at 11:00am at Fellowship Missionary Baptist Church, Pigeon Plum Street, Pinewood Gardens. Officiating will be Overseer Randolph O. Deleveaux. Interment will follow in the Western Cemetery Nassau Street.
Left to cherish her memories are her five children; Sons: Owen Leon Collie, Anthony Forbes, Jamaal and Kendrick Johnson; One daughter: Prescola Glenda Brown; son-n-law: Garret Vaughn Brown; Four Sisters: Carolyn and Alfreda Moss, Princess Pennerman and Babara Knowles; Five Brothers: Raymond Moss, Andrew Moss, Eziekel Moss, Dr. Kevin Moss and Dion Moss; Two Sister-in-law: Karen Moss and Rosaliee Moss; Brother–in-law: John Archer; Eight Aunts: Elecima Johnson of Lovely Bay, Acklins, Earlene Williams, Dorene Darling, Nelliemae Ferguson, Uris Ferguson, Oliene Ferguson, Emmerliene Moss, Winifred Bain; One Uncle: Minister Franklyn Ferguson; thirteen grandchildren: Mia, Kiara, Odessa and Owen Collie Jr. Garret and Garranique Brown, Anothonique and Anthonia Forbes, Kendrick and Kenvon Johnson, Jamaal Jr. Jamari and Malyia Johnson; Numerous Nephews and Nieces: Shirley and Dion Kerr, Charlene and Kawaine Gibson, Joekeita, Joereco and Carla Knowles, Shamire Sharmaine, Renrick and Vincent Moss, Everette, Shakera and Quentin Penneraman, Romeko, Thorne, Noel and Elizabeth Moss; Other relatives including: Gelena Moss, Sheila Darling, Evang. Mary Miller, Rev. Claudean Virgil, Evelyn Curry, Rev Lockwood Deleveaux, Rev. Jefferey Deleveaux, Overseer Randolph Deleveaux, Ivan, Elvis, James Deleveaux, Hosea Johnson and Family, Minerva Moss and Family Miagrene Moss and Family, Kay Curry, Sharon Maynard and Family; Other Relatives including: the Elizabeth Estates Family Mrs. Annamae Forbes, Phyllis Rolle, The Winters Family, The Lloyds Family, The Clarkes, The Fraziers, The Lockharts; and a host of other relatives too numerous to mention.
Viewing will be held at Legacy Mortuary #20 Claridge Road on Friday September 22nd 2017 from 12:00noon to 5:00pm and at the church on Saturday from 9:30am until service time.