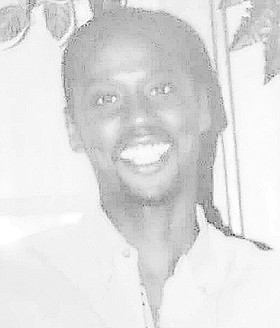 IRVIN CHARLES BROWN
unknown - unknown
Funeral Service For
IRVIN CHARLES BROWN, 46
of Murray Street, Sunshine Park who died on September 1, 2017, will be held on Sunday, September 24, 2017 at 11:00 am at Berea Seventh Day Adventist Church, Blue Hill Road. Officiating will be Pastor Michael Toote, assisted by Other Ministers. Interment will follow in Lakeview Memorial Gardens, John F. Kennedy Drive.
His loving smile and jubilant personality would be cherished forever by: his mother: Eliza Brown; his children: Erlena Erinque, Ervin Jr. and Erin Brown; adopted children: Tony, Taylor, Krystal and Tommy Brooks; two grandchildren: Demetria Bain and Faith Forbes; sisters, Alqueena Brown and Hattie Bethel; one brother, Tallis Brown and Bradley Rolle; brother-in-law, William Bethel; sister-in-law, Lakesha Brown; aunts, Winifred Bannister, Margorie Edgecombe and Sadie Miller; uncle, Administrator Samuel Miller, Bennett Seymour and Carl Carey; nieces and nephews including: Talal and Clemaka, Defence Force Officer Theo Dawkins, Prison Officer Heather, Eldeka and Talissa Brown and Ledante Johnson; grandnieces, Gabriel, Alexia and T'naja; cousins, Franlyn and Michelle, Nelson, Yank, Carmillo and Portia, Tito and Shyvette McCoy, Carolyn and Chinta McDonald, Mag, Carla and John Wilson, Donna Pratt, Patrice Sweeting, Lorise and Alexandros Collie, Coolridge, Dollymae Rolle, Sada Farrington, Ingrid and Tyrone Paul, Mario Bannister, Spacey and Burton Gibson, Slade, Yves and Dr.Yashica Seymour, Threlfall and Anastacia Tyrrell and Shantell Miller, Thrale and Dewey Carey, Sandra and Clyde Rose, Sherry Knowles, Sheena, Craig, Val, Murika Brown, Freddie, Tommy, Theo, Gregory Bowe, Sharon Stubbs, Nicole Bowe Jean, Lorriane Coleby, Christopher Jr., Joyann, Christabell, Roland and Olga, Veroniac, Humphrey, Rodney, Adrian, Terrance Brown, Pernell, Dale, Gregory Edwards, Dewvia, Dewey Jr., Angell, Jonsia, Azaria, Akeem, Ta'kell, Cassandra, Teshera, Tyrone Jr., Trenton, Travan, Chino, Slade Jr., Burton Jr., Indira, Timothy Brown, Thelma Moore of Liberty City, Florida, Jasmine, Shenique, Deidre, Michelle, Reshad, Troy, Ryan and Alvarez; numerous other relatives and friends including: Bishop Ros Davis, Monique Gibson, Sandra, Linda, Myra, Ken, Trevor, Derek Hepburn, Julian Chase, Fred Brown, Rodman, Marvin 'The Painter', Keith, Vincent Nairn, Ricardo Bain, Remount, Kemeo, Dario, Alphon, Rose, Ralph Jr., Dion, Glen, Tia, Tommy Bethel, Kess, Ped, Rosey, Chady, Crany, Deidre Cooper, Sherryann, Kevin Frazier, Sis. Johnson, the Moncur Family, the Mitchell and Gibson Families, Sister Dean, Sister Neely and the entire Berea Seventh Day Adventist Church Family, John and Minnie Street Community, the Brown and Dorsett Family of Cat Island and many of those too numerous to mention.
Viewing will be held in the Legacy Suite of Vaughn O. Jones Memorial Center, Mt. Royal Ave. and Talbot Street on Saturday from 10:00 am to 5:00 pm and on Sunday at the Church from 10:00 am to service time.