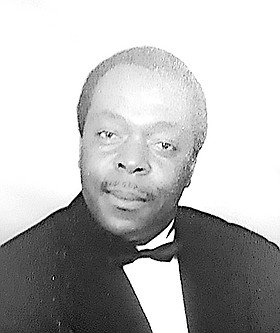 GODFREY "Hommie, Clarkie" TREVOR CLARKE
unknown - unknown
Funeral Service For
GODFREY TREVOR "Hommie, Clarkie" CLARKE, 54
of Iris Close, Tropical Gardens, who died on September 1, 2017, will be held on Saturday, September 23, 2017 at 10:00 a.m. at The Annex Baptist Cathedral, Wulff Road and Pinedale. Officiating will be Apostle Mitchell E. Jones, assisted by Rev. Michael Hinsey and other Ministers. Interment will follow in Woodlawn Gardens, Soldier Road.
He is survived by his Sons: Geno, Germaine and Germeico Clarke; Brothers: George Clarke (Minerva McBain), Wendell, Jacinth (Karen) Clarke, Chrisvlyte, and Wilfred (Delores) Clarke; Sisters: Emma (Rev. Michael) Hinsey, W/R Insp.Vernie (Cecil) Newbold, Deborah (Stephen) Rolle, Linda Clarke of Fort Lauderdale and Elaine Clarke-Reckley of Freeport, Grand Bahama; Sisters-in-law: Renee Clarke (née Nelson) of Fort Lauderdale; Nieces: Ruthmae, Donette, Vernitta (Steve) Pennerman, Vania (Timothy) Musgrove, Nadine, Jamia, Stephenelle, Deshaunte, Irelyn, Ashley, Delerese (Julian) Kemp, Lorraine, Melvern (Vincent) Cooper, Sonia, Christine, Antoinette, Christine Johnson, Carmen, Tanikya, Cypriana, Kelchine, Italia, Jasmine, W/Cpl. 2437 Tamica Clarke, Chazkara Sweeting, Nekoda Clarke, Xavier, D'Andre, Aliyah; Nephews: Morgan, Stanley, Frank, Ricardo, Raymond, Jamaal, Kirkwood, Kendrick, Keno, Rollies, John Jr., Varian, Anthony, Michael Jr., Ulysses, Glenroy, Patrick, Carter, Alexander; Special Friend: Patrice Sands; And a host of other relatives and friends including: Sandra and Theresa Clarke, Lillymae Mortimer and Joanne McDonald, Elsa, Elva, Janet, Charlean, Renita and Brenda Jean-Mortimer, Frank, Tony, Roger, Gifford Jr., Brady, Norman Clarke, Miriam Clarke of Miami, Florida; Dr. Vienna Clarke, Michael, Louis, Robert, Brandon, Fredrick, Lionel, Jimmy; Jackie Gates of Hallandale, Maryann, Deborah, Mattie, Carolyn of Homestead, Florida; Barbara Jean, Elaine Saunders, Monique Cesar, Tanya, Nadia, Natasha, Glenroy Saunders, Myron, Marlon Rolle, Marcion Williams, Elaine Hinsey, Sandra Patton, Stevino, Oscar and Gennie Campbell, The Rolle & Burrows family, Jill, Ethel, Marilyn and Wade, Patricia, Clothilda Sands, Linda, Cheryl, Lisa, and Charise Sands, Latonia and Kerry Baker, Corey Davis , Ethel, Carolyn Arnette, The Coconut Grove Family, Avis Lewis and family; Whitney Mortimer, Dr. Lina Mortimer Reyes & family, Dorian Cox & family, Helen McPhee & family, Glen Johnson & family, Dr. Zelrona Mackey, The McKenzie Family, The Campbell Family, Apostle J. Rodney Roberts, Johnny & Nora Cooper, Apostle Mitchel E. Jones and The New Annex Baptist Church Family, Albury Sayle Primary School Family, Acting Chief Officer Jermiah Moxey &The Department of Housing, Banquet Department Of Atlantis, The Community Holiness Church Family; The Baillou Hill and Yellow Elder Family. (Please forgive us if your name was inadvertently omitted or missed spelt.)
Viewing will be held in the Legacy Suite of Vaughn O. Jones Memorial Center, Mt. Royal Ave. and Talbot Street on Friday from 12:00 noon to 5:00 pm and on Saturday at the Church from 10:00 a.m. to service time.