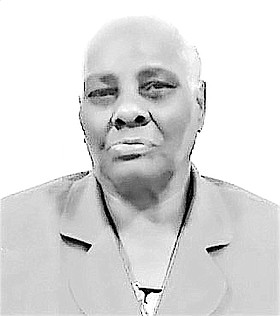 GENEVA FLOWERS-MORRIS
unknown - unknown
Bloodstone Celebration Service For
GENEVA FLOWERS-MORRIS, 74
of #16 Bachelors Button Avenue, Garden Hills No.1 and formerly of Driggs Hill South Andros, will be held on Saturday, September 23, 2017 at 11am at International Deliverance Praying Ministry, Second Street the Grove. Bishop Prophet Lawrence Rolle, assisted by Pastor McCarla Rolle will officiate burial will be in Woodlawn Gardens Cemetery, Soldier Road.
The Radiance of this "Bloodstone of A Gem" will always glow in the hearts of her:
Five Sons: Kiffer Sr., Gunther Sr., Joel Sr., Marcus Sr. and Levorn Morris Sr.;
One Daughter: Nurse Brenhilda Lightbourne;
Ten Grandsons: Kiffer Jr., Quenton Sr., Gunther Jr., Giovanni, Joel Jr., Marcus Jr., Wayman Jr. and Levorn Morris Jr., Quenthon Johnson and Conrad Lightbourne Jr.;
Ten Granddaughters: Arkia Higgs, Camelle, Deandra, Brianna, Joedia, Jonell, Mariah and Indira Morris, Ashlene and Anastacia Lightbourne;
One Great Grandson: Queton Morris Jr.;
Three Great Granddaughter: Shaniska Latoya Lightbourne, Quentria Knowles and Azariah Higgs;
Three Brothers: Amos, Bertram Jr. and Rodney Flowers;
Four Sisters: Vanda Miller, Ezrena and Vernice Forbes and Leoma Burke;
Fifty One Nephews: Warburton McKenzie, Salereo, Deon, Jermaine, Eldrige, Alonzo, Daron, Titus, Desmond, Henry Jr., Raynaldo, Leamshould Jr. and Kevin Morris, Ricardo and Jamaal Williams, John Jr., Stevie and Clayton Bannister, Dennis, Locksley, Benjamin Jr., Lynden, Forbes, Ray, Michael and Vernon Miller, Hon. Renward Wells MP for Bamboo Town, Michael, Wilshire, Whitney, Elwood, Rudolph, Hussain, Joel, Marvin, Martin, Lester, Andy, Devon, Jason, Wayne, Seth, Rodney "Victor", Kenrick, Allister, Ricky, Lance, Orlando, Ryan and Kenrick Flowers and Keith Moss;
Fifty Eight Nieces: Helena Thompson, Lorraine, Vanessa, Jennifer and Jessica McKenzie, Deidre and Margo Bannister, Sarah Anderson, Bianca and Beverley Morris, Aneka Edwards, Nasal Garland, Erica, Indira, Mercedes and Kimberly Smith, Nikitha, Katie and Elaine Forbes, Tanya Penn, Paula Darville, Levern Miller, Debbie Bodie, Tracey, Katrina, Cheryl "Kell", Shantol, Shavonne, Dedrie, Tracey, Shequita, Janet, Cleo, Angela, Alarice, Margo and Eden Flowers, Talva Shipp, Janet Dorsette, Juliette Sawyer, Malnetta Roberts, Chakita Flowers-Thompson, Betty Lynes, Sandy, Lana and Alice Russell, Ruth, Verna Kemp, Raquel, Karen, Ettimae, Delllarese Barlett, Mary "Joey" Leadon, Remelda English, Yvonne Sturrup, Abigail Clarke and Katherine Knowles;
Numerous: Grandnephews and Grandnieces;
Son-in-law: Conrad Lightbourne Sr.;
One Daughter-in-law: Jennifer Morris;
Four Brothers-in-law: Elder Joseph Jr. of South Andros, Bishop Henry Sr. and Leon Morris Freeport Grand Bahama and John Burke of Detroit, Michigan;
Three Sisters-in-law: Olga and Arlene Flowers and Hestine Morris of Eight Mile Rock Grand Bahama;
One Aunt-in-law: Lillian Williams;
Other Loving Family and Friends Including: Rosenell Sealy, Leona, Yvonne and Beverly Morris, Bradley, Dudley and Emperor McKenzie, John Bannister Sr., Louis Veronica, Ruth, Jessica, Rudolph, Maxroy and Walter Williams, Lucy, Truman and Naomi, Mark, Mikey Ezra, Mary, Esther and Gladstone Flowers, Idena, Anizetta, the Community of Driggs Hill, South Andros, Pastor Lawrence Rolle and the International Deliverance Praying Ministry, Monique, Loretta, Stacey, Hon. Brensil Rolle, the Garden Hills Estates Community, Ionie Harriot, Dorothy Ann Newbold, Maxine, Samantha and Jucintha.
Visitation will be at "Curtis Memorial Mortuary" Robinson Road and Fifth Street on Friday, September 22, 2017 from 1pm to 5pm and at International Deliverance Praying Ministry, Second Street the Grove on Saturday, September 23, 2017 from 10am to service time.