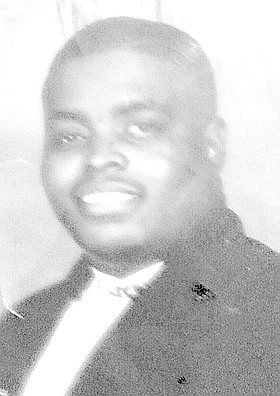 Benjamin Phillips
unknown - unknown
Funeral Service For
Benjamin Phillips, 42
of St. Vincent Road will be held on Saturday,
September 23rd, 2017 at Deliverance
Tabernacle, South Beach at
11:00a.m. Officiating will be Pastore.
Chester Thomas assisted by Lorenzo
Brice. Interment will follow in Southern
Cemetery, Spikenard & Cowpen Roads.
Left to Cherish his memories are his
Loving wife: Andrea Phillips; children:
Andre, Shannen, Raven, Dominique
and Benjamin 111; Brother: Remone;
Sisters: Rosezella, Ivy and Deandra
Phillips; Aunts: Georgiemae, Linamae, Willamae, Eleanore, Glynis,
Antionette, Carolyn, Alice, Cyprianna, Jennifer, Linda and Charlotte;
Uncles: Bertrum, Gary, Nolan, Anthony, Michael, Floyd; Nephews:
Audie Jr., Moses Kerr, Remone Jr., Reno, Raynard, Rashad, Samuel;
Nieces: Tameka, Mary, Deborah, Abigail, Kessie, Suenell; Mother-inlaw:
Bertha; Sisters-in-law: Diahann, Ethel, Katherine; Brother-inlaw:
Quentin, Noel, Ian, Alfred, Prince; and a host of cousins and
other relatives and friends including: Albertha, Dellarese, Patricia,
Margaret, Albert Jr., George, Clayton, Tracey, Donnell, Sonovia, Thryell,
Alexis, Clifford, Edward, Catherine, Bible Teachers International
family, Fresh Anointing Prayer and Deliverance family, Prophetess
Genevieve and family, Harry Fernander, Chuck Griffin and family,
Beatrice Issac and family, The Adderley Family, Philista Harriott and
family, Mr. Othniel Lindsay and family, Barber Denny, Lester Smith,
Demiko and Tisqua,Pastor Dwan Clarke, Rhonda Chase, Melissa
Bowe and family, Kenya Colebrooke, Gilchris Taylor, Rose Gilbert,
Philip Duncombe, Lenny Goff (BPL), Apostle Ezekiel Joseph, Rev.
Dr. Samuel Pinder and family, Apostle Caleb Amukowa,S.C. McPherson
Class 1992, Warren Doc Thompson and familyTheresa Cooper and
family, Citi Trust Family, Migrafill Electronic Security,Nobu, Olives
and Carmine's Restaurant, Doctors and nurses in the trauma room and
on Male Medical 2 and Denalee Penn Evergreen Mortuary.
Relatives and friends may pay their last respect at Evergreen Mortuary located on Collins Ave & 5th Terrace, Centreville on Friday
from 10:00a.m. – 6:00p.m. and again at the church on Saturday from
10:00a.m. until service time.