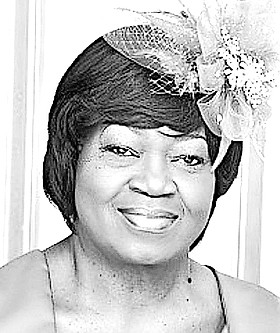 BEATRICE ELIZABETH DUNCOMBE
unknown - unknown
Funeral Service for
BEATRICE ELIZABETH DUNCOMBE, 58
and a resident of #79 Torres Court, Freeport, will be held at 2:00 p.m. on Sunday, 24th, September, 2017 at Central Church of God, Coral Road. Officiating will Bishop Moses Johnson and interment will follow in the Grand Bahama Memorial Park #2, Frobisher Drive.
MEMORIAL SERVICE will be held on Friday 22nd, September, 2017 at 7:00 p.m. at Midwest Church of God, Hanna Hill, Eight Mile Rock.
She was predeceased by her mother Elizabeth; brother Claxon Sr. and nephew Claxon Williams Jr.
She will be remembered by her husband: Stanley; sons: Andon Sr. (Shekia) & Stannard (Henrietta) Duncombe; daughter: Bejra (Franklyn) McCoy; grandchildren: Sameka, Andon Jr., Noah, Darrell, Orien, Porschea & Nia; great grandchildren: Avonte & Avery her dad Jenkins Williams; siblings: Willard, Michael (Patrice), Bloneva Williams, Lucina (Keith) Richards, Lydia (Brendan), Clarke &Emanuel Williams; brothers and sisters-in-law: Joseph (Joan), Roselyn, Henry (Shirley), Kenneth, Roland (Judy), Kendal (Rita), Edward (Jocelyn), Leslie (Beryl) & Rosemary Duncombe; nephews & nieces: Sean, Shane, Shameika, Siobhan, Ryan, & Dorian Wilfredo, Wellington, Willyann, Wilmarie & Laquisha; Darrington & Keythra Brenden Clarke Jr., Mikhail & Desirea, Gayon, Garfield, Joey & Julian; Roderick; Rhona, Melissa, Tecla, Jason, Hugh & Anthony; Kadrian, Kendra, Kenise & Keldon; Anthony, Kendon, Kesmond, Kenneeka, Keenan, Kovah, & Kazam; Daron, Chesa & Sterling; Wayne, Scheffan, Shamari, Danja & Danae; Ryan, Jynda & Danejo; Danielle, LaSean & Lamon; Marlon, Kent, Ramardo & Brittany; uncles & aunts: Daniel (Sheila), Mervin, Esau, Calvert (Patsilee); Simeon (Marcia) Williams; (Manasseh) Mary Jane Hepburn; Norman; Gary (Cathy), Calvert, & Luther (Ruth) Lightbourne; Reuben Grant; Beatrice Gardiner; Zalmunna Smith; Iva Williams; adopted family: Dorothy Bain & family; Edward & Barbara Colebrooke; Harry & Joan Darville; godchildren: Sandrea Bullard, Illyse Pratt, Elvis Hall; Barry Roberts, Leighar Darville & Lorenzo Harvey; numerous relatives and friends including: Bishop Washington & Patrina Williams & Family; Jane Kemp & Family, Philip & Julia Key & family, Louise McIntosh & Family, Evelyn Handfield & family, Rev. Samuel McIntosh & Shirley Singh & family, Bishop Ulrich & Rosana Rolle & family, Philip & Juli, Tiffany & Danielle Key, Tavares &Tiffany Johnson, Sherard & Darriane Jones, Vince & Jan Dean, Steve & Lonia Dean, Stephen & Eloise Percentie, Nathaniel &Paulette King, Anastacia Beckles, Illaya & Kayla Pratt, Tamara King & family; Stafford & Sandra Clarke, Rosental Hanna, the Williams family, the Gardiner family, the Hendfield family, the Missick & Mackey family, Doreen, Susan & Pearline Williams, Anthony Williams & siblings Gaiety Williams/Robinson & siblings, Jag Bahl and family, The Staff & Retirees' of First Caribbean International Bank; Bridge of Hope Ministries, the Taylor's, Midwest Church of God Family and the entire Church of God Family, Ann Symonette, Katrina Hodge. Hazel Williams and Retia Gibson.
Relatives and friends may pay their respects at at Yager Funeral Home & Crematorium, Queen's Highway on Saturday from 10:00 a.m. until 5:00 p.m. and at the church on Sunday from 12:30 p.m. until service time.