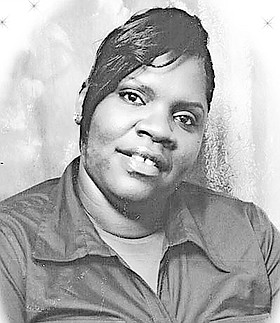 Anastacia "Stacey" Trevor Smith
unknown - unknown
Funeral Service For
Anastacia Trevor "Stacey" Smith, 45
of George Town, Exuma will be held
on September 23, 2017 at E. C. McKenzie
Auditorium, Ramsey Exuma at
10:00a.m. Officiating will be Bishop
Hulan Hanna, assisted by Bishop Herbert
A. Taylor. Interment will follow in
St. John's Union Baptist Church Cemetery.
She is survived by her husband: Hank
Smith Sr.; Parents: Theresa (Robert)
Hilton, Rodney Rolle; Children: Brendi
(Kemmie Hinzey) Brandon, Hank Jr,
Trevor, Shawn, Joshua; Grandchildren: Khemmiah, Khemberley,
Brayden, Brandon Jr.; Adopted Children: Anique, Shamar, keely,
Crystal, Brenika, Tevin, Carlton (CJ); Sisters: Tricia, Rochelle, Eureka;
Brothers: Dione, Harry, Dellwood, Andre, Robert Jr.; In laws:
Paul, Dave (Kay), Bradley (Mitchelene) Joyce, Minette; Aunts:
Elaine, Michelle, Retnella, Rubyann, Naomi, Miriam, Ivamae, Branhilda,
louise, Cecile; Uncles: Anthone (Arlene), kirkwood, Dennis,
Dudley (Lilly), Wilfred Sr.; Nieces: Deonette, D'shantay, Euniyah,
Kamora, Kassy, Felicity, Paige; Nephews: Deion, Daniel, Donte,
Robert 111, Keanu, Philip, Joshua; Cousins: Shonell, Nicky, Antonia,
Delton, Julie (Shazaro), Laurie, Anthone Jr, Ashley, Ungala, Sanjay,
Wangechi, Rijive, Denrose, Jangitilla, Toya, Charlie (Shameka),
Eugene, Mavis (Berkley), Pascal (Sandra), Drexel (Nitza), Veronica,
Wellington, Theodore, Calvin (Kenva), Paul, Anthony, Cindy, Oscar,
Richard (Shalanee) Allen (Anya), Patricia, Kendal, Noel, Lazandra
(Kendrick), Demetri, Coya, lorraine, Monique (Martin), Erica,
Antonio, Calvin; Other Family may include: family of the late
lawson Rolle, Wellington Rolle, Beryl Clarke, Leotha Rolle, Clarence
Rolle, Edna Rolle, Mosses Rolle, Hester Rolle, Aron Rolle, Alphonso
Rolle; Numerous Relatives and Friends Including: Pastor
Herbert Alexander Taylor & the entire Church Of God Of Prophecy
Family, Neandra Lloyd, Anna Stuart, Peter Whitehead & family,
Ran & Eunece Johnson and family, Shanell McKenzie & family,
Philip Hinzey & Family, The Grand Isle Resort & Spa Staff, Clarence
Hinzey & Family, Shandrea Thompson & Family, the entire
Rolle Town Community, the entire Driftwood Café Family, A.I.D.
Family, The GeorgeTown Community, Jenny Kattel & Family, The
Lumina Point staff, Almeta Ward & Family, Tanya Brown & Family,
Francis Clarke & Family, Vivian Burrows &Family, the entire Sears
Family and other relatives and friends too numerous to mention.
Relatives and friends may pay their last respect on Friday at
E.C. McKenzie Auditorium, Ramsey Exuma from 3:00p.m. until
service time.