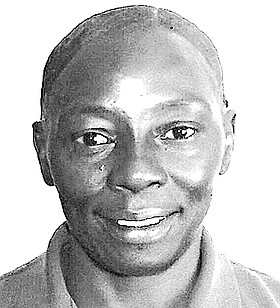 ALEA CYNTHIA CLARKE
unknown - unknown
Funeral Service for
ALEA CYNTHIA CLARKE, 58
of Eneas Avenue, will be held on Saturday, September 23rd, 2017 at 1:00 p.m. at Nassau Fellowship Center, Miami Street. Officiating will be Bishop D. W. Reynold Storr. Cremation will follow.
Left to cherish her memories are her daughters: Tina and Shiniqua; Adopted daughter: Georgina; Adopted son: Shannon; Grandsons: Marco Jr., Martino and Tamarco; Son-in-law: Marco Sr.; Brother: Leslie Clarke; sisters: Dr. Vieanna, Roselda, Patricia Clarke, Therese and Sharon Adderley and Muriel Johnson; Aunty: Patricia Major; Brothers-in-law: Selwyn Dean Sr., Robert Walkins and Albert Adderley; Cousins: Lucian, Sherry, Charlene, David, Darren, Gloria, Tyler, Michael, Malike and Rico; Sister-in-law: Beatrice Clarke; Nieces and Nephews: Barry, Cyeo, Jermaine, Ryan, Melissa, Ishmeal, Ivan, Leslia, Vanna, Timmy, Dederie, Giana, Kendal, Philip, Shivago, Samantha, Crystal, Henry Jr., Margo, Carmie, Italia and Cathressia; Great grandnieces & nephews: Sharmarinique, Deranique, Domonique, Shavaro, Alexandria, Alex, Meo, Kadine (K.j), and Michaelena; Other Relatives and friends including: D'nard Russell, Montgomery Basden, Syleah Smith, Geraldine Flowers and family, Bridgette (Blackie), Ellie, Bertram (Buck), Latika, Leante, Santisha, Lashante, Savante, and the Kemp Road family, Patricia Panza, Justina Clarke, Deborah Rodney, Reno and the Brown Family, Sherry, Cre, Carlie, Sylvia Rolle, Chris Elliot, Allen, and the Union Village and Peardale family, Tario, Crystal, Vera McKinney, Jannie Moxey and family, Javon Johnson (Bouncer), Mack, Steveie, Hunkie, and The Miami Street family, Melissa Ferguson, Beverley and the pink porch family, Ministry of Agriculture and Marine Resources (Land Unit), Nicole Gage of Fort Lauderdale Lakes, Crissy, Anthonique Clarke and Family, Blow and Go Tire and Repair, Office of The Prime Minister (Land Unit), Ministry of Transport and Local Government, The Village Pub Staff/Family, Vernita King and the Johnson family.
Viewing will be held in the Serenity Suite at Restview Memorial Mortuary and Crematorium Ltd., Robinson and Soldier Roads on Friday from 10:00 a.m. to 6:00 p.m. and at the church on Saturday from 11:30 a.m. until service time.