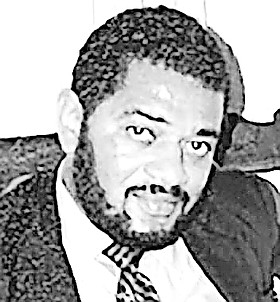 WILLIAM FLETCHER DILLET
unknown - unknown
Funeral Service for
WILLIAM FLETCHER DILLET, 71
of #8 Avocet Ct., Eastern Estates, will be held on Saturday, 28th October, 2017 at 10:00 a.m. at St. Mathews Anglican Church, Shirley Street. Officiating will be Canon Crosley Walkine, assisted by Assistant Curate Deacon Travis Fernander. Interment will follow in Western Cemetery, Nassau Street.
Predeceased by parents, Wilhelmina and Bernard, brothers, Anthony and Stephen.
Fletcher is survived by his wife: Fairest Anita Dillet; children: Jared (Clarissa), Margaux (Brett), Wilhelmina and Kezia; brothers: Adlai (Jean), Foster and Raaman Dillet; sister: Zina Dillet; grandchildren: William, Mackenzie, Malia, Nathan, Mya and Shiloh; aunts: Hazel Moore, Norma Allen, Cynthia Brown and Beryl Dillet; brothers-in-law: Neville Bosfield, Carlton Bosfield (Thelma), Keith Bosfield, Ronald Bosfield, Keith Ferguson and Steven Francis; sisters-in-law: Heather Dillet, Jean Dillet, Jacquelyn Marshall, Philippa Weathers and Kate Ferguson; nieces: Duhiza Smith, Sharnique Dillet, Krystal Dillet, Keri Dillet, Shari Cuffie, Lakeisha Wilmott (Kevin), Katriena Marshall, Jomarie Thompson (Kendrick), Valarie Gilchrist, Monica Mortimer (Kelsey), Lisa Weathers, Keilera and Kiasha Ferguson, Gian Francis, Viore Bosfield; nephews: Vijay Dillet, Christoff Dillet, Anthony Dillet, Kyle Dillet, Dari Marshall, Trey Bosfield, Keithon Bosfield, Laron Bosfield, Lamont Bosfield, Gerald Francis and Keigero Ferguson; cousins: Joan Bethel, Michael Dillet, Ann Curtis, Robert Stevenson, Grace Sullivan, Dwayne Dillet, Simone Michel, Dr. John Dillet, Danny Skees, Tennyson Skees, Fritzearl Skees, Anja Dillet, Fran Wilson, Paige Mitchell, Gillian Moss, Niven Allen, Martin Allen, Hyacinth Allen, Jason Allen, Don Brown, Johnny Clarke, Kingsley Clarke, Gregory Clarke, Bernardette Clarke, Rev. Laverne Rolle, Augustine Brown, Wilmore Brown, Grace Plakaris, Reginald Bethel, Alfred Culmer, Walter Culmer, Francine Orttly, James Brown, Delores Black, Margaret Ingram, Jennifer Tate, Leotha Harrell, Arlington Sands Jr., Michael and George Darville, Brenda Samuels, Barbara Usher, Elaine Bannister, Charles Dillette, Albert Dillette, Anne Jumaron, Rosalie Dillet, Gerald Dillet, Janet Dillet, Marilyn Dillet, Rosemary Dillet, Mark Dillet, Gregory Dillet, Ashton Dillet, Dylan and Sonya Knowles; Other Family and friends: family of Audrey Hankinson, Andrew Pinder & family, Iris Knowles & family, George Cox & family, Gaynell Nicholls Bullard & family, Cassandra Bartlett, Arlene Nash Ferguson, Ven. Archdeacon James Palacious, Rev. Angela Palacious, Carlos, Star and family, Shelley Darville, The entire Bosfield family, Johnny Montpetit & family, Dona Longley Maycock, Donald Russell, Royann Duhard & Joanna Johnson and Family, The Eastern Estates family, Bob Thompson & family, Captain Anthony Dean, Canon Crosley Walkine, Deacon Travis Fernander, Vestry, administrative staff, The Prayer group and the family of St. Matthew, Vivienne Francis and St. Matthew's Senior Choir, Sr. Pastor David Burrows & Family and the entire membership of Bahamas Faith Ministries International, Ena Stubbs & family, Ivy Maycock & family, Commissioner of Corrections, Patrick Wright & the family of the Department of Corrections, Margaret Haynes & family, Mary Micklewhyte, Gloria Strachan & families, Eugenia Thurston, Alva Stewart Coakley, Pandora Sawyer, James Catayln, Celestine Williams, Judy Rodriguez, Justice Dame Anita Allen & family, Dr. Nicholas Hepburn, Registrar, Rhonda Chipman Johnson, Patrick Edwards, Henry Dean, Jarrett Hall & Micklyn Bowe, Brian & Ellen Serville, Synida Dorsett, Beatrice Henfield, Georgette Culmer, Lisa Wildgoose, Violet Beneby, The Cooper and Turnquest families, Renee Smith, the Yamacraw FNM family, Linda Evans, Peggy Philip, Lenworth Smith, Carolyn Roker, Bert Sherman, Marsha North Bain, Rosalind Bethel, Doctors, Ricky Davis (A&E), Theodore Ferguson (Cardiothoracic Surgery), V. Taylor (Surgery), Staff of Male Surgical III and Accident and Emergency units of the Princess Margaret Hospital, Dr. Agreta Eneas Carey, Felicia Moss, Jade Strachan, Devonna Russell, Sophia Burrows, Marsha Bain, administrative assistant, UWI School of Medicine & Research, Staff of Bethel Brothers' Funeral Home. We apologize for names of family and friends not mentioned.
Friends may pay their last respects at Bethel Brothers Morticians #44 Nassau Street on Friday from 10:00 a.m. to 6:00 p.m. and at the church on Saturday from 9:00 a.m. until service time.