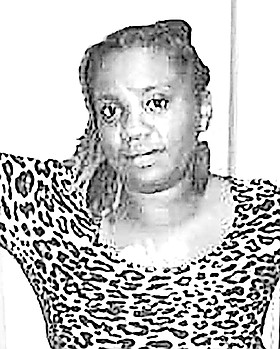 Shenique Naressa Hart
unknown - unknown
Funeral Service for
Shenique Naressa Hart, 38
of Peardale will be held on Saturday, October 28, 2017 at Evangelistic Pentecostal Church, Garden Hills at 11:00a.m. Officiating will be Pastor Bil Seymore assisted by other ministers of the gospel. Interment will follow in Woodlawn Gardens, Soldier Road.
Left to cherish her previous memories are her 3 Daughters: Natalia Rolle, Shaquea Butler and Shaquonya Adderley; Brothers: Lavario Minns, Diallo Minns, Tito Minns, Prince Hart #2; Sisters: Vandera Hart-Melus, Sonia Minns, Shavenette Minns, Kimberly Minns, Shantell Minns, Tanyinka Adderley. Partner, Leo Bain; Aunts: Irene Thompson and Juanita Hunter, Diedre, Rev. Doshaline Cash, Grace Hart; Uncle: Edrick Rolle, Everette Hart, Willis, Timothy, Willie, Arlington, Sherman; Nieces: Brandelle, Brannesha, Maracle, Hailey, Tatianna, Deca, Silla, Tazzmane, Tamia Nephew's; Tarenzo, Ahmal, D'Aveon, Justin, Devon, Diallo Jr, Bison, Brthrum, Tito Jr; Cousin: Trevor, Adline, Elwood, Daphne, Antoniette, Patricia, Kevin, Regina, Christopher, Alexis, Lakeisha, Kelly, Patricka, Ronald Jr, Rondavia, Giovanna, Shantol, Jasonique, Jayson, Kandi, Miracle, Keja, Kevin, Moses, Aaliyah, Alicia, Donelle, Hope, Brianne, Alexis, Vincent, Alexia, Keivon, Mekhi, Amaris, Regina, Mary McKenzie and family, Ervin Munnings and family, Annismea Sands and family, Audley Munnings and family, Rubin Munnings and family, Lee Bodie and family, Bob Rolle and family, Earnestine Mckenzie and family; Godchildren: Courtney, Tyler, Sony, Sanayo, Zenea, Makizo, Johnyeh, Ki'ajah; Sister-in-Law: Malissa, Lavette, Almary; Brother-in-Law: Feniel Melus; Son-in-Law: Theo; hosted of relatives and friends: The entire Flamingo Gardens family, Sandra Walker, Rose, Sam, Coo, Tisha, Kishna, chicken, Val, Rissa, Ava, Jasmine, Nelly, Toro and family, baby and Family, Lisa, Crystal and family, Tajha, Odis and family, Nardo, Vernon and family, Dolly, Aj, Granny, Tonya and family, Desha, Petra and family, Jessy and family, Alma and family, Andrea, Carmea Rolle and family, Sherry and family, the peardale crew ,Englishton family, Carmicheal road and family, Bimini Avenue crew, the Patch, John Street and Road family, The Minns family, The Adderley Family, The Butler Family, Khandi Gibson and form Family, Social Service Family, Mrs Penn-Mackey and Evergreen Mortuary, Strachan's Corner Crew, Monsters crew, Union Village crew, Bishop Stanley Seymore and the Evangelistic Pentecostal Church, Olinka Role McCoy and Family, Clintnessa Mackellar and family, Maurice, Nathaniel Rolle SR and family, Ann, Janet and family, India, Micheal, Wilson track crew, The S.C. McPherson class of 96 Annlee Pennerman and Family, Key west Crew and those that I missed out.
Relatives and friends may pay their last respect at Evergreen Mortuary, Collins Avenue & 5th Terrace, Centreville on Friday from 10:00a.m. – 6:00p.m. and again at the church on Saturday from 10:00a.m. until service time.