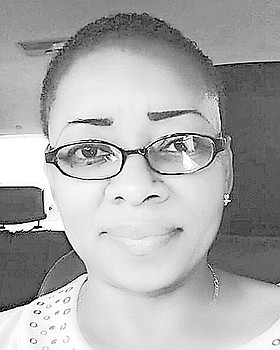 Natasha Michelle Poitier
unknown - unknown
Funeral Service For
Natasha Michelle Poitier, 48
of #20 Hampster Road and Pink Meadows Road will be held on Saturday, October 28th at 11:00 a.m. at Life Changers Ministries International, Bacardi Road. Officiating will be Apostle Valentino Williams assisted by The Rev. Canon Sebastian Campbell. Interment will follow. Cremation will follow.
Beautiful and fond memories will forever linger in the Hearts of her Husband of 9 years: Hezekiah Poitier; Daughter: Leah Colebrook; Sons: Wellington, Angelo, Ramesh, Zmesco & Joshua Poitier; Grand-daughter: Akira Colebrook; Mother: Norma Mackey; Sisters: Anastacia Johnson and Khalia Mackey; Brothers: Vicko Johnson and Khalif Mackey; Son-in-law: Baron Colebrook; Sisters-in-law: Julia and Brendalyn Neilly, Olga Wilson, Brandhilda Wallace-Whitfield, Peseretha Hicks, Alma Whyms, Lucita and Arelene Poitier; Brothers-in-law: Carrington Johnson and Mitchell Poitier; Nieces: Miranda, Kimberly, Julia, Margaret, Joanna, Dianna, Betty, Annischka, Arnette, Cyanira, Keisha, Shanay, Rokell, Samantha, Lisa, Sherell, Ashley, Nadia, Patrelle, Shaphelle, Patricia, Estella, Nicole and Makyaha; Nephews: Wayne, Pedro, Terry, Cedric, Jaward, Desmond, Marco, Authery, Alonzo, Chappell, Roger, McKelton and Khilo; Aunts: Vernell Albury, The Reverend Ivy Taylor, Betty Rahming, Patsy Roberts, (Diane Kemp - deceased) Vernese, Cooliemae and Rehersa Francis; Uncles: Oswald and Colin Francis, Wycliffe Albury and (Godfrey Francis - deceased); Numerous Cousins to many to mention; a host of other relatives and friends including: Mr. & Mrs. Benson Brown, Mr. & Mrs. Craig Curtis, Mr. & Mrs. George Burrows, Mr. & Mrs. Adrian Albury, Mr. & Mrs. Steven Cartwright, Ms. Terry Rolle, Mrs. Misty Bain, Mr. Val Butler, St. Augustine's College "Class of 86", Apostle Valentino & Pastor Cleoparta Williams, LCMI Church family especially zone 1, Reverend Huether Rolle and Salem Baptist Congregation, St. Gregory's Church and Choir; The staff of Doctors Hospital Educational Department; Majestic Tours & Holidays. Special thanks are extended to: The Reverend Canon Sebastian Campbell, Dr. DuVaughn Curling & team, Dr. Delton Farquharson, Dr. Dorsett, Dr. Culmer, Dr. Ferguson, Dr. Deanna Bain and the staff of PMH Female Medical l & 2, Female Surgical l, especially Nurse Poitier of Female Medical 2.
In Lieu of flowers, donations may be made to Commonwealth Bank Account #7066048474 - Joshua Poitier Scholarship Fund and Royal Bank of Canada Account #7402478 Sister Sister Breast Cancer Support Group, in Memory of Mrs. Natasha M. Poitier.