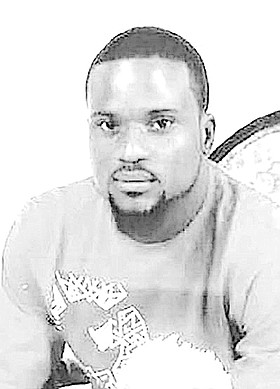 MARK ANTHONY WILKINSON SR
unknown - unknown
Funeral Service for
MR. MARK ANTHONY WILKINSON SR., 34
of #39 Jumbay Street, Pinewood Gardens, will be held on Saturday, September 28th, 2017 at 11:00 a.m. at First Baptist Church, Market Street. Officiating will be Rev. Diana Francis, assisted by other Ministers of the Gospel. Interment will follow in Woodlawn Gardens, Soldier Road.
Mark was predeceased by his mother: Loretta Allen.
Precious memories will linger in the hearts of his beloved father: Marcus Wilkinson; only son: Mark Jr.; only sister: Suzanne Allen-Pena; brothers: Kelsey Allen, Jamaal and Johnathon Wilkinson; sister-in-law: Tanya Allen; nieces: Samantha Nairn of Baltimore Maryland, Brickell Allen of Fort worth, TX., fiancé: Rose Forrester; aunts: Leola Rolle, Inez Smith, Delores Dean, Mathilda Higgs; uncle: Steven Allen; numerous cousins including: Pearlmae Smith, Justina Smith, Jenniemae Burrows, Calvin Smith, Wendy Rolle, Sgt. Shawn Bowe, Mrs. Olda Johnson; godfather: Keith McSweeney; god sisters: Jacklyn, Corrine, Jennifer; god brothers: Theodore, Trevor; other relatives and friends including: Oncology Dept., PMH, "Top Class Security", Heart and Chest Center, Male Medical I, The Blood Bank, PMH, "Club 601", All Blood Donors, who donated blood in Mark's name, Medical Records, PMH, South Beach Clinic, Bus Driver's Assoc., especially RT# 21A, Wrecker Drivers Assoc., 100 Jamz, Elizabeth Estates Police Station, Accident and Emergency Registrar General Dept., Urban Renewal-RBPF, Virtual Ward, Nurse TCN Joseph, Nurse S. Mackey, Doctors Ferguson and Lucus, EMS-OMH, Palm Beach St. Crew, Jumbay St. Crew, McQueen's Town, Cat Island Family, Judy's Hat Shop, Dr. Munroe's Team, Winky, Jacob, George, Cpl. Dikery Saunders, Staff at Dept. of Marine Resources, especially Debbie Anderson, Glenda Knowles, Lillis Deveaux, Soniamae Charlton, The Bahamas Boys Brigade, Sylvia Strachan, Coral Ewards; special thanks: Rose Forrester, the ZNS staff, Alfred Dawkins, Mrs. Venita Major and Family, Mr. Taylor, Mr. Fernley Palmer, WPC #3524 Yvonne Adderley, Anastacia Johnson, Damien Fox, Shayne Adderley Sr., Shaindor, Shavonne, Shavanta, Shawnta, Shawn Jr., #3219 Patrick Rolle, Marco and Mario Smith, Raneika Watson, The Pratt Family, The Smith Family, The Rolle Family; R.M. Bailey Class 2000, and the staff from Bahamas Waste Management, Sgt. 1755 Renee Major; pets: Butter the family dog, Precious (dog) and Sara (cat) and other relatives and friends.
Viewing will be held in the Serenity Suite at Restview Memorial Mortuary and Crematorium Ltd., Robinson and Soldier Roads on Friday from 10:00 a.m. to 6:00 p.m. and at the church on Saturday from 9:30 a.m. until service time.